Description
THIS VERSION COMES WITH BLUE / YELLOW FUSELAGE SHOWN BELOW.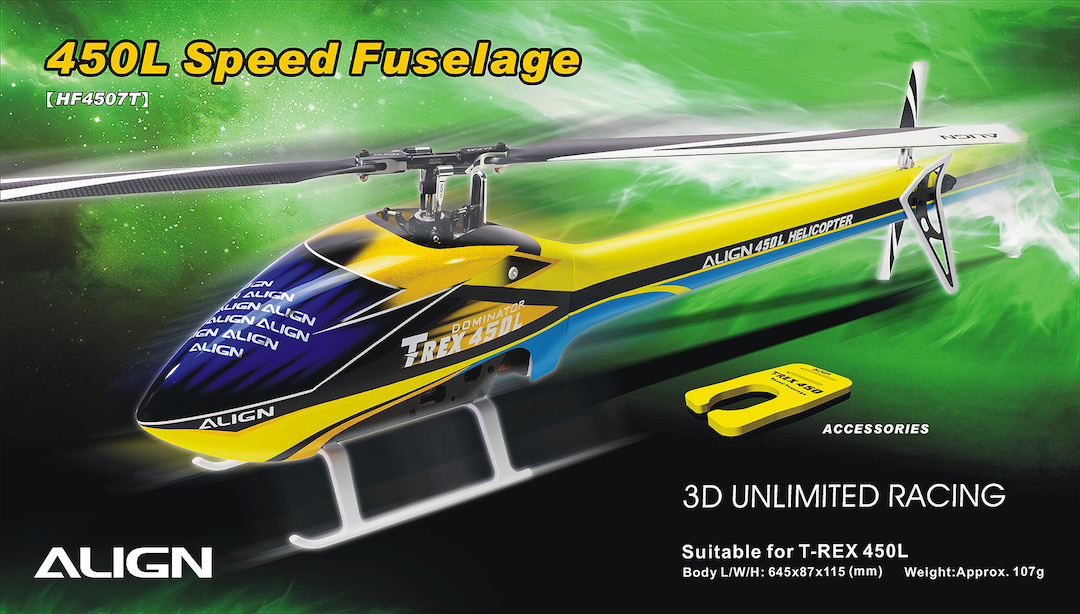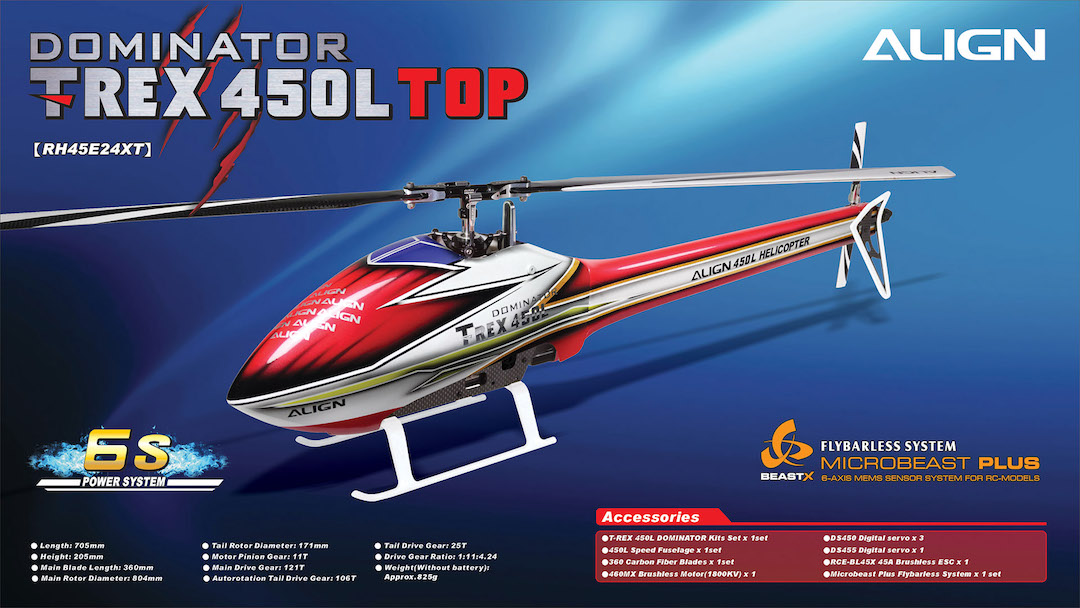 The internationally popular T-Rex 450 has long been a trend setting helicopter, every enthusiasts probably has owned at least one. It is the ideal model for beginners as well as experts practicing advanced maneuvers. T-REX 450L TOP equipped with all the best equipment and wrapped with speed fuselage, you can have the top version without doing any update or modifications.

T-REX 450L TOP reverses the common impression people have on T-Rex 450, with material integration technology utilized on side frame design, and has features previously found only on larger models, such as battery mounting rails, top mounted motor, 700E DFC type main bearing block with integrated servo mounts, forming striking resemblances to larger contest grade models. The newly added frame reinforcement plates not only improves helicopter's overall rigidity and anti-torsion characteristics, the beautiful red anodizing also creates highly pleasing aesthetics, further exhibits the T-Rex 450L's attractiveness and exclusiveness.

Equipped with the DFC flybarless head assembly, paired with 360 3G main rotor blades that are both stable and agile, and even better flight stability! Based on 6s voltage, the 460MX(1800KV/2222) motor, and paired with RCE-BL45X brushless speed controller, the motor has superior efficiency, high power output, extreme torque, and low current, low temperature. Brand new DS450 and DS455 digital servos controls the swashplate and rudder, support V7.4 high voltage input with feature such as improved torque and speed, effectively enhance flight performance. In addition, utilizing wrap-around aerodynamic design, the brand new 450L Speed Fuselage has an attention grabbing unique curve. Its tail section is wrapped with painted carbon fiber shell, resulting in superior visibility in mid-air, and further enhance the beauty of highly difficult maneuvers. The low aerodynamic drag enables high speed flights to be easily achievable.

With cutting edge design concepts and top grade electronics, T-Rex 450L Dominator surpasses traditional flight performances with higher stability, extreme power, superior control feel, yet maintains the convenience of smaller size. T-REX 450L TOP is a model not to be missed!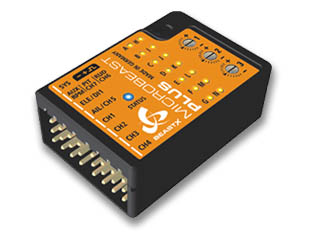 The high-end Microbeast PLUS 6-axis gyro with 32-bit high-speed processor is much precise and superior in programming and computing allow for significant handling performance and delicate response. In addition, the Microbeast PLUS gyro is vibration-reducing improvement and strongly reduce the effects of the vibration to flying performance.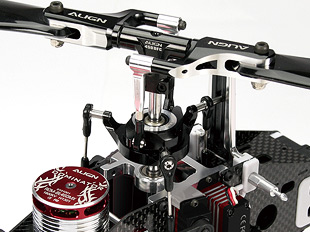 Equipped with the DFC flybarless head assembly, with extremely low CG design to minimize wind resistance while providing more direct control feel. In addition, the brand new main rotor head block and new spindle design has been incorporated as standard feature. Paired with newly designed 3D specific 360 3G main rotor blades that are both stable and agile, resulting in improved flight performance.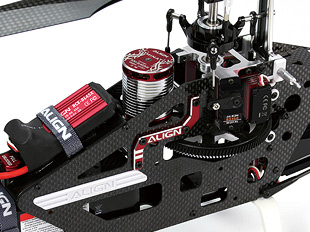 Carbon side frame plates utilized composite material integration technology, featuring integrated battery mounting rails. The clever use of open spaces within the frame resulting in a structure that is both rigid and aesthetically pleasing. In addition, the T-Rex 450L cleverly expands on the core concepts of T-Rex 450Pro designs, to carry on the heritage of its mature design of excellence.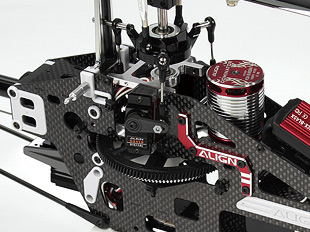 Designed with direct servo CCPM control, and a single piece main bearing block with integrated servo mounts similar to that of T-Rex 700E DFC, for simplified servo installation and clean aesthetic. Brand new DS450 servos feature improved torque and speed, with dual bearings design to minimize deadband and provide better longevity.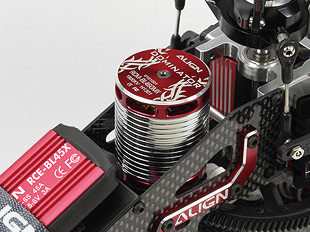 Based on 6s voltage, the 460MX(1800KV/2222) motor is tailor made for the T-Rex 450L DOMINATOR, featuring superior efficiency, high power output, extreme torque, and low current, low temperature. As a totem to the 850MX Dominator motor, The 460MX shares the same extraordinary pedigree.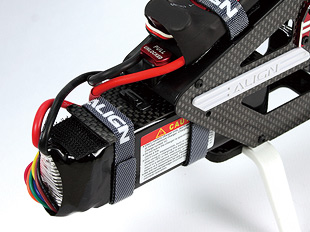 Brand new battery mounting plate with battery latching design, along with integrated mounting rails in side frames to simplify battery installs while protecting them.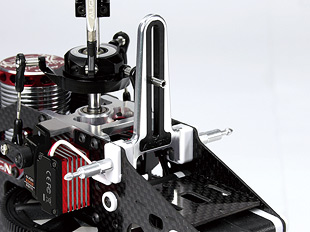 New style swash anti-rotation guide with embedded anti-wear material, effectively minimize the wear between swashplate long ball and guide.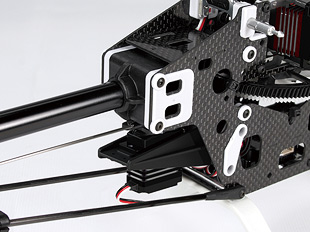 Vertical rudder servo mount design for closer CG, increasing the sportiness of 3D flights.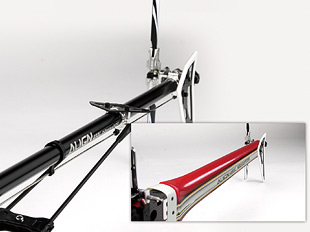 Added tailboom support bridge design to increase the rigidity of the overall tailboom/support assembly.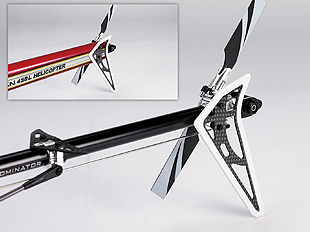 Using competitive material and special imbedded technology for vertical tail, enhanced its structural strength and boutique texture efficiently, vivacious color providing excellent visibility.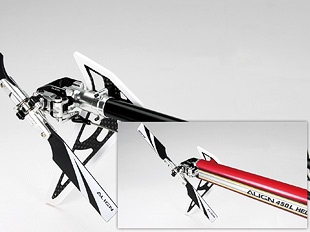 Brand new tail blade grips with thrust bearing design, dramatically increase rudder precision and tail locking effectiveness, while increasing the longevity of bearings. The brand new extended tail rotor blades to match the 360mm main rotor blades also contributes to the tail locking performance. The new style paint scheme provides better visibility in midair.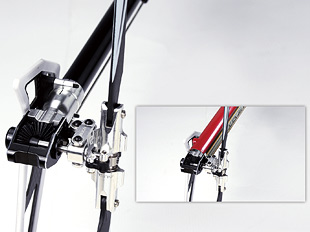 New style dual point supported tail control assembly for slop free tail, improving on rudder resolution and control precision.
Standard equipment
•Microbeast PLUS Flybarless System X 1 set
•RCE-BL45X 45A Brushless ESC X 1
•460MX Brushless Motor(1800KV/2222) X 1
•DS450 Digital Servo X 3
•DS455 Digital Servo X 1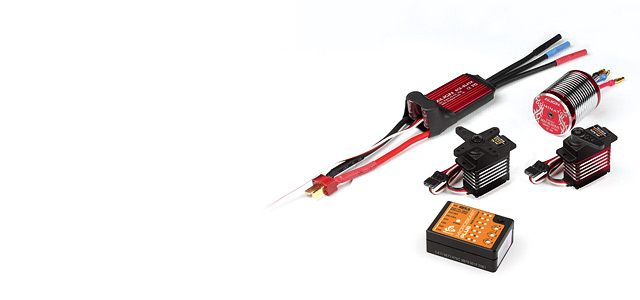 Specification
•Length: 705mm
•Height: 205mm
•Width: 110mm
•Main Blade Lenght: 360mm
•Main Rotor Diameter: 804mm
•Tail Rotor Diameter: 171mm
•Motor Drive Gear: 11T
•Main Drive Gear: 121T
•Autorotation Tail Drive Gear: 106T
•Tail Drive Gear: 26T
•Drive Gear Ratio: 11:1:4.07
•Weight(w/o battery): 825g
Accessories
•T-REX 450L DOMINATOR Set X 1 set
•450L Speen Fuselage X 1 set
•Microbeast PLUS Flybarless System X 1 set
•360 Carbon Fiber Blades X 1set
•65 Tail Blade x 1set
•RCE-BL45X 45A Brushless ESC X 1
•460MX Brushless Motor(1800KV/2222) X 1
•DS450 Digital Servo X 3
•DS455 Digital Servo X 1
Radio transmitter and electronic equipment required for assembly:
1.Transmitter(6-channel or more,helicopter system)
2.Receiver(6-channel or more)
3.Pitch gauge or Digital Pitch Gauge
4.6S Li-Po 1100~1400mAh battery x 1
Warranty, Returns & Support
Warranty Information
We truly thank you for your purchase, and when things go wrong, we are here to help in any way that we are capable of doing so.

In regards to any warranty related matter, please reference the below information to help understand our warranty policies, as these warranty policies are absolute when it comes to any purchase made via HeliDirect.

Warranty Time Frame

Regarding product(s) purchased via HeliDirect, each manufacturer has their own specified warranty time frame, and HeliDirect holds the sole right to direct the customer to the manufacturer for stated warranty support in regards to manufacturer's that require direct level warranty support.

Our stated (14) day return policy directly relates to brand new, unused products being returned for a refund or store credit, and does not relate to warranty related situations for faulty product(s). Faulty, damaged or problematic items are handled upon a case by case basis, and will be detailed below based upon the warranty options available.

Our team at HeliDirect is highly motivated to assist in every possible way regarding warranty support, but please be 100% aware that warranty support for the product(s) you have purchased may be handled directly via the manufacturer, and not through HeliDirect.

If your product(s) involve direct manufacturer support, we are still available to assist. We ask that the customer make the initial manufacturer contact for warranty support, but in the case where a manufacturer response is not receive within (5) business days, HeliDirect will step in upon your behalf, utilizing our channels to assist you with this manufacturer based support.

In the above case, HeliDirect will do everything in our power to make sure the manufacturer assists you directly, but please note that all such warranty in regards to an issue like this will still be directed through the manufacturer.

Warranty Related Issues

Please note that HeliDirect is not a warranty repair center, nor do we offer warranty regarding many items we resell. Product(s) purchased via HeliDirect are subject to the original vendor's repair / replacement warranty policies & timelines, and will be directed to the manufacturer at our discretion.

HeliDirect will not assume responsibility and / or liability for any manufacturer defect, or damage due the use / misuse of the product(s) purchased. Further, HeliDirect cannot / will not be held liable for ancillary damage to product(s) based upon a manufacturer fault or defect. All such issues will be dealt with at the manufacturer based level.

If your item is found to have a fault or defect after installation or use, your product may be subject to warranty repair via the original manufacturer, no matter what the purchase date may be. HeliDirect does not cover repair, replacement or warranty via used / installed products. All such issues will need to be dealt with at the manufacturer level.

Damage Due to Ancillary Product Failure

In regards to damage that directly results to a failed product installed in conjunction with another product, we are happy to assist in terms of warranty support for the product that has failed, but please be aware that we cannot be held liable for ancillary damage to other items or components that may have been damaged due to the original product failure.

Warranty Returns

If your product is approved by our customer service staff as a valid return that we will handle directly, please note the below information regarding all such approved warranty items sent to HeliDirect.

- Any item(s) approved for return to HeliDirect will be subject to inspection and or testing to verify the noted information provided by the customer regarding the flaws, faults or damage.

- Due to the various aspects of testing, repair and other return processes, please be aware that any such approved return will require (2) to (5) business days for proper processing. Our staff will certainly do all that we can to reduce this time to the bare minimum, but please be aware that the return process can take up to (5) business days to complete.

- If the product(s) approved for return are deemed faulty by our returns specialists, we will proceed with a repair, exchange, credit or refund based upon the situation at hand. All such information will be communicated to the customer before any re-shipment is made.

- If an item that encounters a warranty issue after usage, HeliDirect may opt to repair the product versus an exchange, as exchanges can only be made for valid warranty relating to products that have no use of flaws. Our staff will be sure item is in 100% working order based upon any repairs, but exchanges, credits or refund cannot be offered for items under warranty that have been used and are no longer able to be sold as new.

- In the case of product(s) returned to us that test to be non faulty, the product(s) will be returned to the customer in the condition received. Our staff will reach out to the customer with necessary information regarding what may have been missed, and what steps to take in order to utilize the product(s) effectively.

- For non faulty diagnoses of returned product(s), refunds, store credits or exchanges cannot be offered, as the product(s) received cannot be sold as new and unused.