Description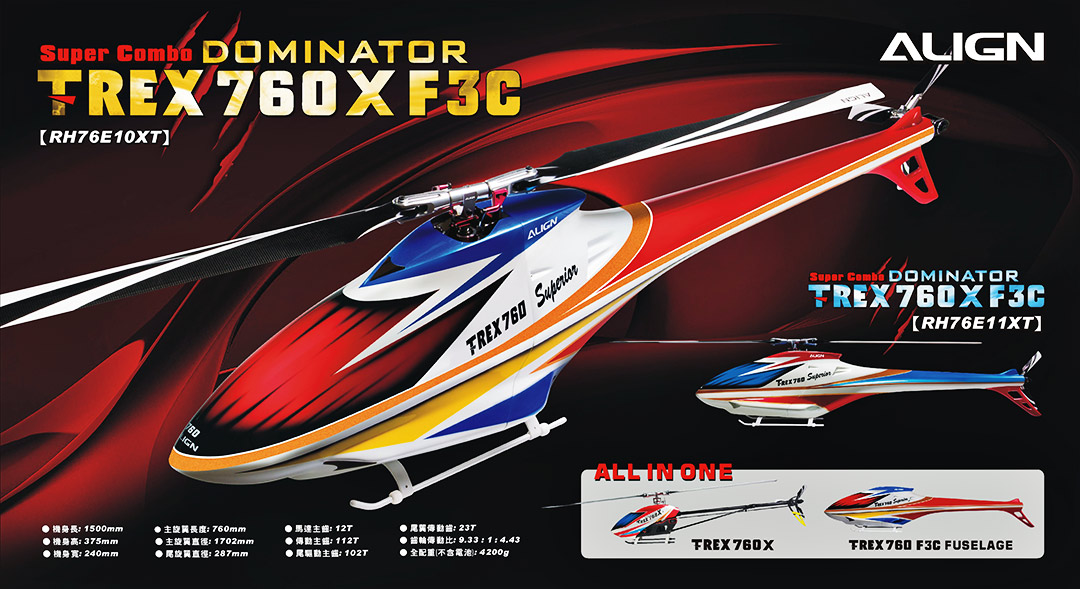 The brand new Align T-REX 760X features with new body length and new 760 main blade, as for T-REX 760X F3C utilize the new design F3C fuselage with low wind resistance, streamline appearance and convenient disassembly providing a breakthrough performance no matter in static or 3D flight.

The new 700FL rotor head system can use new F3C rotor holder arm and 3D rotor holder arm. F3C rotor holder arm effectively doubles the flight stability with excellent and precise control accuracy not only has more advantages in the static flight also provide the perfect controlling feel in 3D flight. 3D rotor holder arm suitable for extreme 3D flight provides the more direct and faster control response. Main rotor grip arm and linkage rod is at 90-degree angle symmetrically, allow to keep the best precise flight performance. Also the new 760 main blade features with better flight stability and superior lift making the T-REX 760X in the control feel and stability better than other models. Utilized the three tail blade set as standard accessory feature with excellent controlling feel and superior tail authority allowing you to enjoy the flying no matter F3C or 3D flight.

T-REX 760X introduced the advanced engineered narrow body design efficiently decreases gear abrasion, machine deformation, increases power, and extends flying durability. The unique Split-Type Main Frame design, made of composite material side plates, is engineered using our proprietary embedding technology, which strengthens the entire structure and provides better accessibility for servicing the T-REX 760X. This extraordinary design includes a progressive lightweight landing skid making the T-REX 760X the leader in this class. The lightweight structure design which significantly reduce the body weight can effectively increase your flight time.

The T-REX 700X is equipped with the new 850MX motor which is highly efficient with superior power, excellent torque, low current draw, and is the most advanced motor approved by World RC Champions. The new designed motor cooling mount plate can reduce the motor operating temperature up to 20°C (68°F). The helicopter's high quality design is accented with precision machined red and silver metal parts. The brand new RCE-BL130A brushless ESC supplies extreme power. The ESC includes a superior governor and BEC which allows you to set 5V-8V (Step: 0.1V). The NEW DS820M/DS825M high voltage brushless servos are more efficient and outperform other servos in this class. To protect these servos the new high-end CNC aluminum case function as a heat sink allowing the servos to operate at a lower temperature.

T-REX 760X F3C introduced many new design with top equipment and new F3C fuselage must provide you the best F3C flying experience.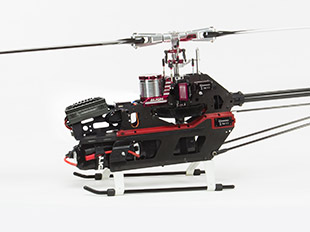 Landing skid is tilted 5 degree forward which improves crashworthiness.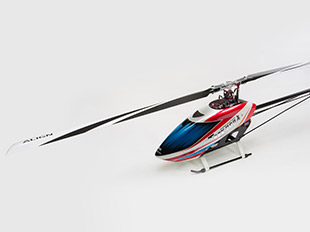 New extended 760 carbon fiber main blades effectively improve the flying stability and power performance. Enhance the power for better control and redefine your flying experience. And it features new airfoil and printed graphics, increased rigidity and extended length, effectively increases anti-torsion strength during flight.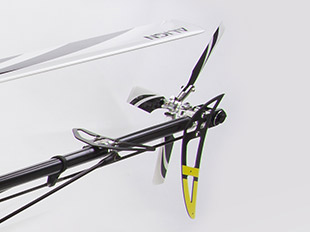 Brand new tail blade designed to sustain optimal tail authority performance under high head speed and extreme flight conditions.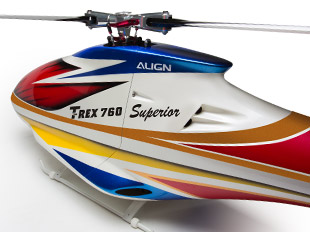 New 760 F3C Fuselage applies aerospace data operations featuring with the low wind resistance aerodynamic lines, while stabilizing the helicopter during F3C flight routines and advancing the great performance of T-Rex 700E F3C even higher, achieving total dominance in class P and F of F3C. Custom designed floating fuselage mounting system effectively reduce helicopter vibration and minimize resonance effect; The light weight fiberglass and carbon fiber construction weights only 520g, maintaining the optimal power to weight ratio of the helicopter; Colorful paint scheme enhance the streamline profile, in countless ingenuity create a different F3C fuselage which is worthy of unique you.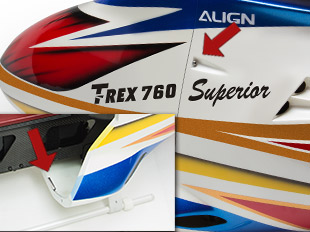 Unique quick release design of the front fuselage for battery access with removal of just 2 screws.
The classic magnetite on the edge of the fuselage can be attracted to each other firmly make the assembly easy.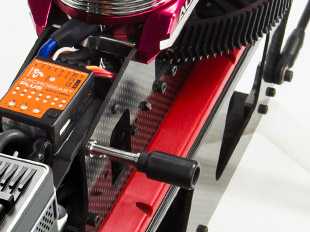 Engineered Narrow Body Design efficiently decreases gear abrasion and machine deformation. The Align T-Rex 700X newly designed narrow body is more powerful and has longer flying durability.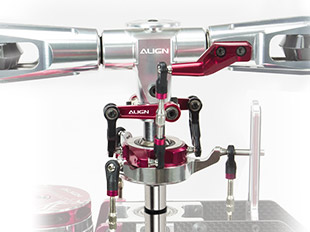 The 700EFL Flybarless Rotor Head System utilizes extreme low CG design to effectively reduce resistance during 3D maneuvers while increasing flight responsiveness and precision. In addition, the high quality of the helicopter design is accented with red anodized and stainless color precision machined metal parts.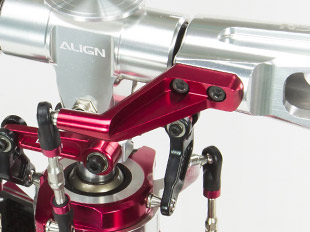 Two new holder arms with CNC cutting provide a neat and smooth lines and appearance, showing out of the ordinary. After thinking again and again and numerous washes to practice the essence, gestate a new F3C holder arm, effectively doubling the flight stability, and the excellent fine control accuracy; not only in the static flight has more advantages in the dynamic flight also has more outstanding control feeling. The 3D holder arm has excellent rigidity and toughness, suitable for extreme 3D flight, features with more direct and faster response, also enhance the flight stability, allowing to stimulate the infinite possibilities.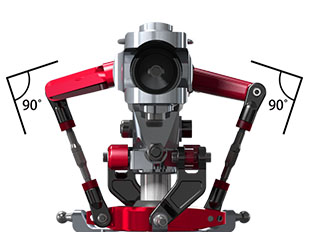 Main Rotor Grip Arm and Linkage Rod is at 90-degree angle symmetrically, allow to keep the best precise flight performance.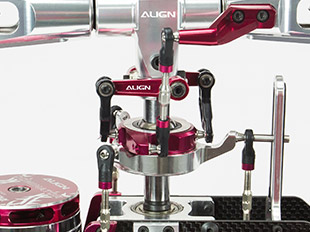 Align Advanced Metal Swashplate firmly connects to rotor grips preventing rotor head disengagement during intense flight. Two linkage ball mounting holes provided to improve control of system movement. A resolution hole or larger movement reaction hole can be selected based on your flying preference or style.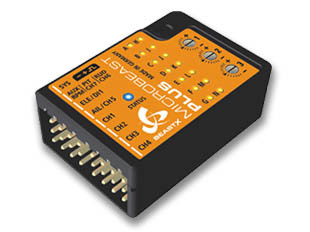 The high-end Microbeast PLUS 6-axis gyro with 32-bit high-speed processor is much precise and superior in programming and computing allow for significant handling performance and delicate response. In addition, the Microbeast PLUS gyro is vibration-reducing improvement and strongly reduce the effects of the vibration to flying performance.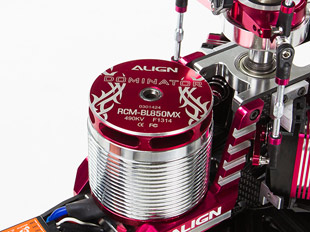 Our new 850MX motor inherited features from the previous 800MX such as high efficiency, superior power, excellent torque, low current draw, and a low operating temperature. The 850MX is capable of maintaining a more consistent torque and head speed through continuous 3D maneuvers. This is a particularly designed for 3D flights.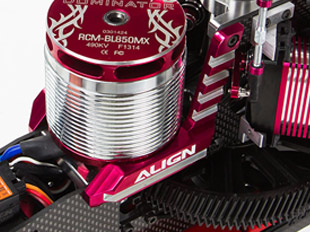 The CNC Plate is designed to strengthen the Align 700X frame while efficiently acting as a heat sink to efficiently dissipate motor heat. (This can lower motor temperature up to 20 degrees Celsius during flight).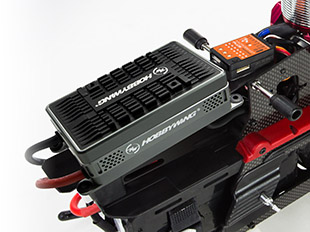 Use with HOBBYWING Platinum HV V4 ESC:
1.Fast throttle feedback, much stable and agile performance enhancement.
2.Fast processer extend.
3.Cool ESC temperature keep performance much reliable.
4.Support ASBOX Multifunction Programmer set up.
5.Support Firmware Update.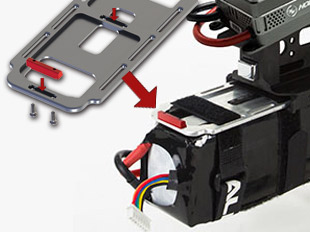 New 3K Main frame embedded with battery mounting rails with patented spring loaded latching mechanism. Brand new CG adjustable CNC Aluminum Battery Mount with movable latch design allow to adjust CG for different battery size, as well as providing great protection for the battery and convenient way for mounting.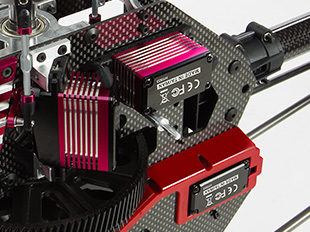 Designed specifically for helicopters, utilizing a brushless motor for fast speed, high torque, and super efficient reaction time, allowing the Align 700X to perform faster with precision. The brand new DS820M high voltage brushless servo is equipped with a new CNC machined aluminum case. This new aluminum case exhibits top of the line servo aesthetics while providing a heat sink function for the best protection of the servo.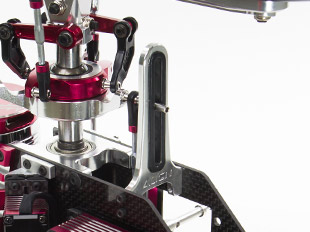 Integration of CNC Aluminum alloy and POM Polyacetal which can lower friction between the linkage ball and the Metal Anti Rotation Bracket. In addition, this new design increases the efficiencies and accuracy of the servos.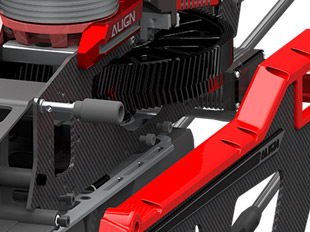 Composite material side plates engineered by exclusive embedding technology, which strengthens the entire structure and eases serviceability.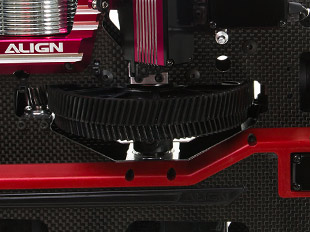 Highly enhance structural strength, effectively increase the torsional capability.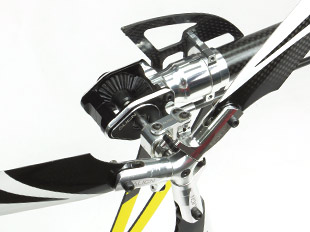 The brand new 700E three tail blade set is specially made from aerospace grade aluminum alloy with precise mechanical process, highly enhance structural rigidity and precision. Total 3 tail blades design allow to achieve superior tail-lock performance and excellent controlling feel. For those who is addicted to 3D flying, you must convert to the three tail blade set and enjoy the amazing powerful flight performance.
760 3D Standard Equipment
•760X Painted Canopy x 1
•3D Holder Arm x 1
•Progressive Lightweight Landing Skid x 1
•700 PRO Carbon Fiber Vertical Stabilizer x1
•Main Blade Holder x 1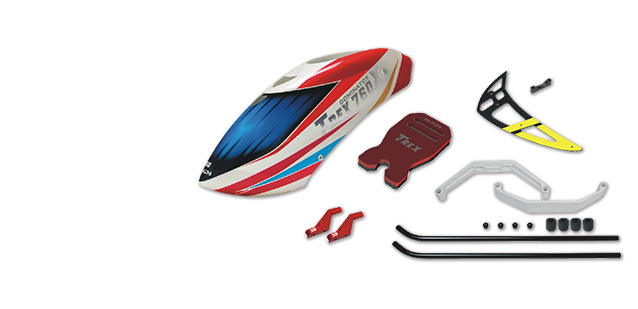 760 F3C Fuselage Equipment
•F3C Holder Arm x 1
•Tail Transmission Gear Box x 1
•Frame Mounting Foam x 1
•Frame Mounting Block x 1
•Carbon Fiber Frame Mounting Plate x 1
•Landing Skid Set x 1
•Main Blade Holder x 1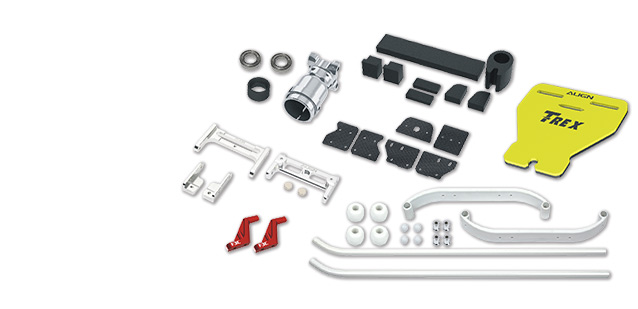 Electric Equipment
•Platinum HV 160A V4 Brushless ESC x 1
•850MX Brushless Motor(490KV/4535) x 1
•DS820M High Voltage Brushless Servo x 3
•DS825M High Voltage Brushless Servo x 1
•Microbeast PLUS Flybarless System x 1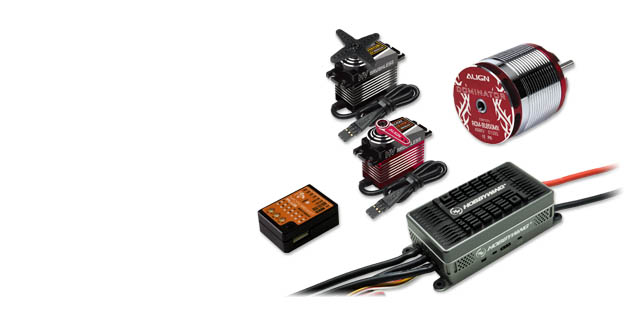 Specification
•Length: 1500mm
•Height: 375mm
•Width: 240mm
•Main Blade Length: 760mm
•Main Rotor Diameter: 1702mm
•Tail Rotor Diameter: 287mm
•Motor Drive Gear:12T
•Main Drive Gear:112T
•Autorotation Tail Drive Gear: 102T
•Tail Drive Gear: 23T
•Drive Gear Ratio: 9.33:1:4.43
•Weight(w/o Battery): Approx. 4200g
Accessories
•T-REX 760X Kit Set x 1 set
•T-REX 760 F3C Fuselage x 1
•760 Carbon Fiber Blades x 1 set
•105mm 3K Carbon Fiber Tail Blades x 1 set
•850MX Brushless Motor(490KV/4535) x 1
•DS820M High Voltage Brushless Servo x 3
•DS825M High Voltage Brushless Servo x 1
•Platinum HV 160A V4 Brushless ESC x 1
•Microbeast PLUS Flybarless System x 1
Radio transmitter and electronic equipment required for assembly:
•Transmitter(7-channel or more, helicopter system)
•Receiver(7-channel or more)
•6S Li-Po 5200 ~ 6000mAh x 2
•Digital Pitch Gauge
Warranty, Returns & Support
Warranty Information
We truly thank you for your purchase, and when things go wrong, we are here to help in any way that we are capable of doing so.

In regards to any warranty related matter, please reference the below information to help understand our warranty policies, as these warranty policies are absolute when it comes to any purchase made via HeliDirect.

Warranty Time Frame

Regarding product(s) purchased via HeliDirect, each manufacturer has their own specified warranty time frame, and HeliDirect holds the sole right to direct the customer to the manufacturer for stated warranty support in regards to manufacturer's that require direct level warranty support.

Our stated (14) day return policy directly relates to brand new, unused products being returned for a refund or store credit, and does not relate to warranty related situations for faulty product(s). Faulty, damaged or problematic items are handled upon a case by case basis, and will be detailed below based upon the warranty options available.

Our team at HeliDirect is highly motivated to assist in every possible way regarding warranty support, but please be 100% aware that warranty support for the product(s) you have purchased may be handled directly via the manufacturer, and not through HeliDirect.

If your product(s) involve direct manufacturer support, we are still available to assist. We ask that the customer make the initial manufacturer contact for warranty support, but in the case where a manufacturer response is not receive within (5) business days, HeliDirect will step in upon your behalf, utilizing our channels to assist you with this manufacturer based support.

In the above case, HeliDirect will do everything in our power to make sure the manufacturer assists you directly, but please note that all such warranty in regards to an issue like this will still be directed through the manufacturer.

Warranty Related Issues

Please note that HeliDirect is not a warranty repair center, nor do we offer warranty regarding many items we resell. Product(s) purchased via HeliDirect are subject to the original vendor's repair / replacement warranty policies & timelines, and will be directed to the manufacturer at our discretion.

HeliDirect will not assume responsibility and / or liability for any manufacturer defect, or damage due the use / misuse of the product(s) purchased. Further, HeliDirect cannot / will not be held liable for ancillary damage to product(s) based upon a manufacturer fault or defect. All such issues will be dealt with at the manufacturer based level.

If your item is found to have a fault or defect after installation or use, your product may be subject to warranty repair via the original manufacturer, no matter what the purchase date may be. HeliDirect does not cover repair, replacement or warranty via used / installed products. All such issues will need to be dealt with at the manufacturer level.

Damage Due to Ancillary Product Failure

In regards to damage that directly results to a failed product installed in conjunction with another product, we are happy to assist in terms of warranty support for the product that has failed, but please be aware that we cannot be held liable for ancillary damage to other items or components that may have been damaged due to the original product failure.

Warranty Returns

If your product is approved by our customer service staff as a valid return that we will handle directly, please note the below information regarding all such approved warranty items sent to HeliDirect.

- Any item(s) approved for return to HeliDirect will be subject to inspection and or testing to verify the noted information provided by the customer regarding the flaws, faults or damage.

- Due to the various aspects of testing, repair and other return processes, please be aware that any such approved return will require (2) to (5) business days for proper processing. Our staff will certainly do all that we can to reduce this time to the bare minimum, but please be aware that the return process can take up to (5) business days to complete.

- If the product(s) approved for return are deemed faulty by our returns specialists, we will proceed with a repair, exchange, credit or refund based upon the situation at hand. All such information will be communicated to the customer before any re-shipment is made.

- If an item that encounters a warranty issue after usage, HeliDirect may opt to repair the product versus an exchange, as exchanges can only be made for valid warranty relating to products that have no use of flaws. Our staff will be sure item is in 100% working order based upon any repairs, but exchanges, credits or refund cannot be offered for items under warranty that have been used and are no longer able to be sold as new.

- In the case of product(s) returned to us that test to be non faulty, the product(s) will be returned to the customer in the condition received. Our staff will reach out to the customer with necessary information regarding what may have been missed, and what steps to take in order to utilize the product(s) effectively.

- For non faulty diagnoses of returned product(s), refunds, store credits or exchanges cannot be offered, as the product(s) received cannot be sold as new and unused.