Description
Description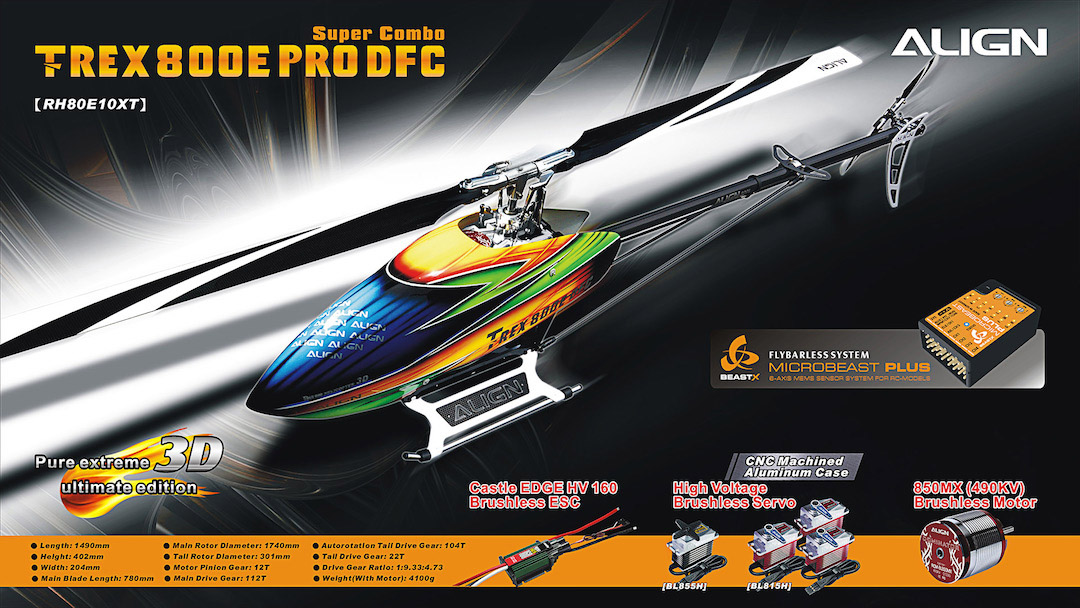 The T-REX 800E PRO DFC is an 800 class flagship designed specifically for 3D flights. The CCPM direct connect servo design, coupled with DFC rotor head assembly, results in fast, precise, and more direct control reaction. The frame material integration technology is utilized on the landing gears and vertical tail fin, creating a unique look not only making the T-REX 800E PRO DFC stand out, but also resulting in an innovative design that encompasses structure rigidity along with beautiful aesthetics.

Nothing was spared in the electronics components of the kit: The mighty power of the 850MX(490KV) motor paired with Castle Edge HV 160 speed controller for unparalleled power output; The new CNC machined aluminum cased BL815H brushless high voltage cyclic servos paired with BL855H rudder servo not only exhibited top of the line servo aesthetics, but also combine heat sink function and best performance in the market segment.

The T-REX 800E PRO DFC can be described as the current top of the line flagship representing Align's superior product line. Based on the pedigree of pure 3D flight, the newest design concept with absolute top of the line equipment, along with superior aesthetics and attractive lines, the T-REX 800E PRO DFC will definitely elevate the adrenaline in your blood!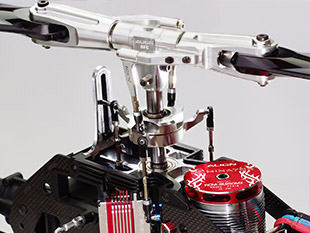 Equipped with the low CG DFC rotor head, exhibits exhilarating 3D performance and unimaginable flight speed.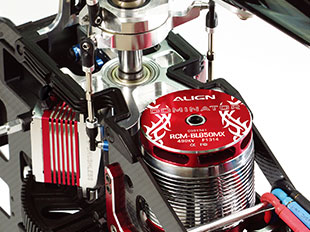 850MX inherit from the previous 800MXs feature, high efficiency, superior power, excellent torque, low current draw and low temperature. It's capable of maintaining much more consistent torque and head speed through continuous 3D maneuvers, which is particularly special design for 3D flights.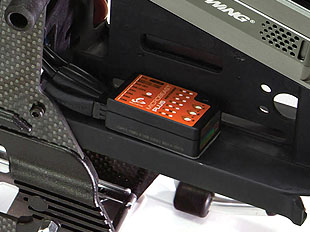 The high-end Microbeast PLUS 6-axis gyro with 32-bit high-speed processor is much precise and superior in programming and computing allow for significant handling performance and delicate response. In addition, the Microbeast PLUS gyro is vibration-reducing improvement and strongly reduce the effects of the vibration to flying performance.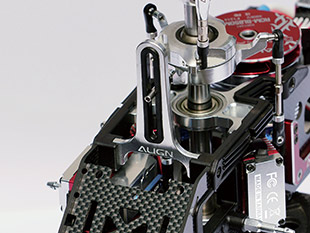 New style swash anti-rotation guide with embedded anti-wear material, effectively minimize the wear between swashplate long ball and guide.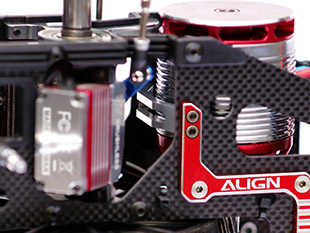 The shapely Reinforcement plate and brace are special design for T-REX 800E, effectively increase the torsional strength of main frame, under extreme 3D maneuver, you can strongly feel its solid reinforcement from its structure, thenew CNC machined aluminum electroplate red, is particular arranged in groups of 850MX motor, subtly bring the T-REX 800E PRO stylish and metal beauty.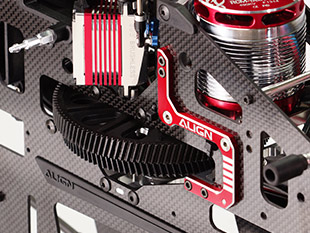 Equipped with new high strength cnc M1 helical main gear and tail drive bevel gear assembly, featuring reinforced overall gear structure and increased gear thickness, effectively improves gear's anti torsion ability to prevent gear from deforming under extreme power,reducing gear wear and power loss.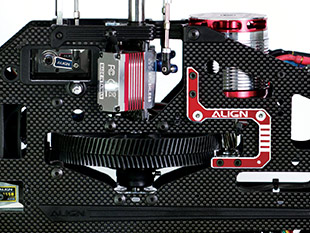 The latest BL815H and BL855H metallic brushless servos are standard equipment, featuring superior torque, speed with unparalleled efficiency and precision. These servos are highly appraised by team pilots for their low operation heat, contributing to dramatically increased longevity.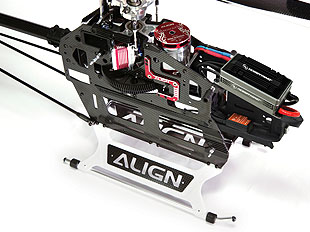 Innovative composite of fiber material for landing gear, unique stylish shape, functional intensity and visual beauty are both innovative design.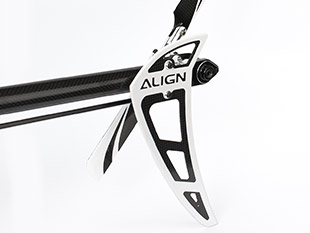 Using competitive material and special imbedded technology for vertical tail, enhanced its structural strength and boutique texture efficiently, vivacious color providing excellent visibility.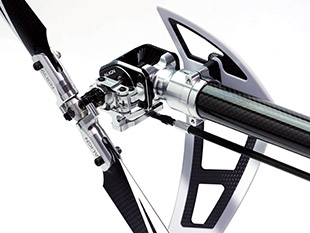 Using competitive material and special imbedded technology for vertical tail, enhanced its structural strength and boutique texture efficiently, vivacious color providing excellent visibility.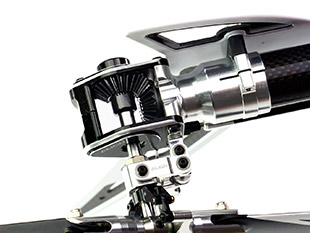 Utilizes newly developed, highest spec and superior anti-wear material to increase the overall strength and durability for torque tube drive gear. Effectively minimize gear striping and crash damage.
Standard equipment
- Castle EDGE HV 160 Brushless ESC
- 850MX Brushless Motor(490KV)
- BL855H High Voltage Brushless Servo
- BL815H High Voltage Brushless Servo x 3
- Microbeast PLUS Flybarless system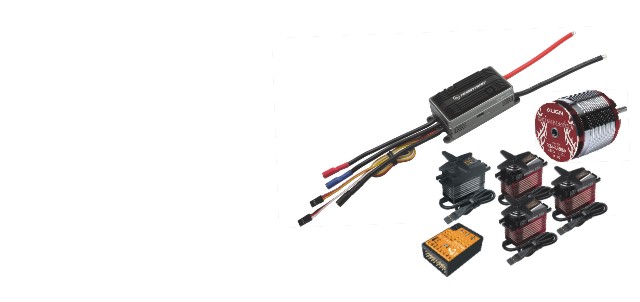 Specification
- Length: 1490mm
- Height: 402mm
- Width: 204mm
- Main Blade Length: 780mm
- Main Rotor Diameter: 1740mm
- Tail Rotor Diameter: 301mm
- Motor Drive Gear:12T
- Main Drive Gear:112T
- Autorotation Tail Drive Gear: 104T
- Tail Drive Gear: 22T
- Drive Gear Ratio: 1:9.33:4.73
- Weight(With Motor): 4100g
Accessories
- T-REX 800E PRO DFC Kits Set x 1
- Microbeast PLUS Flybarless system x 1 set
- 780 Carbon Fiber Blades x 1 set
- BL815H High Voltage Brushless Servo x 3
- BL855H High Voltage Brushless Servo x 1
- 3K Carbon Fiber Tail Boom x 1
- 850MX Brushless Motor(490KV) x 1
- Castle EDGE HV 160 Brushless ESC x 1
- 115mm 3K Carbon Fiber Tail Blades x 1 set
Radio transmitter and electronic equipment required for assembly:
- Transmitter(7-channel or more, helicopter system)
- Receiver(7-channel or more)
- 6S Li-Po 4500 ~ 5200mAh x 2
:
Pulse 6S4500-45C
,
Pulse 6S4500-65C
,
Pulse 6S5000-35C,
Pulse 6S5000-45C
,
Pulse 6S5000-65C
,
Pulse 6S5500-45C
,
Pulse 6S5500-65C
-
2S Li-Po 1900 ~ 2300mAh
x 1
Warranty, Returns & Support
Warranty Information
We truly thank you for your purchase, and when things go wrong, we are here to help in any way that we are capable of doing so.

In regards to any warranty related matter, please reference the below information to help understand our warranty policies, as these warranty policies are absolute when it comes to any purchase made via HeliDirect.

Warranty Time Frame

Regarding product(s) purchased via HeliDirect, each manufacturer has their own specified warranty time frame, and HeliDirect holds the sole right to direct the customer to the manufacturer for stated warranty support in regards to manufacturer's that require direct level warranty support.

Our stated (14) day return policy directly relates to brand new, unused products being returned for a refund or store credit, and does not relate to warranty related situations for faulty product(s). Faulty, damaged or problematic items are handled upon a case by case basis, and will be detailed below based upon the warranty options available.

Our team at HeliDirect is highly motivated to assist in every possible way regarding warranty support, but please be 100% aware that warranty support for the product(s) you have purchased may be handled directly via the manufacturer, and not through HeliDirect.

If your product(s) involve direct manufacturer support, we are still available to assist. We ask that the customer make the initial manufacturer contact for warranty support, but in the case where a manufacturer response is not receive within (5) business days, HeliDirect will step in upon your behalf, utilizing our channels to assist you with this manufacturer based support.

In the above case, HeliDirect will do everything in our power to make sure the manufacturer assists you directly, but please note that all such warranty in regards to an issue like this will still be directed through the manufacturer.

Warranty Related Issues

Please note that HeliDirect is not a warranty repair center, nor do we offer warranty regarding many items we resell. Product(s) purchased via HeliDirect are subject to the original vendor's repair / replacement warranty policies & timelines, and will be directed to the manufacturer at our discretion.

HeliDirect will not assume responsibility and / or liability for any manufacturer defect, or damage due the use / misuse of the product(s) purchased. Further, HeliDirect cannot / will not be held liable for ancillary damage to product(s) based upon a manufacturer fault or defect. All such issues will be dealt with at the manufacturer based level.

If your item is found to have a fault or defect after installation or use, your product may be subject to warranty repair via the original manufacturer, no matter what the purchase date may be. HeliDirect does not cover repair, replacement or warranty via used / installed products. All such issues will need to be dealt with at the manufacturer level.

Damage Due to Ancillary Product Failure

In regards to damage that directly results to a failed product installed in conjunction with another product, we are happy to assist in terms of warranty support for the product that has failed, but please be aware that we cannot be held liable for ancillary damage to other items or components that may have been damaged due to the original product failure.

Warranty Returns

If your product is approved by our customer service staff as a valid return that we will handle directly, please note the below information regarding all such approved warranty items sent to HeliDirect.

- Any item(s) approved for return to HeliDirect will be subject to inspection and or testing to verify the noted information provided by the customer regarding the flaws, faults or damage.

- Due to the various aspects of testing, repair and other return processes, please be aware that any such approved return will require (2) to (5) business days for proper processing. Our staff will certainly do all that we can to reduce this time to the bare minimum, but please be aware that the return process can take up to (5) business days to complete.

- If the product(s) approved for return are deemed faulty by our returns specialists, we will proceed with a repair, exchange, credit or refund based upon the situation at hand. All such information will be communicated to the customer before any re-shipment is made.

- If an item that encounters a warranty issue after usage, HeliDirect may opt to repair the product versus an exchange, as exchanges can only be made for valid warranty relating to products that have no use of flaws. Our staff will be sure item is in 100% working order based upon any repairs, but exchanges, credits or refund cannot be offered for items under warranty that have been used and are no longer able to be sold as new.

- In the case of product(s) returned to us that test to be non faulty, the product(s) will be returned to the customer in the condition received. Our staff will reach out to the customer with necessary information regarding what may have been missed, and what steps to take in order to utilize the product(s) effectively.

- For non faulty diagnoses of returned product(s), refunds, store credits or exchanges cannot be offered, as the product(s) received cannot be sold as new and unused.