Description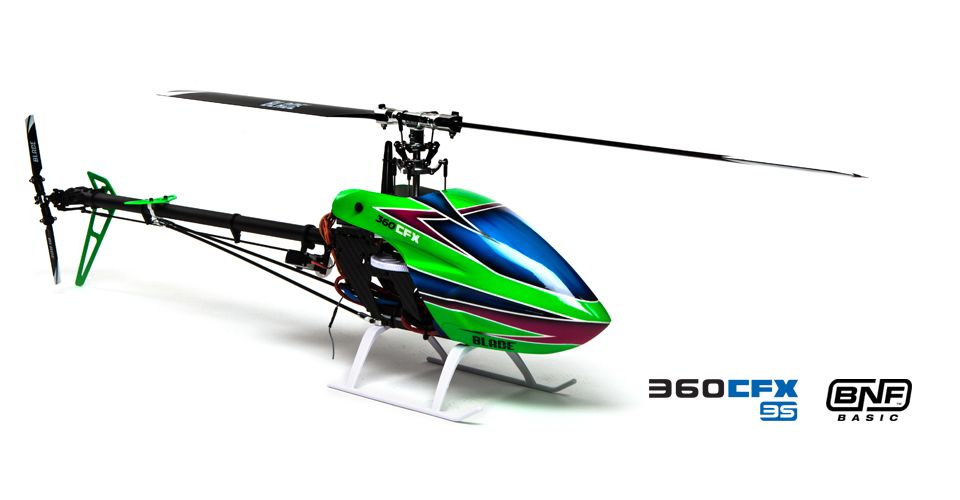 The Blade® 360 CFX 3S BNF Basic offers a fantastic heli for intermediate pilots to step up into high performance aerobatics with the convenience of a performance tuned 3S power system without sacrificing optimized servo geometry, metal gear servos, and carbon fiber frame. The high-end and proven components of the 360 CFX platform provide intermediate heli pilots everything needed to step into this size of heli. Plus, it comes ready to go right out of the box with Bind-N-Fly convenience. All you have to do is charge and install a compatible 3S 3000mAh battery, bind the heli to your compatible 6+ channel transmitter, and start performing thrilling aerobatic maneuvers.
Video Overview
Needed to Complete
6+ Channel Spektrum Air Transmitter
3000mAh 3S 11.1V 30C LiPo battery
Compatible 3S LiPo Charger
What's in the box?
(1) Blade 360 CFX 3S Heli
(1) Spektrum AR636A AS3X Receiver
(1) Spektrum Metal Gear Tail and Cyclic Servos
(1) Blade Brushless Outrunner Motor
(1) Blade 45A Brushless ESC
(1) User Manual

Proven Platform
The proven and popular 360 CFX platform is now widely accessible in a convenient 3S package.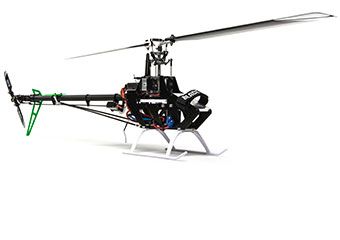 Optimized Serve Geometry
Allows the pilot to take advantage of the flybarless unit by letting the servo inputs go directly to the swashplate with the least mechanical loss.
360mm Carbon Fiber Blades
Included carbon fiber main rotor blades provide clean and precise control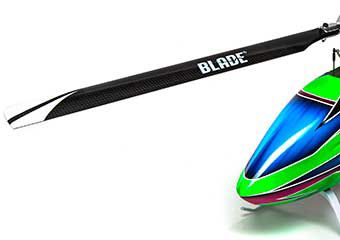 Metal Gear Tail and Cyclic Servos
The Spektrum servos for the cyclic and tail control feature robust metal gear movement and digital precision with a response speed to meet the demanding workload of flybarless mechanics.
Brushless Outrunner Motor
High-torque outrunner motor installed offers pro-level power and output for aerobatic performance that is sure to impress.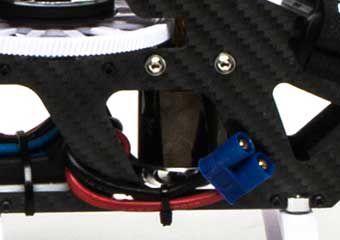 Fully assembled
BNF Basic completion gets pilots in the air in no time. Simply charge and install a 3S 3,000mAh battery and you're performing impressive maneuvers.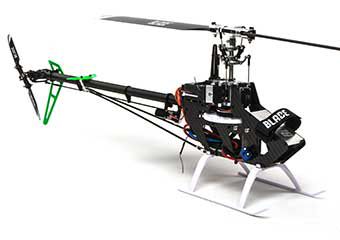 Spektrum™ AR636A AS3X® Receiver
The pre-tuned AS3X receiver provides impressive control and flight performance.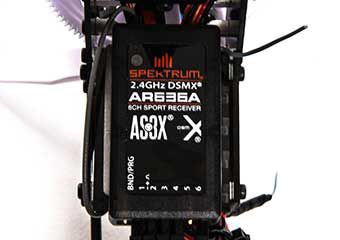 Lightweight and Rigid
CNC aluminum and carbon fiber frame components offer a great blend of rigidity and durability while maintaining a lightweight profile.
Helical Main Gear
Strong helical gear provides consistent power and rotation, perfect for those looking to push the limits.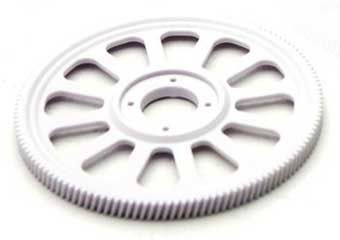 Belt-driven tail design
A belt driven collective pitch tail design provides rock solid tail performance and control.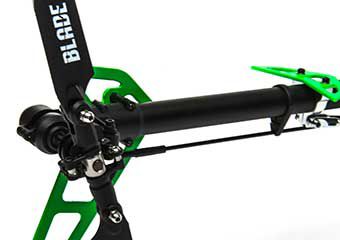 Fiberglass Canopy
Simply standing still, the performance potential of the 360 CFX 3S is proven vividly in the brilliant color and high-gloss finish of the fiberglass canopy.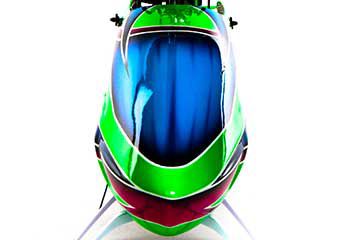 Specs
| | |
| --- | --- |
| Approximate Assembly Time: | Less than 1 Hour |
| Approximate Flight Time: | 4 minutes |
| Battery: | 3000 3S (sold separately) |
| Canopy/Body Material: | Fiberglass |
| Channels: | 6 |
| Completion Level: | Bind-N-Fly |
| Flying Weight: | 30oz (850g) |
| Height: | 215mm |
| Length: | 670mm |
| Main Blade Material: | Carbon |
| Main Frame Material: | Carbon |
| Main Motor Type: | Brushless Outrunner |
| Main Rotor Blade Length: | 350mm |
| Main Rotor Diameter: | 790mm |
| Main Rotor Head Type: | Collective Pitch (CCPM) Flybarless |
| Swashplate Type: | 120 Degree CCPM |
| Tail Blade Material: | Plastic |
| Tail Drive: | Belt Drive |
| Tail Rotor Blade Length: | 65mm |
| Width: | 110mm |
Manuals
Warranty, Returns & Support
Warranty Information
We truly thank you for your purchase, and when things go wrong, we are here to help in any way that we are capable of doing so.

In regards to any warranty related matter, please reference the below information to help understand our warranty policies, as these warranty policies are absolute when it comes to any purchase made via HeliDirect.

Warranty Time Frame

Regarding product(s) purchased via HeliDirect, each manufacturer has their own specified warranty time frame, and HeliDirect holds the sole right to direct the customer to the manufacturer for stated warranty support in regards to manufacturer's that require direct level warranty support.

Our stated (14) day return policy directly relates to brand new, unused products being returned for a refund or store credit, and does not relate to warranty related situations for faulty product(s). Faulty, damaged or problematic items are handled upon a case by case basis, and will be detailed below based upon the warranty options available.

Our team at HeliDirect is highly motivated to assist in every possible way regarding warranty support, but please be 100% aware that warranty support for the product(s) you have purchased may be handled directly via the manufacturer, and not through HeliDirect.

If your product(s) involve direct manufacturer support, we are still available to assist. We ask that the customer make the initial manufacturer contact for warranty support, but in the case where a manufacturer response is not receive within (5) business days, HeliDirect will step in upon your behalf, utilizing our channels to assist you with this manufacturer based support.

In the above case, HeliDirect will do everything in our power to make sure the manufacturer assists you directly, but please note that all such warranty in regards to an issue like this will still be directed through the manufacturer.

Warranty Related Issues

Please note that HeliDirect is not a warranty repair center, nor do we offer warranty regarding many items we resell. Product(s) purchased via HeliDirect are subject to the original vendor's repair / replacement warranty policies & timelines, and will be directed to the manufacturer at our discretion.

HeliDirect will not assume responsibility and / or liability for any manufacturer defect, or damage due the use / misuse of the product(s) purchased. Further, HeliDirect cannot / will not be held liable for ancillary damage to product(s) based upon a manufacturer fault or defect. All such issues will be dealt with at the manufacturer based level.

If your item is found to have a fault or defect after installation or use, your product may be subject to warranty repair via the original manufacturer, no matter what the purchase date may be. HeliDirect does not cover repair, replacement or warranty via used / installed products. All such issues will need to be dealt with at the manufacturer level.

Damage Due to Ancillary Product Failure

In regards to damage that directly results to a failed product installed in conjunction with another product, we are happy to assist in terms of warranty support for the product that has failed, but please be aware that we cannot be held liable for ancillary damage to other items or components that may have been damaged due to the original product failure.

Warranty Returns

If your product is approved by our customer service staff as a valid return that we will handle directly, please note the below information regarding all such approved warranty items sent to HeliDirect.

- Any item(s) approved for return to HeliDirect will be subject to inspection and or testing to verify the noted information provided by the customer regarding the flaws, faults or damage.

- Due to the various aspects of testing, repair and other return processes, please be aware that any such approved return will require (2) to (5) business days for proper processing. Our staff will certainly do all that we can to reduce this time to the bare minimum, but please be aware that the return process can take up to (5) business days to complete.

- If the product(s) approved for return are deemed faulty by our returns specialists, we will proceed with a repair, exchange, credit or refund based upon the situation at hand. All such information will be communicated to the customer before any re-shipment is made.

- If an item that encounters a warranty issue after usage, HeliDirect may opt to repair the product versus an exchange, as exchanges can only be made for valid warranty relating to products that have no use of flaws. Our staff will be sure item is in 100% working order based upon any repairs, but exchanges, credits or refund cannot be offered for items under warranty that have been used and are no longer able to be sold as new.

- In the case of product(s) returned to us that test to be non faulty, the product(s) will be returned to the customer in the condition received. Our staff will reach out to the customer with necessary information regarding what may have been missed, and what steps to take in order to utilize the product(s) effectively.

- For non faulty diagnoses of returned product(s), refunds, store credits or exchanges cannot be offered, as the product(s) received cannot be sold as new and unused.