Description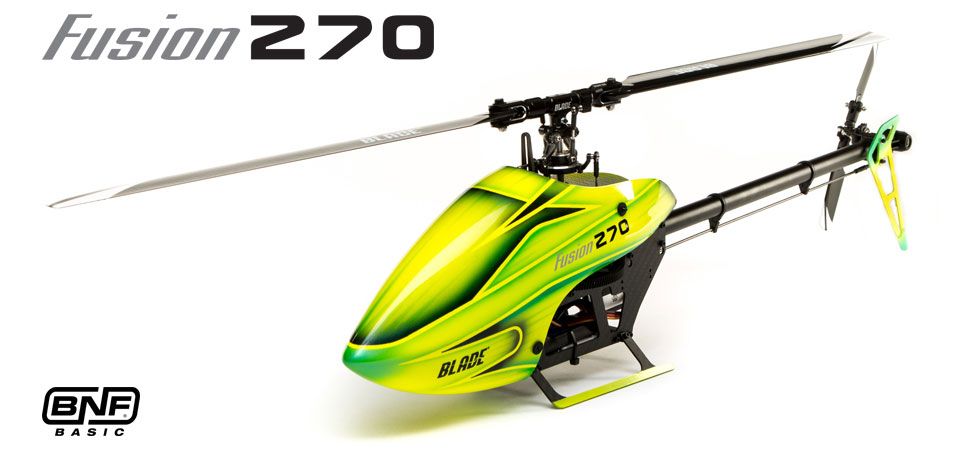 The Blade® Fusion™ 270 BNF® Basic helicopter begins a new era of high-end Blade products, with all the features, style, and performance intermediate through advanced pilots demand. This powerhouse features a lightweight and strong carbon fiber frame and landing gear, black anodized aluminum components, and an all-new, high-torque 4S optimized power system. Combined with Spektrum™ metal gear servos, helical main gear and the durable belt driven tail design, there is nothing stopping you from trying the most aggressive maneuvers imaginable. If you push things a little too far, the Fusion 270 is equipped with a Spektrum AR636A flight controller with SAFE® Technology Panic Recovery mode to prevent a crash. For seasoned pilots, the Fusion 270 delivers leading-edge heli action straight out of the box leaving the competition missing in action.
Video Overview
Needed to Complete
6+ Channel Spektrum™ Transmitter
1300mAh 14.8V 30C Li-Po Flight Battery
Suitable Li-Po Battery Charger
What's in the box?
(1) Fusion 270 BNF Basic Helicopter
(1) Carbon Fiber Main and Tail Blades
(1) Spektrum AR636A Flight Controller
(1) 45A ESC with Built in Governor
(1) 2950Kv Brushless Outrunner Motor
(4) Spektrum Metal Gear Servos
(1) User Manual
SAFE® Technology with Panic Recovery
The Panic Recovery feature allows pilots to prevent a crash and recover the heli to level flight at the press of a button.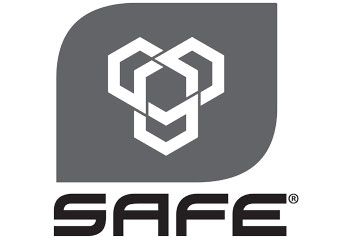 Spektrum™ AR636 Receiver
Newly refined algorithms within this receiver and 6 axis flybarless system make the Fusion 270 handle with cutting -edge precision and stability. New aluminum lower case on the receiver offers improved dampening increases tolerance to vibration.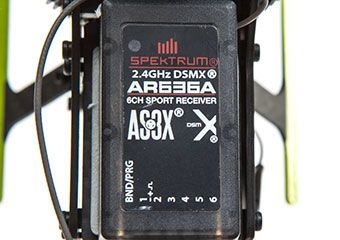 Carbon Fiber & Anodized Aluminum Construction
Stylish black anodized head, swashplate, servo block, and blade grips give a high-end finish that stands out from the pack. Rigid carbon fiber and aluminum frame construction features carbon fiber landing gear for a new stance that is light and durable.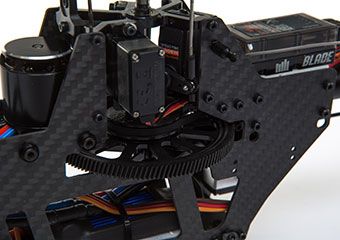 Optimized Servo Geometry
Proven optimized servo geometry provides exceptional response and control, while improving servo efficiency and minimizing mechanical loss to the swashplate.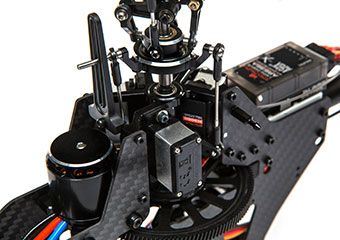 Spektrum™ High-Speed Metal Geared Servos
High speed metal geared servos drive the cyclic and tail, featuring robust gear movement and digital precision to meet the demands of this flybarless machine.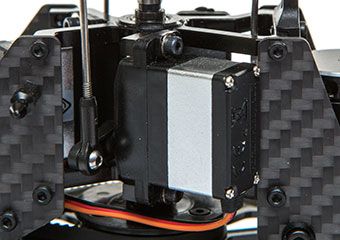 Oversized Mechanics
Triple ball-bearing support offers the oversized main shaft, spindle and blade grip components the ability to deliver the precision of Blade optimized servo geometry even under heavy flight loads.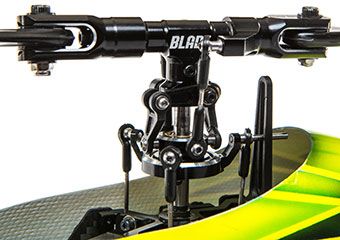 Belt-driven Tail
A robust belt driven tail design provides rock solid tail performance and control, while minimizing collateral gear damage in a crash.
Tail Case Assembly
Newly designed tail case and new metal pulley tail shaft with larger bearings reduces vibrations and adds durability and support.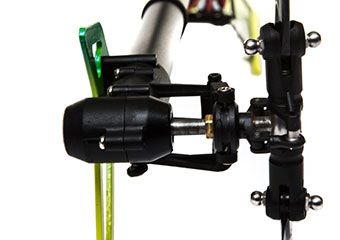 45A ESC with Governor
The all new, 45A brushless ESC with built in governor provides reliable performance tuned for a 4S power system.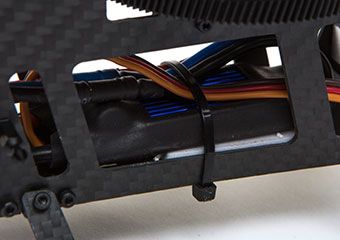 Redefined Power System
Optimized power system utilizes common 4S 1300mAh batteries to drive a top-mounted 2950Kv brushless motor.
Helical Main Gear
Low wear and quiet main gear provides consistent power and rotation in a more durable design.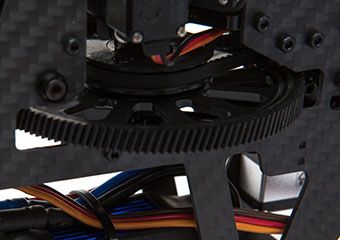 High Visibility
Newly designed fiberglass canopy features a bright trim scheme and matching vertical fin for unsurpassed visibility.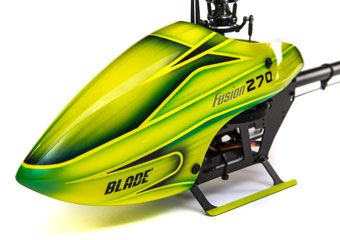 SPECS
| | |
| --- | --- |
| Approximate Flight Time: | 6 minutes |
| Battery: | 1300mAh 14.8V 30C Li-Po (Sold Separately) |
| Canopy/Body Material: | Fiberglass |
| Channels: | 6 |
| Completion Level: | Bind-N-Fly Basic |
| Flying Weight: | 626g |
| Height: | 190m |
| Length: | 560mm |
| Main Blade Material: | Carbon |
| Main Frame Material: | Carbon |
| Main Motor Type: | Brushless |
| Main Rotor Blade Length: | 260mm-280mm |
| Main Rotor Diameter: | 615mm |
| Main Rotor Head Type: | Collective Pitch (CCPM) Flybarless |
| Pinion Size: | 12 tooth |
| Swashplate Type: | 120 degree CCPM |
| Tail Blade Material: | Plastic |
| Tail Drive: | Belt Drive |
| Tail Rotor Blade Length: | 60mm |
| Tail Rotor Diameter: | 162mm |
| Type: | Helicopter |
| Width: | 115mm |
Manuals
Warranty, Returns & Support
Warranty Information
We truly thank you for your purchase, and when things go wrong, we are here to help in any way that we are capable of doing so.

In regards to any warranty related matter, please reference the below information to help understand our warranty policies, as these warranty policies are absolute when it comes to any purchase made via HeliDirect.

Warranty Time Frame

Regarding product(s) purchased via HeliDirect, each manufacturer has their own specified warranty time frame, and HeliDirect holds the sole right to direct the customer to the manufacturer for stated warranty support in regards to manufacturer's that require direct level warranty support.

Our stated (14) day return policy directly relates to brand new, unused products being returned for a refund or store credit, and does not relate to warranty related situations for faulty product(s). Faulty, damaged or problematic items are handled upon a case by case basis, and will be detailed below based upon the warranty options available.

Our team at HeliDirect is highly motivated to assist in every possible way regarding warranty support, but please be 100% aware that warranty support for the product(s) you have purchased may be handled directly via the manufacturer, and not through HeliDirect.

If your product(s) involve direct manufacturer support, we are still available to assist. We ask that the customer make the initial manufacturer contact for warranty support, but in the case where a manufacturer response is not receive within (5) business days, HeliDirect will step in upon your behalf, utilizing our channels to assist you with this manufacturer based support.

In the above case, HeliDirect will do everything in our power to make sure the manufacturer assists you directly, but please note that all such warranty in regards to an issue like this will still be directed through the manufacturer.

Warranty Related Issues

Please note that HeliDirect is not a warranty repair center, nor do we offer warranty regarding many items we resell. Product(s) purchased via HeliDirect are subject to the original vendor's repair / replacement warranty policies & timelines, and will be directed to the manufacturer at our discretion.

HeliDirect will not assume responsibility and / or liability for any manufacturer defect, or damage due the use / misuse of the product(s) purchased. Further, HeliDirect cannot / will not be held liable for ancillary damage to product(s) based upon a manufacturer fault or defect. All such issues will be dealt with at the manufacturer based level.

If your item is found to have a fault or defect after installation or use, your product may be subject to warranty repair via the original manufacturer, no matter what the purchase date may be. HeliDirect does not cover repair, replacement or warranty via used / installed products. All such issues will need to be dealt with at the manufacturer level.

Damage Due to Ancillary Product Failure

In regards to damage that directly results to a failed product installed in conjunction with another product, we are happy to assist in terms of warranty support for the product that has failed, but please be aware that we cannot be held liable for ancillary damage to other items or components that may have been damaged due to the original product failure.

Warranty Returns

If your product is approved by our customer service staff as a valid return that we will handle directly, please note the below information regarding all such approved warranty items sent to HeliDirect.

- Any item(s) approved for return to HeliDirect will be subject to inspection and or testing to verify the noted information provided by the customer regarding the flaws, faults or damage.

- Due to the various aspects of testing, repair and other return processes, please be aware that any such approved return will require (2) to (5) business days for proper processing. Our staff will certainly do all that we can to reduce this time to the bare minimum, but please be aware that the return process can take up to (5) business days to complete.

- If the product(s) approved for return are deemed faulty by our returns specialists, we will proceed with a repair, exchange, credit or refund based upon the situation at hand. All such information will be communicated to the customer before any re-shipment is made.

- If an item that encounters a warranty issue after usage, HeliDirect may opt to repair the product versus an exchange, as exchanges can only be made for valid warranty relating to products that have no use of flaws. Our staff will be sure item is in 100% working order based upon any repairs, but exchanges, credits or refund cannot be offered for items under warranty that have been used and are no longer able to be sold as new.

- In the case of product(s) returned to us that test to be non faulty, the product(s) will be returned to the customer in the condition received. Our staff will reach out to the customer with necessary information regarding what may have been missed, and what steps to take in order to utilize the product(s) effectively.

- For non faulty diagnoses of returned product(s), refunds, store credits or exchanges cannot be offered, as the product(s) received cannot be sold as new and unused.