Description
hello graphics

On top of the normal Betaflight OSD, radix on-screen-display gives you extra features you can't get anywhere else. Proudly show off your pilot and team logo using our logo customizer with just a click of a button. Extra features also include a graphical barometer scale, artificial horizon, gyro spectograph, RC stick display, 3D OSD support and more!
Introducing radix, the smartest, most innovative line of drone electronics BrainFPV has ever developed.
hello flexibility

radix is engineered to perfection with a visually stunning form factor and plug-and-play stacking. The radix flight controller stacks seamlessly on the radix power board or Hobbywing 4-in-1 ESC using soft cables for vibration isolation. Its simple, sophisticated design facilitates a faster build time and minimizes human error.
| | |
| --- | --- |
| hello features | |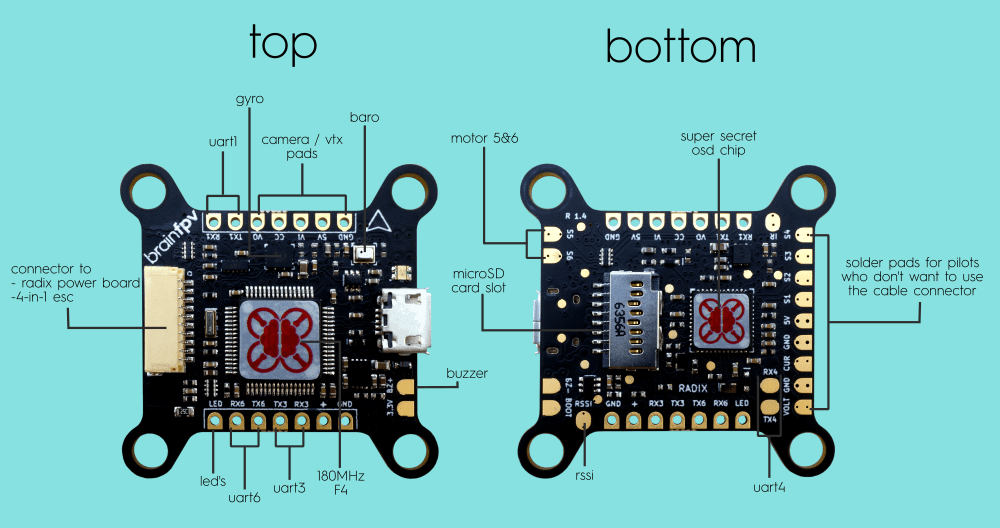 hello performance

Supporting up to 8S and 160A, the radix pb (power board) can handle serious power. The integrated LC filter and 5V (2A) regulator provide noise reduction and clean power to the radix fc and other peripherals. Get the cleanest sexiest build by soldering the motor and ESC telemetry signals directly to the radix pb, and connecting it to the radix fc using the included cable. Oh yeah, did we mention there are four integrated programmable LED's?
hello documentation

Have you ever seen anything so beautiful in your life? We outdid ourselves and won the award for BEST FPV MANUAL 2018.

Head over to the documentation to check it out!
hello support

did not find the help you were looking for from our manual or our user group? no worries! just click on the 'help' button on the bottom left side of this page or email us at support@brainfpv.com to get first class customer service.
How Does RADIX Compare to the Competition?
Here is a comparison with our previous flight controller, the BrainFPV RE1, and other recently released products. I hope you agree that RADIX kicks ass
| Flight Controller | BrainFPV RADIX | BrainFPV RE1 | Betaflight F4 | Flyduino KISS FCv2 |
| --- | --- | --- | --- | --- |
| Processor | STM32 F4, 180MHz | STM32 F4, 180MHz | STM32 F4, 168MHz | STM32 F7, 216MHz |
| OSD | Full-graphic | Full-graphic | Character based | None (external) |
| Gyro | BMI160 | BMI160 | MPU6000 | MPU6000 |
| Baro | BMP280 | BMP280 (optional add-on) | None | None |
| Logging Memory | MicroSD card slot | 16MB built-in | 16MB built-in | None (external) |
| Motor Outputs | 6 with DSHOT | 6 with DSHOT | 4 with DSHOT | 6 with DSHOT |
| Serial Ports | 4 | 2.5 (UART3 is RX only) | 4 (limitations due to fixed inverters) | 5 |
| BEC | 5V, 2A with RADIX PB | 5V, 1A / 10V, 1A with mPB V2 | 5V, 1.5A | 5V, 500mA |
| Max Voltage | 35V (8S) with RADIX PB | 26V (6S) with mPB V2 | ? | 6S (25.2V) |
| Max Current | 100A (160A burst) with RADIX PB | 80A (130A burst) with mPB V2 | ? 145A burst | - no PDB |
| Soft-mounting | Integrated grommets | None | None | None |
| Stacks on 4-in-1 ESC | Yes, plug-and-play | No | No | No |
| Firmware | Betaflight | Betaflight & dRonin | Betaflight | KISS |
| Price at Launch | $49.99 FC / $19.99 PB | $79 FC / $25 PB | $44.95 | $66 (55.38 €) |
Technical Specifications RADIX FC
Processor: STM32F446RET6, Coretx-M4, 32bit, 180MHz, 128kB RAM, 512kB Flash.
IMU: Bosch Sensortec BMI160 running at 3.2kHz, connected using SPI.
Baro: Bosch Sensortec BMP280 connected using SPI.
OSD: Full-graphic, PAL/NTSC auto detect, adjustable black and white levels. Full Betaflight OSD support with extra graphical features. Support for side-by-side 3D when used with a 3D FPV camera.
Memory: MicroSD card slot for logging.
Motor Outputs: 6 outputs with full DSHOT (150/300/600/1200) and OneShot support.
Receiver Support: PPM, S.Bus (inverter built-in), DSM, HoTT, SRXL, CSRF, FPort ready. 5V or 3.3V supply for receiver. Receiver is powered from USB for easy and safe setup.
Telemetry Support: FrSKY Smart Port, FrSKY Sensor Hub, HoTT Telemetry, SRXL, CSRF, FPort ready. Built-in inverter for FrSKY telemetry.

Serial Ports: 4 full serial ports (UARTs). UART3 and UART6 have inverters for S.Bus and SmartPort telemetry. Inverters are automatically enabled/disabled for maximum flexibility.
RGB LEDs: Dedicated RGB LED output.
Camera Control: Dedicated output for accessing the camera menu to change camera settings.
IR Emitter: Dedicated output for infrared based lap timing with multi-protocol support (I-Lap, Trackmate). Needs external IR LED and driver.
Buzzer Port: Dedicated port for 5V (100mA max) buzzers.
Analog Inputs: Voltage sensing up to 35V, current and RSSI inputs (3.3V max).
Power: 4.5V to 5.5V, 120mA.
Dimensions: 37mm x 37mm, 30.5mm hole spacing. 4.1mm holes for anti-vibration grommets.
Weight: 6g
Warranty, Returns & Support
Warranty Information
We truly thank you for your purchase, and when things go wrong, we are here to help in any way that we are capable of doing so.

In regards to any warranty related matter, please reference the below information to help understand our warranty policies, as these warranty policies are absolute when it comes to any purchase made via HeliDirect.

Warranty Time Frame

Regarding product(s) purchased via HeliDirect, each manufacturer has their own specified warranty time frame, and HeliDirect holds the sole right to direct the customer to the manufacturer for stated warranty support in regards to manufacturer's that require direct level warranty support.

Our stated (14) day return policy directly relates to brand new, unused products being returned for a refund or store credit, and does not relate to warranty related situations for faulty product(s). Faulty, damaged or problematic items are handled upon a case by case basis, and will be detailed below based upon the warranty options available.

Our team at HeliDirect is highly motivated to assist in every possible way regarding warranty support, but please be 100% aware that warranty support for the product(s) you have purchased may be handled directly via the manufacturer, and not through HeliDirect.

If your product(s) involve direct manufacturer support, we are still available to assist. We ask that the customer make the initial manufacturer contact for warranty support, but in the case where a manufacturer response is not receive within (5) business days, HeliDirect will step in upon your behalf, utilizing our channels to assist you with this manufacturer based support.

In the above case, HeliDirect will do everything in our power to make sure the manufacturer assists you directly, but please note that all such warranty in regards to an issue like this will still be directed through the manufacturer.

Warranty Related Issues

Please note that HeliDirect is not a warranty repair center, nor do we offer warranty regarding many items we resell. Product(s) purchased via HeliDirect are subject to the original vendor's repair / replacement warranty policies & timelines, and will be directed to the manufacturer at our discretion.

HeliDirect will not assume responsibility and / or liability for any manufacturer defect, or damage due the use / misuse of the product(s) purchased. Further, HeliDirect cannot / will not be held liable for ancillary damage to product(s) based upon a manufacturer fault or defect. All such issues will be dealt with at the manufacturer based level.

If your item is found to have a fault or defect after installation or use, your product may be subject to warranty repair via the original manufacturer, no matter what the purchase date may be. HeliDirect does not cover repair, replacement or warranty via used / installed products. All such issues will need to be dealt with at the manufacturer level.

Damage Due to Ancillary Product Failure

In regards to damage that directly results to a failed product installed in conjunction with another product, we are happy to assist in terms of warranty support for the product that has failed, but please be aware that we cannot be held liable for ancillary damage to other items or components that may have been damaged due to the original product failure.

Warranty Returns

If your product is approved by our customer service staff as a valid return that we will handle directly, please note the below information regarding all such approved warranty items sent to HeliDirect.

- Any item(s) approved for return to HeliDirect will be subject to inspection and or testing to verify the noted information provided by the customer regarding the flaws, faults or damage.

- Due to the various aspects of testing, repair and other return processes, please be aware that any such approved return will require (2) to (5) business days for proper processing. Our staff will certainly do all that we can to reduce this time to the bare minimum, but please be aware that the return process can take up to (5) business days to complete.

- If the product(s) approved for return are deemed faulty by our returns specialists, we will proceed with a repair, exchange, credit or refund based upon the situation at hand. All such information will be communicated to the customer before any re-shipment is made.

- If an item that encounters a warranty issue after usage, HeliDirect may opt to repair the product versus an exchange, as exchanges can only be made for valid warranty relating to products that have no use of flaws. Our staff will be sure item is in 100% working order based upon any repairs, but exchanges, credits or refund cannot be offered for items under warranty that have been used and are no longer able to be sold as new.

- In the case of product(s) returned to us that test to be non faulty, the product(s) will be returned to the customer in the condition received. Our staff will reach out to the customer with necessary information regarding what may have been missed, and what steps to take in order to utilize the product(s) effectively.

- For non faulty diagnoses of returned product(s), refunds, store credits or exchanges cannot be offered, as the product(s) received cannot be sold as new and unused.