Coupons & Promotion Codes Not Applicable for This Item.
About DJI Mavic Mini
DJI Mavic Mini
Propel your creativity with the new Mavic Mini from DJI. This compact, 250-gram drone allows users to capture footage in areas where larger drones are legally prohibited or need a drone license. The Mavic Mini can support 12MP aerial photos and 2.7K Quad HD videos and has a motorized 3-axis gimbal for superior camera stability, ensuring professional-quality images and footage. This mini drone can sustain continuous flight for up to 30 minutes with a full charge and enables an HD video feed with minimal latency. It is convenient to fly using the DJI Fly app, while the included controller is compatible with Android and iOS smartphones. The app also has SkyPixel, a social media platform that allows you to browse and share about your latest drone shots and ideal photography spots around your area. Whether you are an amateur trying out more dynamic shots or a professional filmmaker experimenting on other styles of cinematography, the DJI Mavic Mini is the ideal drone solution for all creatives.
Open Your Sky
The compact yet powerful Mavic Mini is the perfect creative companion, capturing your moments in a way that effortlessly elevates the ordinary. Together with the easy-to-use DJI Fly app, you'll enjoy a simplified flying experience and a perspective unlike any other.
Compact and Portable
Almost as light as a smartphone.

Weighing under 250 grams, Mavic Mini is almost as light as the average smartphone. This makes it exceptionally portable and places it in the lowest and safest weight class of drones, which in many countries may exempt it from certain regulations. For example, in the United States and Canada, you can fly Mavic Mini without the need to register your drone with the government. [1]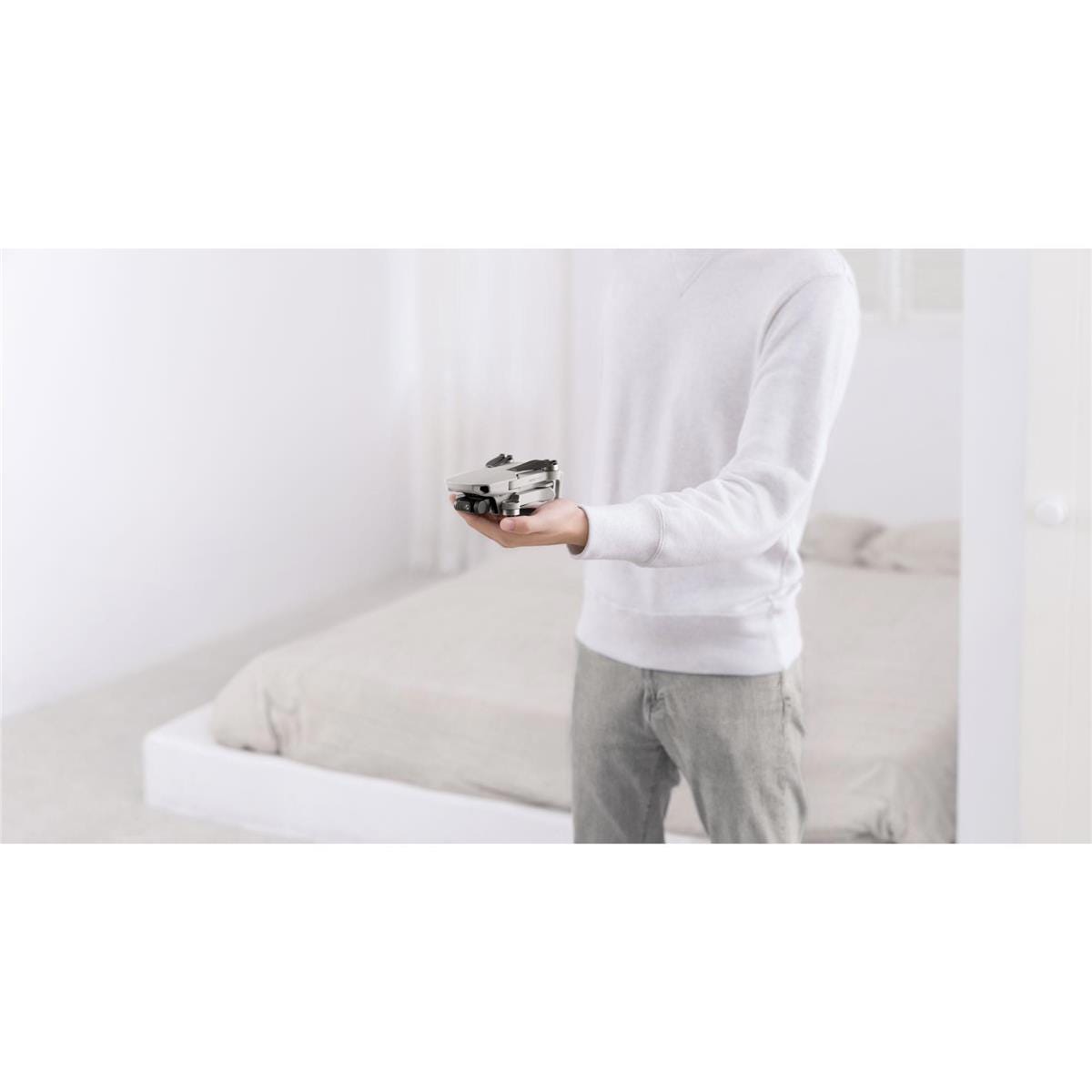 Easy to Use
Get good. Fast.

The new DJI Fly app offers a simple and intuitive user experience, enabling you to create cinematic shots with just a few taps. It even has Flight Tutorial, a feature to help you get started with Mavic Mini quickly and safely.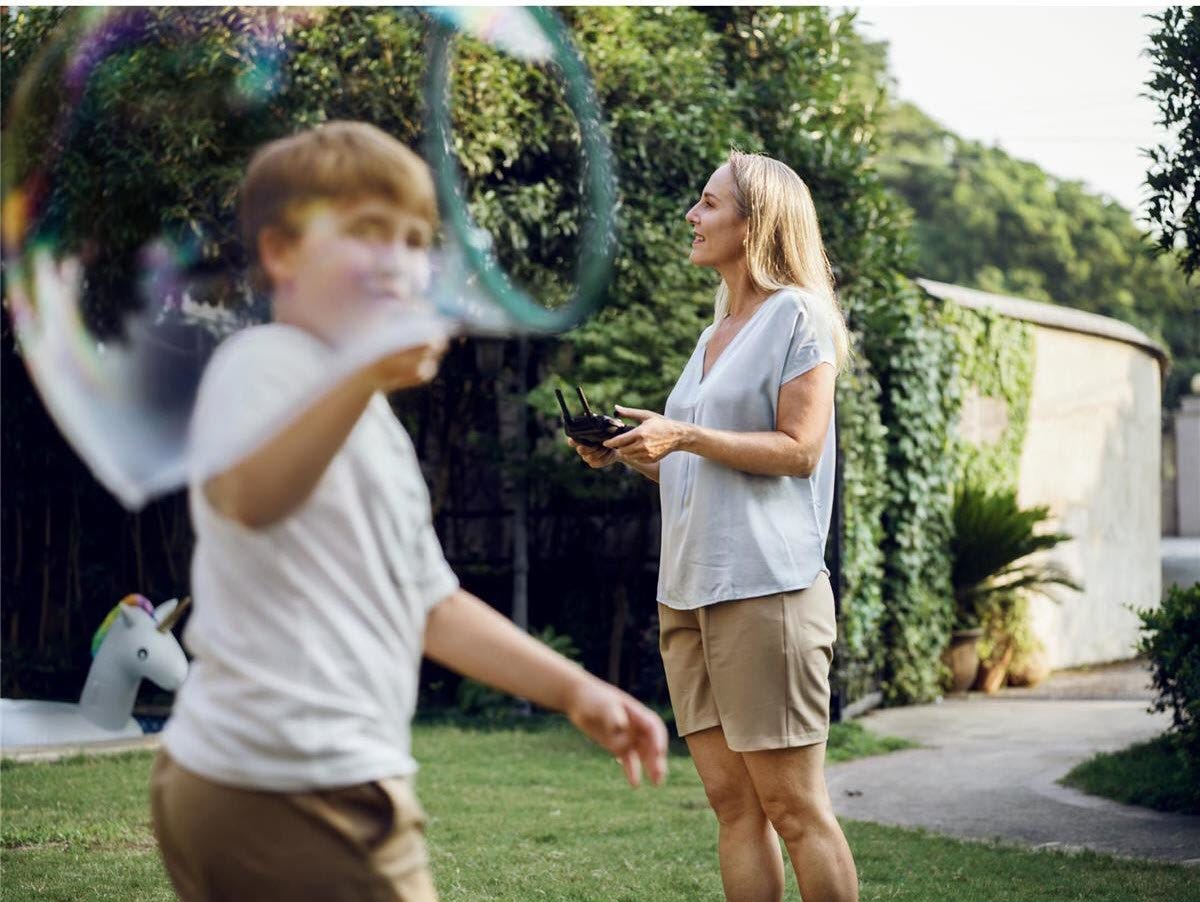 Safe Flying
Worry less, fly more.

Mavic Mini comes equipped with a 360° Propeller Guard that fully protects the propellers and improves flight safety. [5] Thanks to its downward vision sensing system and GPS, Mavic Mini can also hover precisely both indoors and outdoors.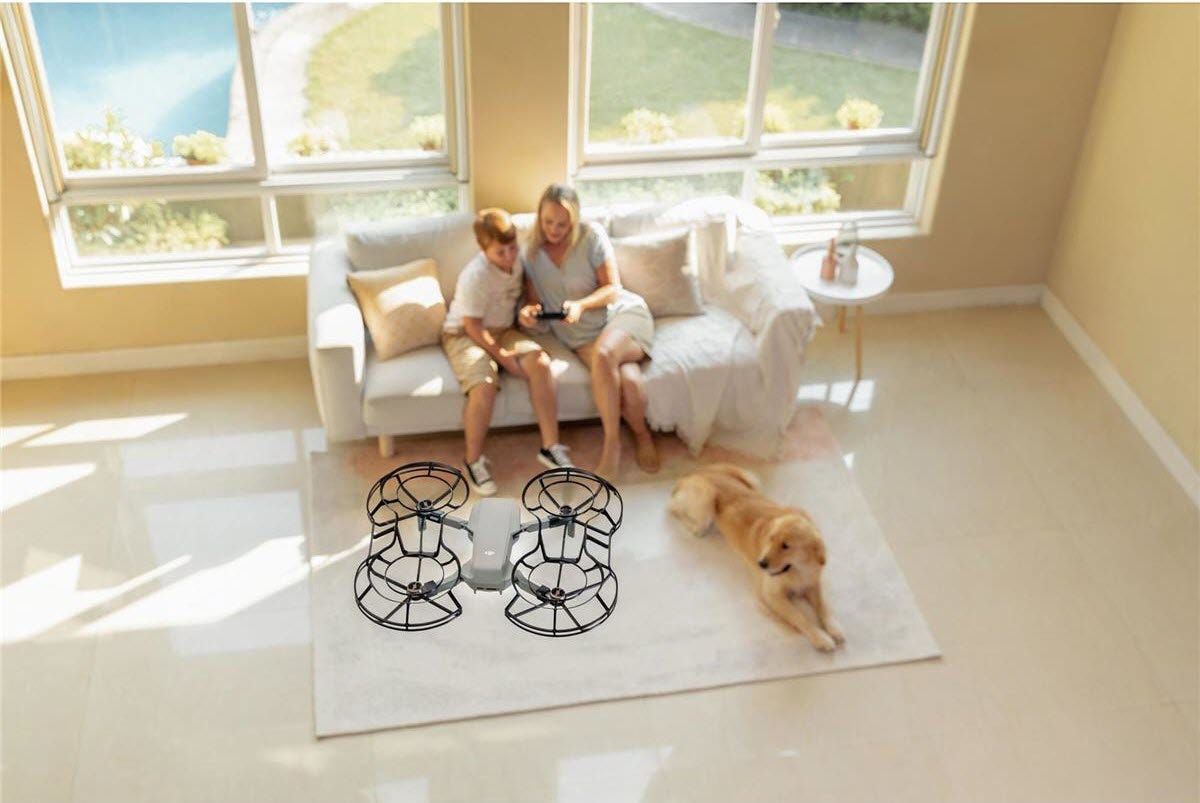 Easy-To-Use Templates
Let the app do the work.

The DJI Fly app offers a variety of Creator Templates that generate awesome videos with just a tap. Even beginners with no editing experience whatsoever can turn any moment into a social media hit.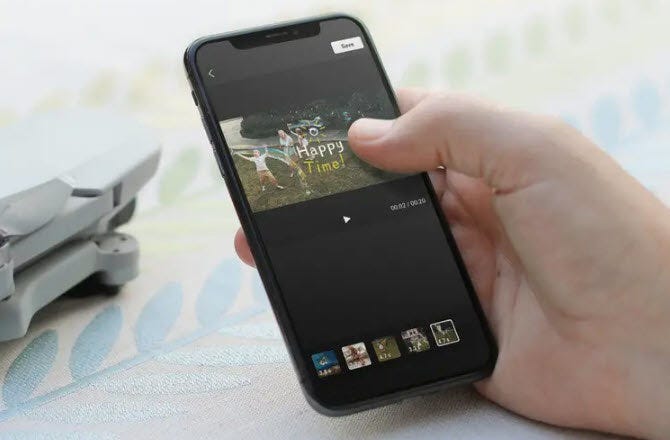 Create Smooth, Vivid Shots
Stabilized Gimbal Camera
Transform any moment into a work of art.

Mavic Mini supports 12MP aerial photos and 2.7K Quad HD videos. A 3-axis motorized gimbal provides superior camera stability and ensures clear, ultra-smooth footage.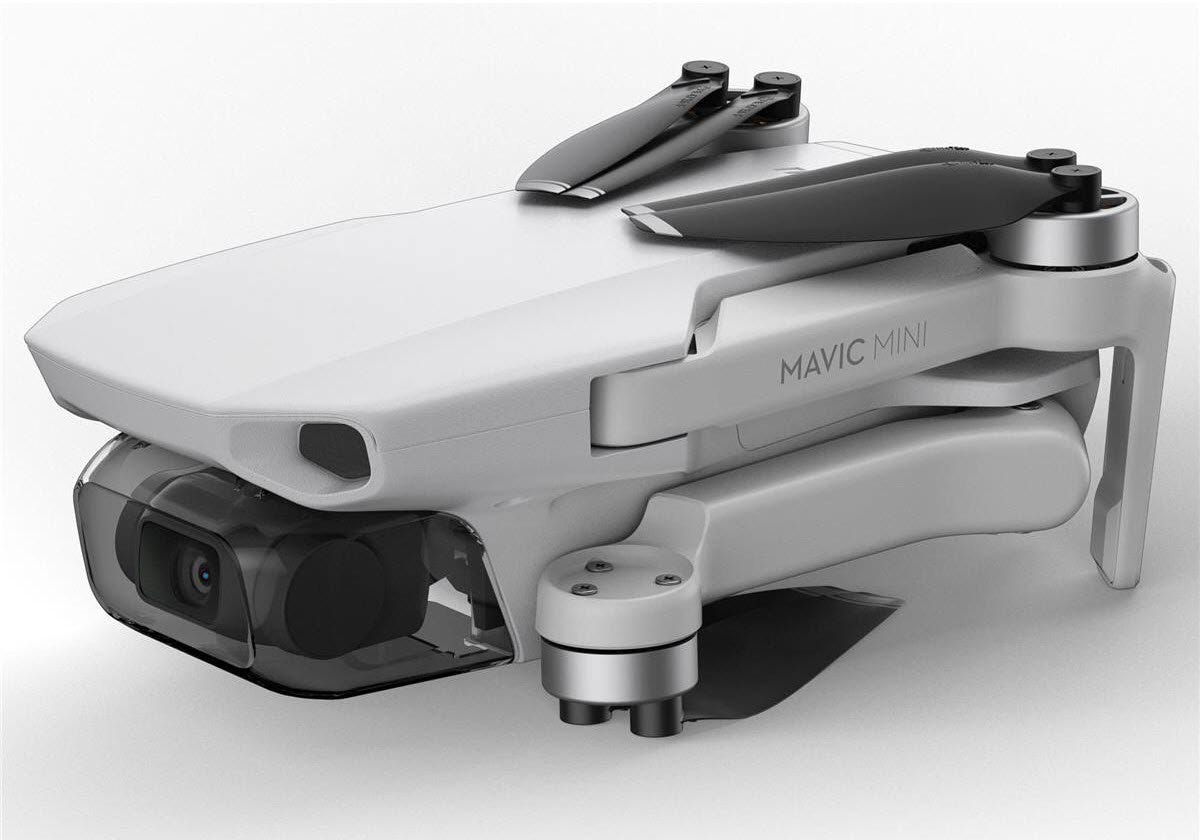 Remote Controller
See what your Mavic Mini sees.

A dedicated remote controller maintains an HD, low-latency video feed at a distance of up to 4 km. [3] Detachable control sticks can be easily stored inside the remote controller for added portability.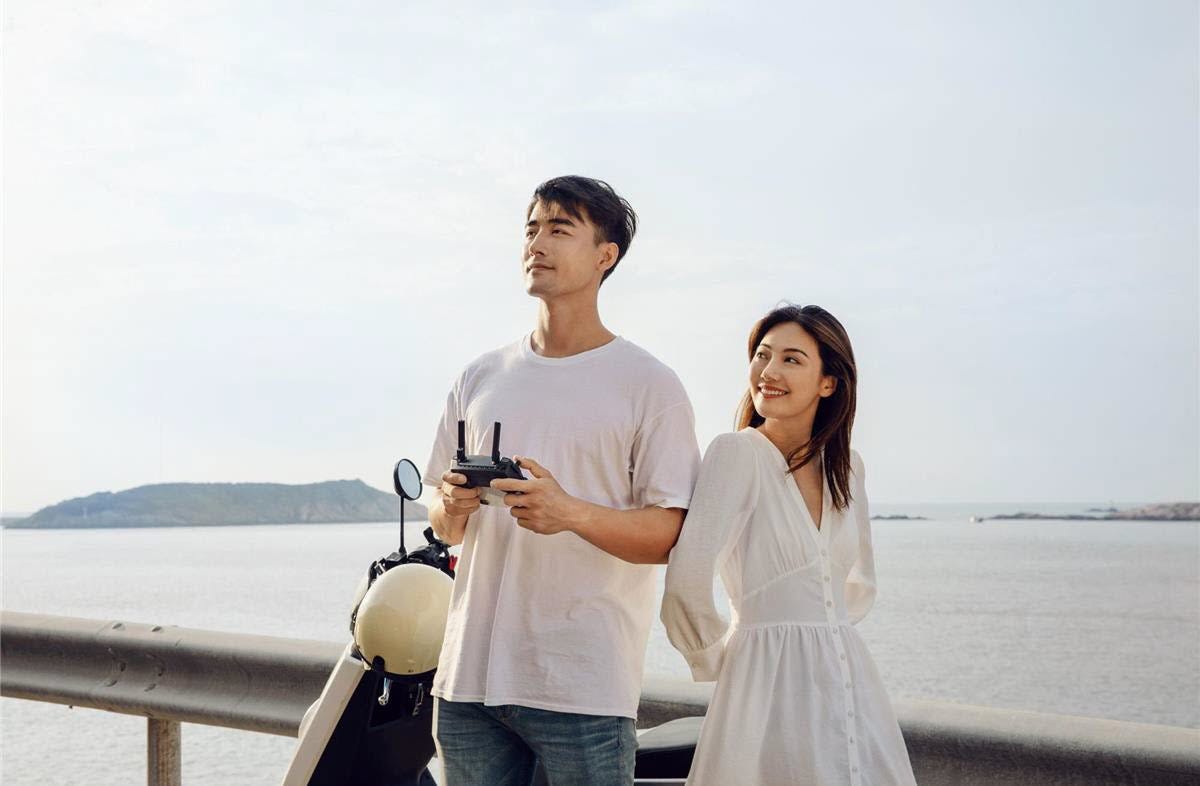 Extended Flight Time
Less battery charging, more flying.

Mavic Mini's weight allows it to stay in the air longer than similar consumer FlyCams on the market. Enjoy up to 30 minutes of flight time with a fully-charged battery.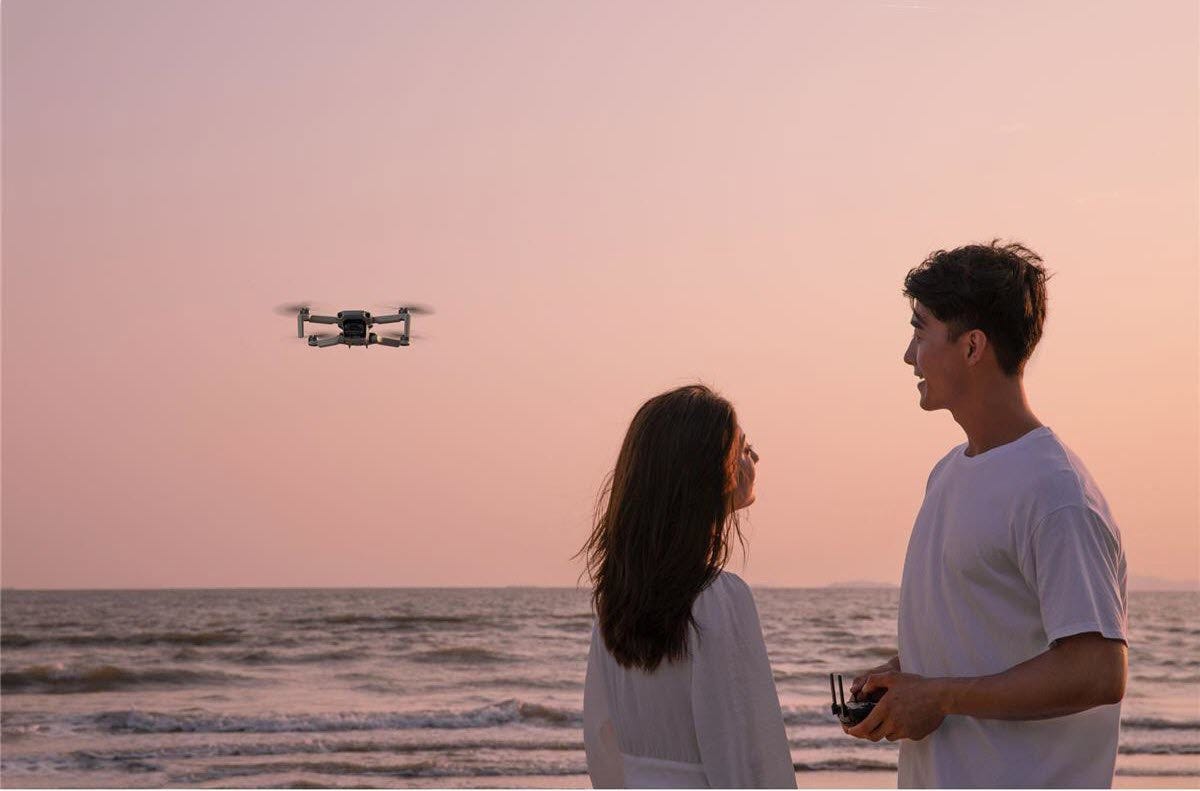 Cinematic is Simple
QuickShots
Complex shots are easier than ever.

Shots that look like they came from a Hollywood film set are just a few taps away with Mavic Mini's QuickShot modes, which include Dronie, Circle, Helix, and Rocket. Just select your QuickShot and Mavic Mini will execute an elaborate preset motion while recording. Take the automatically generated short video and share it instantly with friends on social media.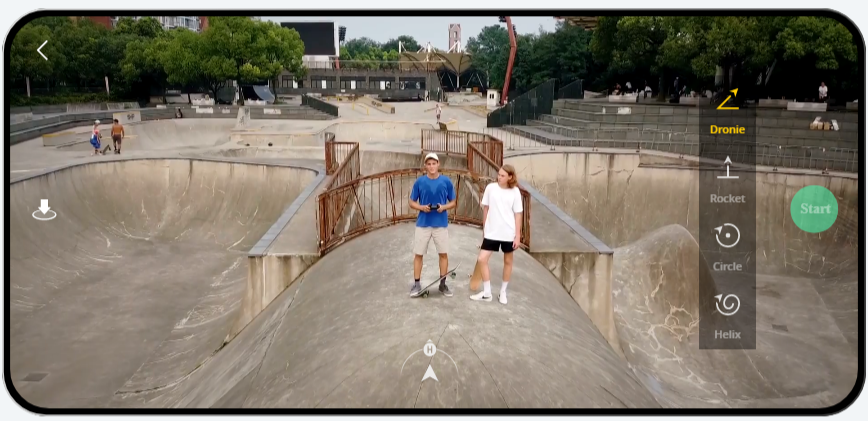 CineSmooth Mode
Smoother motion for compositions that wow.

Slow down Mavic Mini's flight speed and movements for an added layer of precision and stability. This mode is especially useful when flying in narrow or complex spaces.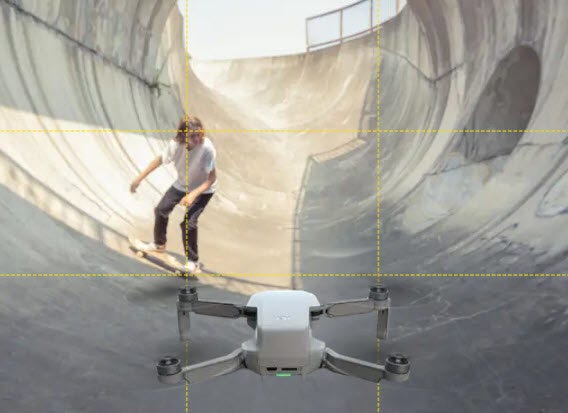 Discover Popular Spots
Find scenic shooting locations near you.

The DJI Fly app gives users integrated access to SkyPixel, a social media platform for users to share their aerial photos and videos. Browse work, share your own, and even discover popular aerial photography spots in your area.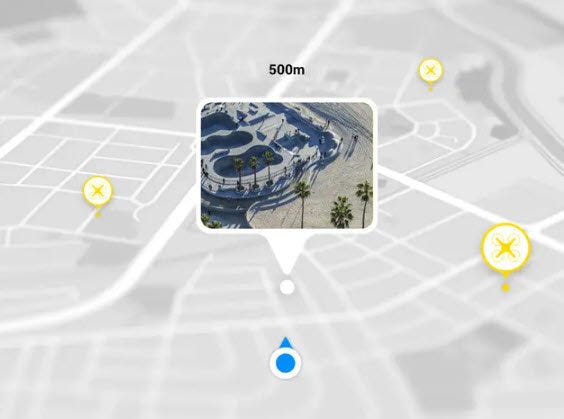 Warranty Information
We truly thank you for your purchase, and when things go wrong, we are here to help in any way that we are capable of doing so.

In regards to any warranty related matter, please reference the below information to help understand our warranty policies, as these warranty policies are absolute when it comes to any purchase made via HeliDirect.

Warranty Time Frame

Regarding product(s) purchased via HeliDirect, each manufacturer has their own specified warranty time frame, and HeliDirect holds the sole right to direct the customer to the manufacturer for stated warranty support in regards to manufacturer's that require direct level warranty support.

Our stated (14) day return policy directly relates to brand new, unused products being returned for a refund or store credit, and does not relate to warranty related situations for faulty product(s). Faulty, damaged or problematic items are handled upon a case by case basis, and will be detailed below based upon the warranty options available.

Our team at HeliDirect is highly motivated to assist in every possible way regarding warranty support, but please be 100% aware that warranty support for the product(s) you have purchased may be handled directly via the manufacturer, and not through HeliDirect.

If your product(s) involve direct manufacturer support, we are still available to assist. We ask that the customer make the initial manufacturer contact for warranty support, but in the case where a manufacturer response is not receive within (5) business days, HeliDirect will step in upon your behalf, utilizing our channels to assist you with this manufacturer based support.

In the above case, HeliDirect will do everything in our power to make sure the manufacturer assists you directly, but please note that all such warranty in regards to an issue like this will still be directed through the manufacturer.

Warranty Related Issues

Please note that HeliDirect is not a warranty repair center, nor do we offer warranty regarding many items we resell. Product(s) purchased via HeliDirect are subject to the original vendor's repair / replacement warranty policies & timelines, and will be directed to the manufacturer at our discretion.

HeliDirect will not assume responsibility and / or liability for any manufacturer defect, or damage due the use / misuse of the product(s) purchased. Further, HeliDirect cannot / will not be held liable for ancillary damage to product(s) based upon a manufacturer fault or defect. All such issues will be dealt with at the manufacturer based level.

If your item is found to have a fault or defect after installation or use, your product may be subject to warranty repair via the original manufacturer, no matter what the purchase date may be. HeliDirect does not cover repair, replacement or warranty via used / installed products. All such issues will need to be dealt with at the manufacturer level.

Damage Due to Ancillary Product Failure

In regards to damage that directly results to a failed product installed in conjunction with another product, we are happy to assist in terms of warranty support for the product that has failed, but please be aware that we cannot be held liable for ancillary damage to other items or components that may have been damaged due to the original product failure.

Warranty Returns

If your product is approved by our customer service staff as a valid return that we will handle directly, please note the below information regarding all such approved warranty items sent to HeliDirect.

- Any item(s) approved for return to HeliDirect will be subject to inspection and or testing to verify the noted information provided by the customer regarding the flaws, faults or damage.

- Due to the various aspects of testing, repair and other return processes, please be aware that any such approved return will require (2) to (5) business days for proper processing. Our staff will certainly do all that we can to reduce this time to the bare minimum, but please be aware that the return process can take up to (5) business days to complete.

- If the product(s) approved for return are deemed faulty by our returns specialists, we will proceed with a repair, exchange, credit or refund based upon the situation at hand. All such information will be communicated to the customer before any re-shipment is made.

- If an item that encounters a warranty issue after usage, HeliDirect may opt to repair the product versus an exchange, as exchanges can only be made for valid warranty relating to products that have no use of flaws. Our staff will be sure item is in 100% working order based upon any repairs, but exchanges, credits or refund cannot be offered for items under warranty that have been used and are no longer able to be sold as new.

- In the case of product(s) returned to us that test to be non faulty, the product(s) will be returned to the customer in the condition received. Our staff will reach out to the customer with necessary information regarding what may have been missed, and what steps to take in order to utilize the product(s) effectively.

- For non faulty diagnoses of returned product(s), refunds, store credits or exchanges cannot be offered, as the product(s) received cannot be sold as new and unused.


Fantastic drone
This little drone is exceptional for the price. Very stable flight and great quality video. I actually sold my Mavic Pro and got this one instead and have zero regrets. I wouldn't trust it in wind as much as I would a larger drone but it's still really fun to fly and does it well. Hopefully DJI will push out some more flight options for it in the coming months because if there is a complaint, it's that your intelligent flight modes are very limited. I wouldn't let that deter you though, I still 100% recommend it.
Community Discussion
Login to post your comment about this product