Fatshark Dominator HDO 2 FPV Goggles
Things just got personal.
The Dominator HDO2 headset launches as the successor to the much-loved Dominator HDO. The HDO2 uses big 1280 x 960 OLED panels to provide a dramatically improved image with a 46-degree field of view. Display customization is now possible using a new OSD with expanded controls. The HDO2 can be further personalized with adjustable focus, adjustable IPD, adjustable face plate curvature, selectable image ratio, and a configurable power button. Fatshark Dominator HDO 2 FPV Goggles is the perfect headset for an experienced pilot looking for the best flight experience.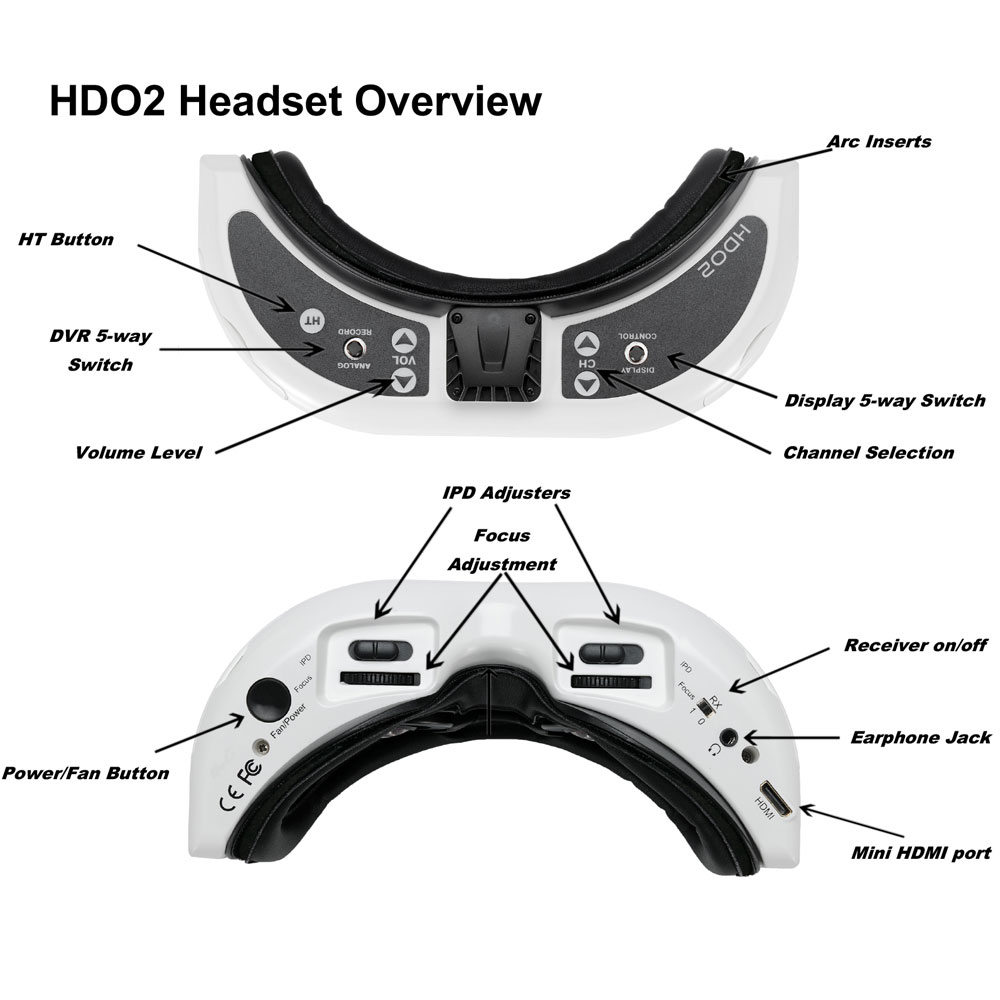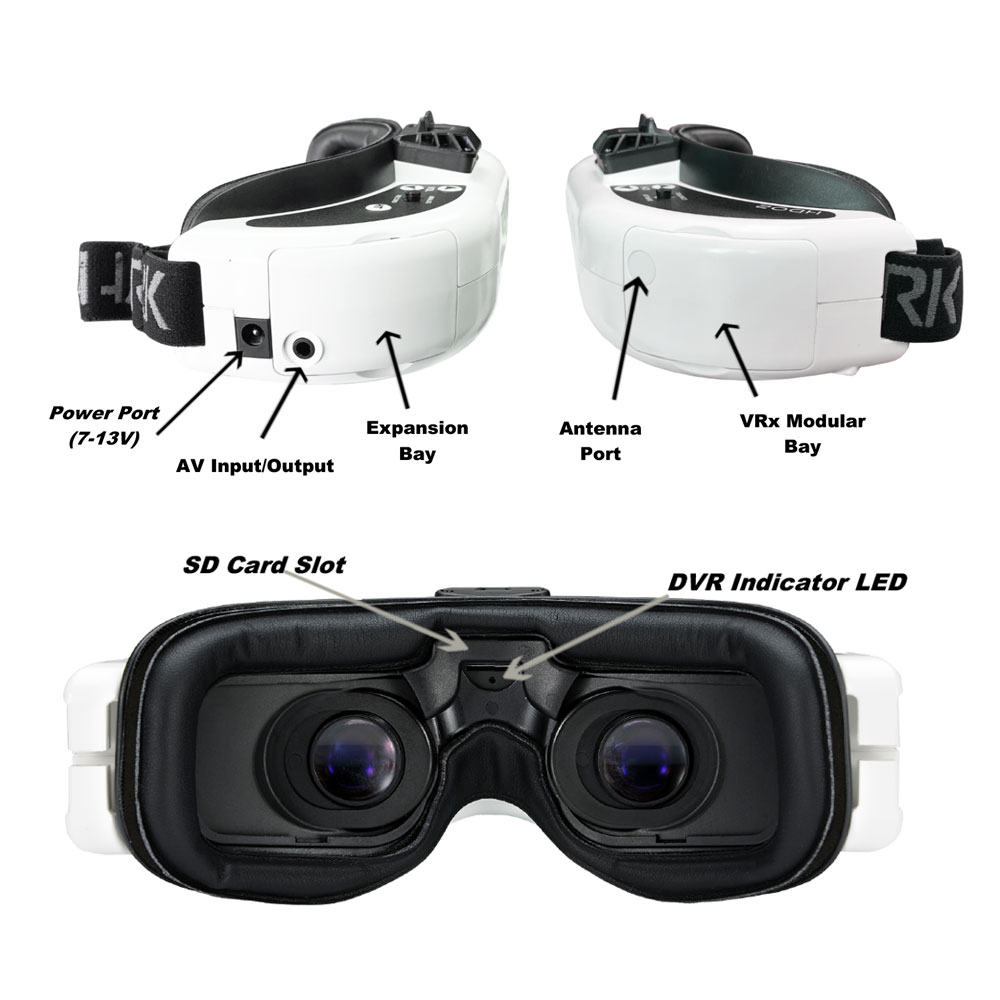 Specifications
Optics
FOV (field of view): 46 degrees diagonal
IPD (interpupillary distance): 54 to 74 mm (adjustable)
Focus: +2 to -6 diopters (adjustable)
Display
Two Sony 0.5" OLED displays
Resolution 1280 X 960
NTCS/PAL auto selecting
AV Mode 4:3
AV Mode 16:9
HDMI Mode 16:9
Audio
User Controls
Channel Selection
Volume Control
Mode Selection
Display Control (Brightness and Contrast)
DVR Control
Power Button / Fan Control
Electrical
Power Supply:
7 – 13V input voltage (2S – 3S Supply)
Power Consumption: 320mA @ 7.5V input power (no RX module)
770mA @ 7.5V input power (Rapid
Analog DVR: MicroSD support to 32 GB
Record Rate: 6Mbps (MJPG compression, 30 fps, AVI)
File playback (native recording, no codec support)
Upgradeable via SD card
Battery
7.4V, 1.8A 18650 Battery Case (optional))
Interface
3.5mm AV in/out port
Power input port
3.5mm 3p earphone port
MicroSD
RF Module Bay
HT connector 3 pin internal connection
Power Button
Mechanical
Ergonomic molded headset w/ adjustable headband
Dimensions: 169.2 x 80 x 45.5 mm
Weight: 206.8 g
Includes
1 x Fat Shark Dominator HDO 2 FPV Goggles
Carrying Case
7.4V 1865 Battery Case
Lens Cleaning Cloth
Warning: Exposing the lens to direct sunlight will result in LCD damage.
Fatshark Dominator HDO 2 FPV Goggles Manuals
Warranty Information
We truly thank you for your purchase, and when things go wrong, we are here to help in any way that we are capable of doing so.

In regards to any warranty related matter, please reference the below information to help understand our warranty policies, as these warranty policies are absolute when it comes to any purchase made via HeliDirect.

Warranty Time Frame

Regarding product(s) purchased via HeliDirect, each manufacturer has their own specified warranty time frame, and HeliDirect holds the sole right to direct the customer to the manufacturer for stated warranty support in regards to manufacturer's that require direct level warranty support.

Our stated (14) day return policy directly relates to brand new, unused products being returned for a refund or store credit, and does not relate to warranty related situations for faulty product(s). Faulty, damaged or problematic items are handled upon a case by case basis, and will be detailed below based upon the warranty options available.

Our team at HeliDirect is highly motivated to assist in every possible way regarding warranty support, but please be 100% aware that warranty support for the product(s) you have purchased may be handled directly via the manufacturer, and not through HeliDirect.

If your product(s) involve direct manufacturer support, we are still available to assist. We ask that the customer make the initial manufacturer contact for warranty support, but in the case where a manufacturer response is not receive within (5) business days, HeliDirect will step in upon your behalf, utilizing our channels to assist you with this manufacturer based support.

In the above case, HeliDirect will do everything in our power to make sure the manufacturer assists you directly, but please note that all such warranty in regards to an issue like this will still be directed through the manufacturer.

Warranty Related Issues

Please note that HeliDirect is not a warranty repair center, nor do we offer warranty regarding many items we resell. Product(s) purchased via HeliDirect are subject to the original vendor's repair / replacement warranty policies & timelines, and will be directed to the manufacturer at our discretion.

HeliDirect will not assume responsibility and / or liability for any manufacturer defect, or damage due the use / misuse of the product(s) purchased. Further, HeliDirect cannot / will not be held liable for ancillary damage to product(s) based upon a manufacturer fault or defect. All such issues will be dealt with at the manufacturer based level.

If your item is found to have a fault or defect after installation or use, your product may be subject to warranty repair via the original manufacturer, no matter what the purchase date may be. HeliDirect does not cover repair, replacement or warranty via used / installed products. All such issues will need to be dealt with at the manufacturer level.

Damage Due to Ancillary Product Failure

In regards to damage that directly results to a failed product installed in conjunction with another product, we are happy to assist in terms of warranty support for the product that has failed, but please be aware that we cannot be held liable for ancillary damage to other items or components that may have been damaged due to the original product failure.

Warranty Returns

If your product is approved by our customer service staff as a valid return that we will handle directly, please note the below information regarding all such approved warranty items sent to HeliDirect.

- Any item(s) approved for return to HeliDirect will be subject to inspection and or testing to verify the noted information provided by the customer regarding the flaws, faults or damage.

- Due to the various aspects of testing, repair and other return processes, please be aware that any such approved return will require (2) to (5) business days for proper processing. Our staff will certainly do all that we can to reduce this time to the bare minimum, but please be aware that the return process can take up to (5) business days to complete.

- If the product(s) approved for return are deemed faulty by our returns specialists, we will proceed with a repair, exchange, credit or refund based upon the situation at hand. All such information will be communicated to the customer before any re-shipment is made.

- If an item that encounters a warranty issue after usage, HeliDirect may opt to repair the product versus an exchange, as exchanges can only be made for valid warranty relating to products that have no use of flaws. Our staff will be sure item is in 100% working order based upon any repairs, but exchanges, credits or refund cannot be offered for items under warranty that have been used and are no longer able to be sold as new.

- In the case of product(s) returned to us that test to be non faulty, the product(s) will be returned to the customer in the condition received. Our staff will reach out to the customer with necessary information regarding what may have been missed, and what steps to take in order to utilize the product(s) effectively.

- For non faulty diagnoses of returned product(s), refunds, store credits or exchanges cannot be offered, as the product(s) received cannot be sold as new and unused.


Fatshark HDO2
The absolute leader for an analog signal! The size, quality and image settings are impressive!
HDO 2
They finally put the button on. Good but not perfect, fitting is a little tight on me and came from the HDO every thing else works very good.
Awesome - the next step in fatsharks
what a difference from my HDOs to HDO2s... just the combination of having the large FOV and then the wider IPD and ability to focus - this is the first pair of Fatsharks that you can actually see all the screen with no blurry areas. I wear glasses and have always had to have RHO inserts - not with these as each eye focuses independently. the best FS yet to date!
Related Items
{ "nav": true, "dots": false, "responsive": { "0": { "items": 1}, "768": { "items": 4} } }