Lipo chargers for all helicopter pilots has been an essential part of the hobby. Not only they help pilots charge their batteries but also for taking good care of their expensive, precious lipos that could cost as much as the chargers themselves. Pulse understands this and has been trying to bring its best quality chargers to heli lovers over the world for years.
Coming to the market a litte later than it's other big brothers like the PLC400, Pulse PLC200 is still an inpressive piece of technologies with all bells and whistle, more than what pilots could wish for. From AC/DC capability, Dual Charging ports, to cell phone wireless charger, And with the size reduction, PLC200 could be your best friend in the open field.
PLC200 form factor is pretty standard, if not compact for a heavy duty, dual channel charger with a bright screen, duo knobs for separate control over the 2 channels, ports and plugs for temp sensor, and firmware updating. The 2 main charginng channels are controlled separately with main power leads and balance ports. this giving pilots more freedom to charge their lipos at different voltages without the risk of burning their house down.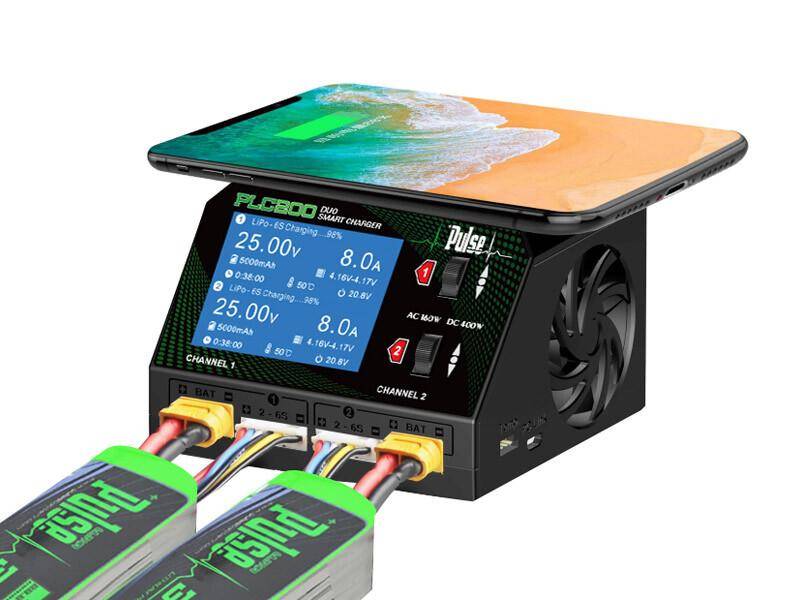 As an AC/DC compatible charger, PLC200 has two input ports, one for AC which plugs directly into your house plugs; and one XT60 port for DC input that can be powered by any power source from lipos, to external power supplies up to 24V. This gives you tremendous flexibility when it comes to choosing power source for your charger, both in the field and in-house. However, be aware that AC output will be less than that of DC output (160W max for AC, and 200W per channel for DC). That's a litte price to pay for versatility.
One of the cool new features is that with PLC200, you can chargerr your cell phone wirelessly, of couse if your phone support wireless charging. The charger can also be paired with external discharger for faster and more effient discharging. Temperature sensor is supported for safety.
The screen comes with PLC200 is also IPS which produces vibrant and bright colors even outdoor. You will never have to worry about setting wrong cell count or amperage anymore.
Included in the package:
To keep the cost low, the PLC200 comes with bare minimum accessories. No balance board or charging lead included. What you get are only:
- Pulse PLC200 Smart Charger
- User manual
- AC power chord


What set Pulse apart from other battery brands is their eco systems especially for helicopters power source. By pairing PLC200 charger with the newly released Pulse 6S 80C packs, you are having the best performer of the lipo world in your hands.

Pulse 6S 80C packs, are designed to take a beating from your helicopters as their cells are top of the line with high C rating, capable of releasing up to over 400Amp at 22V. This battery could easily out perform many lipos on the market, giving you the edge in competition and every day flights.

Caring for these bad boy is a cakewalk with Pulse PLC200 Charger. Just remember to put them into storage voltage after your hard 3D flights and don't over discharge them under 3.7 Volts.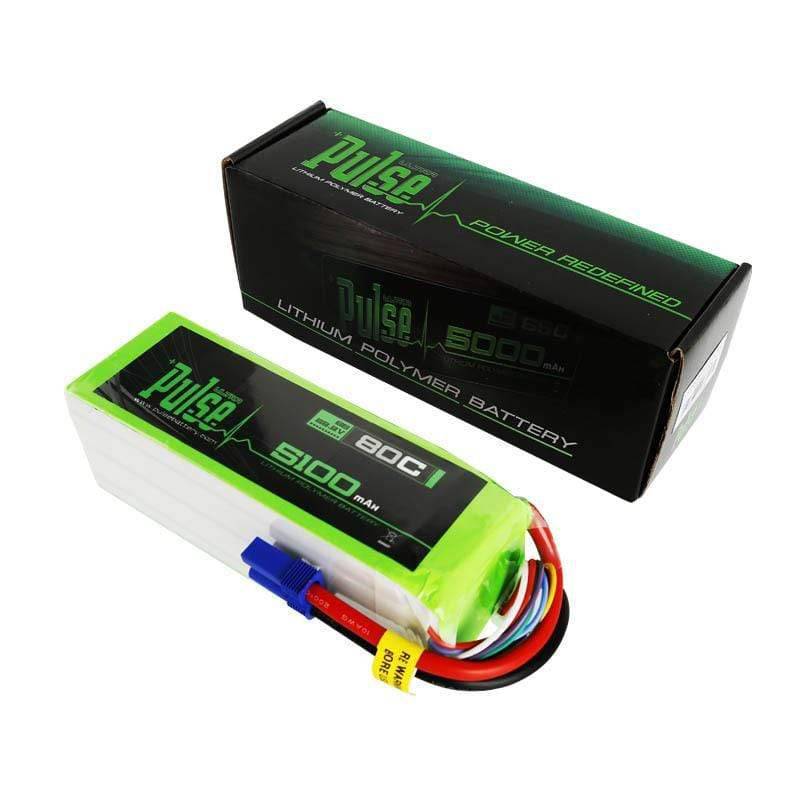 If you are a veteran or even a beginner heli pilot, Pulse PLC200 and Pulse 80C Lipos are not a bad choice. Together, they make a great pair, bringing great power and performance to your helicopter. Whatever style you fly, they are here to make it better, as Pulse always has confidence in their products.
Watch Pulse PLC200 Video Review
Where can you get Pulse PLC200 Charger?