Description
Details

The Lumenier 5x5x3 Butter Cutter propeller is designed for high speed and extreme performance. This unique airfoil provides incredible thrust throughout the entire power-band, and especially the top end. In addition to incredible power potential, the Butter Cutter also has great efficiency. Most high performance propellers suffer from high amp draw to achieve top-end thrust, but the Butter Cutter's advanced airfoil allows for both high performance and good efficiency. These props give you a "locked in" feel while flying and really grip the air while cornering.
The Butter Cutter propellers are made from an ultra-durable, crash resistant polycarbonate material. This allows the propellers to resist breaking in a crash or prop strike. Now you can clip a gate or a tree branch and keep flying! Each blade is 100% balanced direct from the mold as well, giving you a "butter smooth" flight.
FPV Drone Racing and Freestyle flying require high-quality propellers that ensure optimal thrust, efficiency and top-end speed to allow pilots to consistently perform at their best. Lumenier prop design starts from the ground up, considering flight speed, blade RPM and other factors to optimize each profile. Leveraging a proprietary algorithm, each prop has a unique airfoil and blade design, rather than using the same blade and duplicating them on double, triple or quad-bladed props. This leads to subtle, yet important, performance improvements that can mean the difference between a win or a DNF on race day.
Includes
4x 5x5 3-Blade Butter Cutter Propellers, 2x CW and 2x CCW
4x 5mm Prop Adapters
Design. From the ground up.

During the design of any Lumenier propeller, key elements are considered such as blade RPM, motor size and KV, and overall flight envelope. These inputs create operating points such as Reynolds Numbers, Mach, Beta Angles, etc. which are used to guide the design process.
Performance based on Science.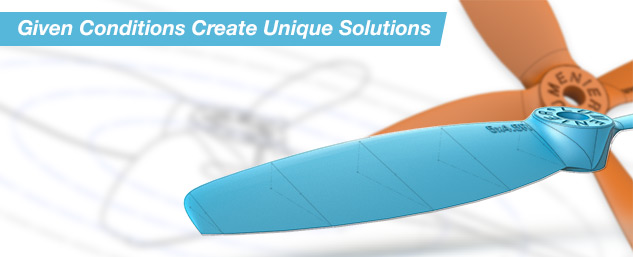 Given the operating points and design goals Lumenier produces unique airfoils leveraging a proprietary genetic algorithm that iterates 10s of thousands of possible airfoils and compares them to each other and also a library of well known existing airfoils. This creates the best possible and most suitable combination of airfoils as well as overall blade design. For this reason, no 2 blades on any Lumenier propeller are the same.
Airfoil design with a purpose.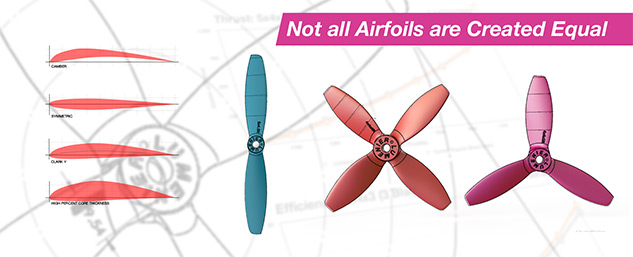 Calculus and proprietary algorithms help translate 2D coefficients of lift, drag, and moment into 3D coefficients that account for high blade loading and near static thrust conditions that a multi-copter will encounter during flight.
Static Thrust Data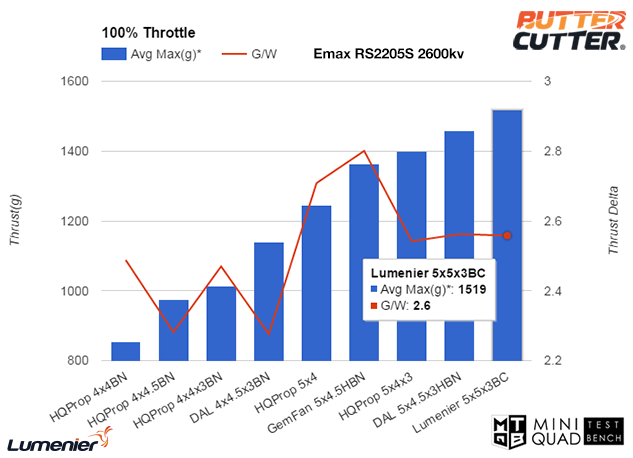 Additional Information
| | |
| --- | --- |
| Manufacturer | Lumenier |
| Length | 5" |
| Pitch | 5" |
| Number of Blades | 3 Blades |
| Material | Polycarbonate |
| Weight in Grams | 4.2 |
| Color | Blue |
| Rotation | CW & CCW |
| Hub ID | 5mm |
| Hub thickness | 7mm |
| Includes | 2x CCW Propellers, 2x CW Propellers |
Warranty, Returns & Support
Warranty Information
We truly thank you for your purchase, and when things go wrong, we are here to help in any way that we are capable of doing so.

In regards to any warranty related matter, please reference the below information to help understand our warranty policies, as these warranty policies are absolute when it comes to any purchase made via HeliDirect.

Warranty Time Frame

Regarding product(s) purchased via HeliDirect, each manufacturer has their own specified warranty time frame, and HeliDirect holds the sole right to direct the customer to the manufacturer for stated warranty support in regards to manufacturer's that require direct level warranty support.

Our stated (14) day return policy directly relates to brand new, unused products being returned for a refund or store credit, and does not relate to warranty related situations for faulty product(s). Faulty, damaged or problematic items are handled upon a case by case basis, and will be detailed below based upon the warranty options available.

Our team at HeliDirect is highly motivated to assist in every possible way regarding warranty support, but please be 100% aware that warranty support for the product(s) you have purchased may be handled directly via the manufacturer, and not through HeliDirect.

If your product(s) involve direct manufacturer support, we are still available to assist. We ask that the customer make the initial manufacturer contact for warranty support, but in the case where a manufacturer response is not receive within (5) business days, HeliDirect will step in upon your behalf, utilizing our channels to assist you with this manufacturer based support.

In the above case, HeliDirect will do everything in our power to make sure the manufacturer assists you directly, but please note that all such warranty in regards to an issue like this will still be directed through the manufacturer.

Warranty Related Issues

Please note that HeliDirect is not a warranty repair center, nor do we offer warranty regarding many items we resell. Product(s) purchased via HeliDirect are subject to the original vendor's repair / replacement warranty policies & timelines, and will be directed to the manufacturer at our discretion.

HeliDirect will not assume responsibility and / or liability for any manufacturer defect, or damage due the use / misuse of the product(s) purchased. Further, HeliDirect cannot / will not be held liable for ancillary damage to product(s) based upon a manufacturer fault or defect. All such issues will be dealt with at the manufacturer based level.

If your item is found to have a fault or defect after installation or use, your product may be subject to warranty repair via the original manufacturer, no matter what the purchase date may be. HeliDirect does not cover repair, replacement or warranty via used / installed products. All such issues will need to be dealt with at the manufacturer level.

Damage Due to Ancillary Product Failure

In regards to damage that directly results to a failed product installed in conjunction with another product, we are happy to assist in terms of warranty support for the product that has failed, but please be aware that we cannot be held liable for ancillary damage to other items or components that may have been damaged due to the original product failure.

Warranty Returns

If your product is approved by our customer service staff as a valid return that we will handle directly, please note the below information regarding all such approved warranty items sent to HeliDirect.

- Any item(s) approved for return to HeliDirect will be subject to inspection and or testing to verify the noted information provided by the customer regarding the flaws, faults or damage.

- Due to the various aspects of testing, repair and other return processes, please be aware that any such approved return will require (2) to (5) business days for proper processing. Our staff will certainly do all that we can to reduce this time to the bare minimum, but please be aware that the return process can take up to (5) business days to complete.

- If the product(s) approved for return are deemed faulty by our returns specialists, we will proceed with a repair, exchange, credit or refund based upon the situation at hand. All such information will be communicated to the customer before any re-shipment is made.

- If an item that encounters a warranty issue after usage, HeliDirect may opt to repair the product versus an exchange, as exchanges can only be made for valid warranty relating to products that have no use of flaws. Our staff will be sure item is in 100% working order based upon any repairs, but exchanges, credits or refund cannot be offered for items under warranty that have been used and are no longer able to be sold as new.

- In the case of product(s) returned to us that test to be non faulty, the product(s) will be returned to the customer in the condition received. Our staff will reach out to the customer with necessary information regarding what may have been missed, and what steps to take in order to utilize the product(s) effectively.

- For non faulty diagnoses of returned product(s), refunds, store credits or exchanges cannot be offered, as the product(s) received cannot be sold as new and unused.