About DJI Mavic Mini
DJI Mavic Mini
Propel your creativity with the new Mavic Mini from DJI. This compact, 250-gram drone allows users to capture footage in areas where larger drones are legally prohibited or need a drone license. The Mavic Mini can support 12MP aerial photos and 2.7K Quad HD videos and has a motorized 3-axis gimbal for superior camera stability, ensuring professional-quality images and footage. This mini drone can sustain continuous flight for up to 30 minutes with a full charge and enables an HD video feed with minimal latency. It is convenient to fly using the DJI Fly app, while the included controller is compatible with Android and iOS smartphones. The app also has SkyPixel, a social media platform that allows you to browse and share about your latest drone shots and ideal photography spots around your area. Whether you are an amateur trying out more dynamic shots or a professional filmmaker experimenting on other styles of cinematography, the DJI Mavic Mini is the ideal drone solution for all creatives.
Open Your Sky
The compact yet powerful Mavic Mini is the perfect creative companion, capturing your moments in a way that effortlessly elevates the ordinary. Together with the easy-to-use DJI Fly app, you'll enjoy a simplified flying experience and a perspective unlike any other.
Compact and Portable
Almost as light as a smartphone.

Weighing under 250 grams, Mavic Mini is almost as light as the average smartphone. This makes it exceptionally portable and places it in the lowest and safest weight class of drones, which in many countries may exempt it from certain regulations. For example, in the United States and Canada, you can fly Mavic Mini without the need to register your drone with the government. [1]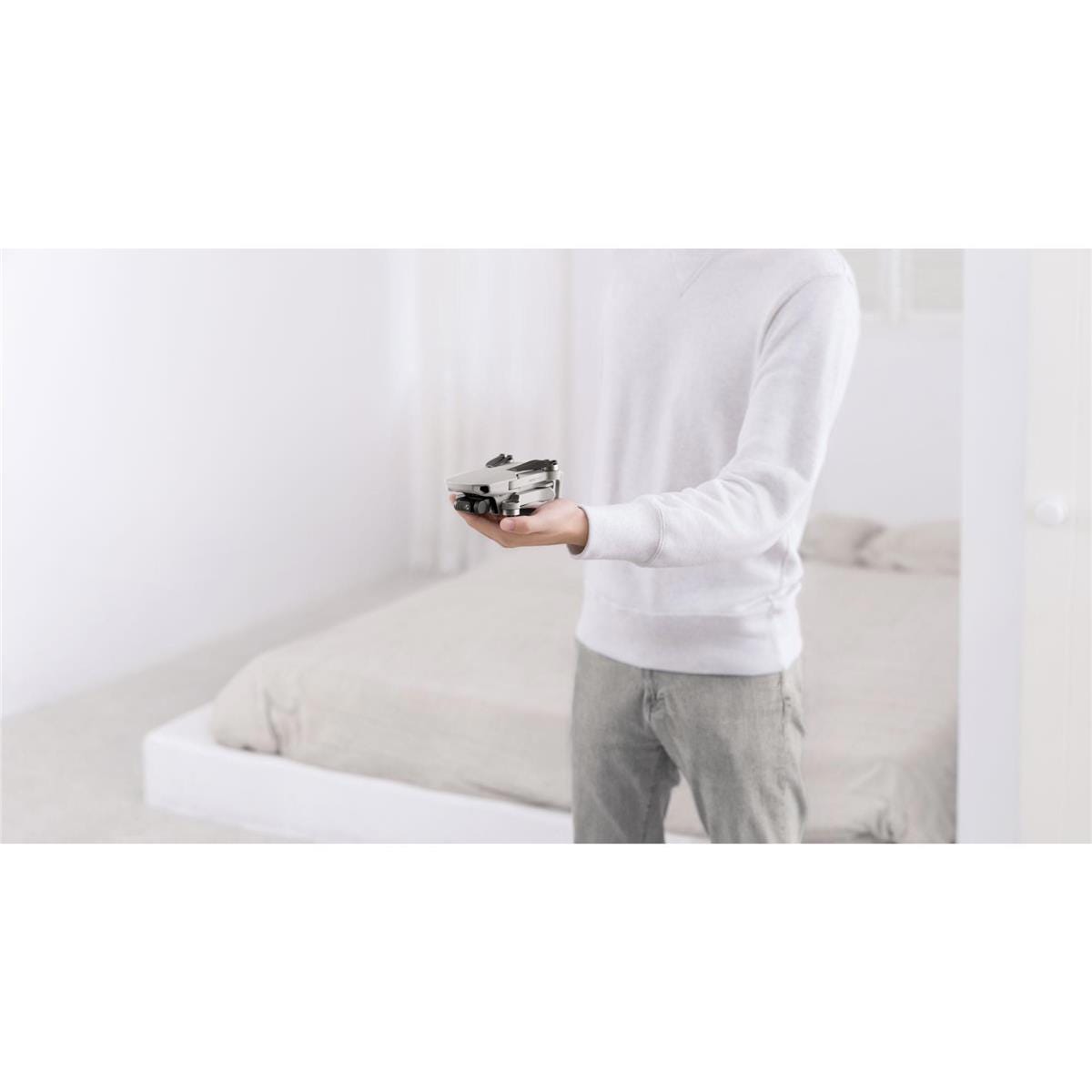 Easy to Use
Get good. Fast.

The new DJI Fly app offers a simple and intuitive user experience, enabling you to create cinematic shots with just a few taps. It even has Flight Tutorial, a feature to help you get started with Mavic Mini quickly and safely.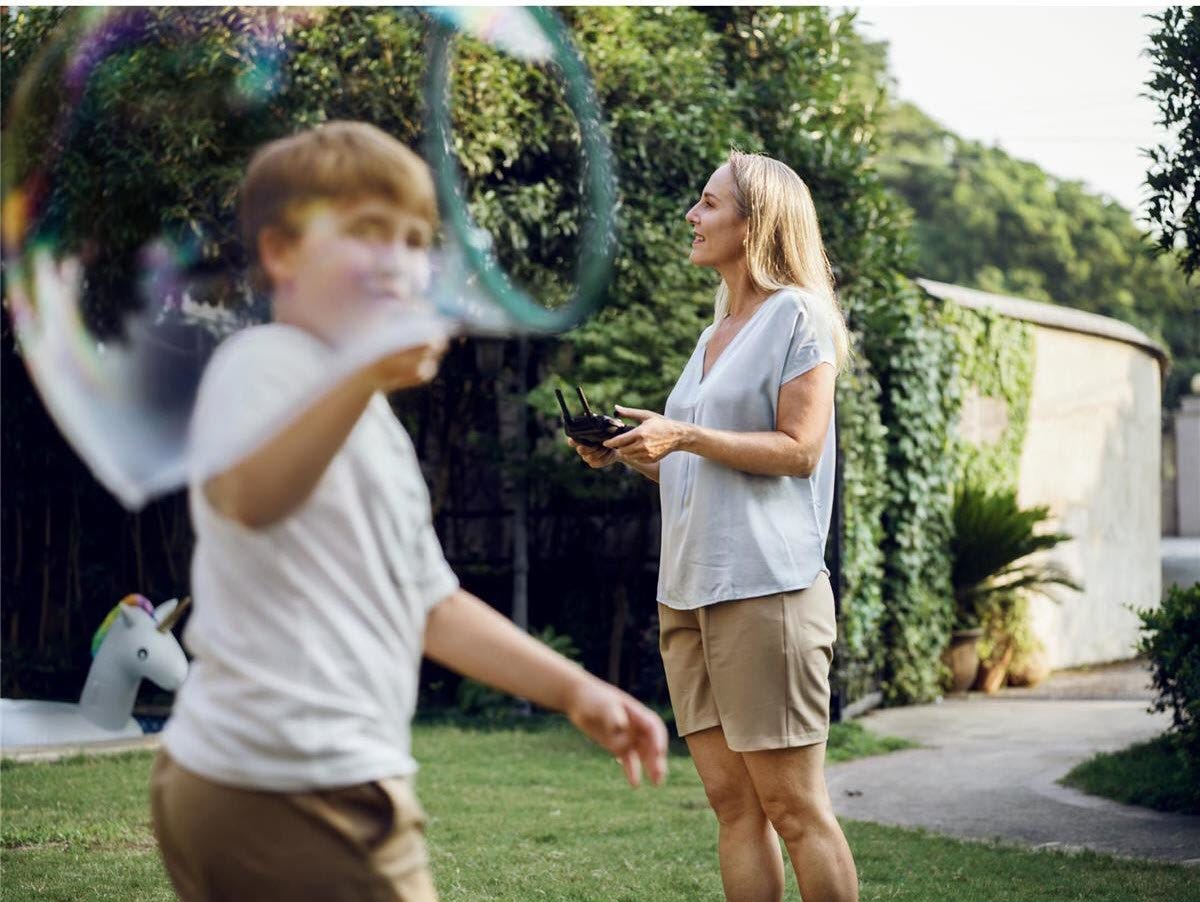 Safe Flying
Worry less, fly more.

Mavic Mini comes equipped with a 360° Propeller Guard that fully protects the propellers and improves flight safety. [5] Thanks to its downward vision sensing system and GPS, Mavic Mini can also hover precisely both indoors and outdoors.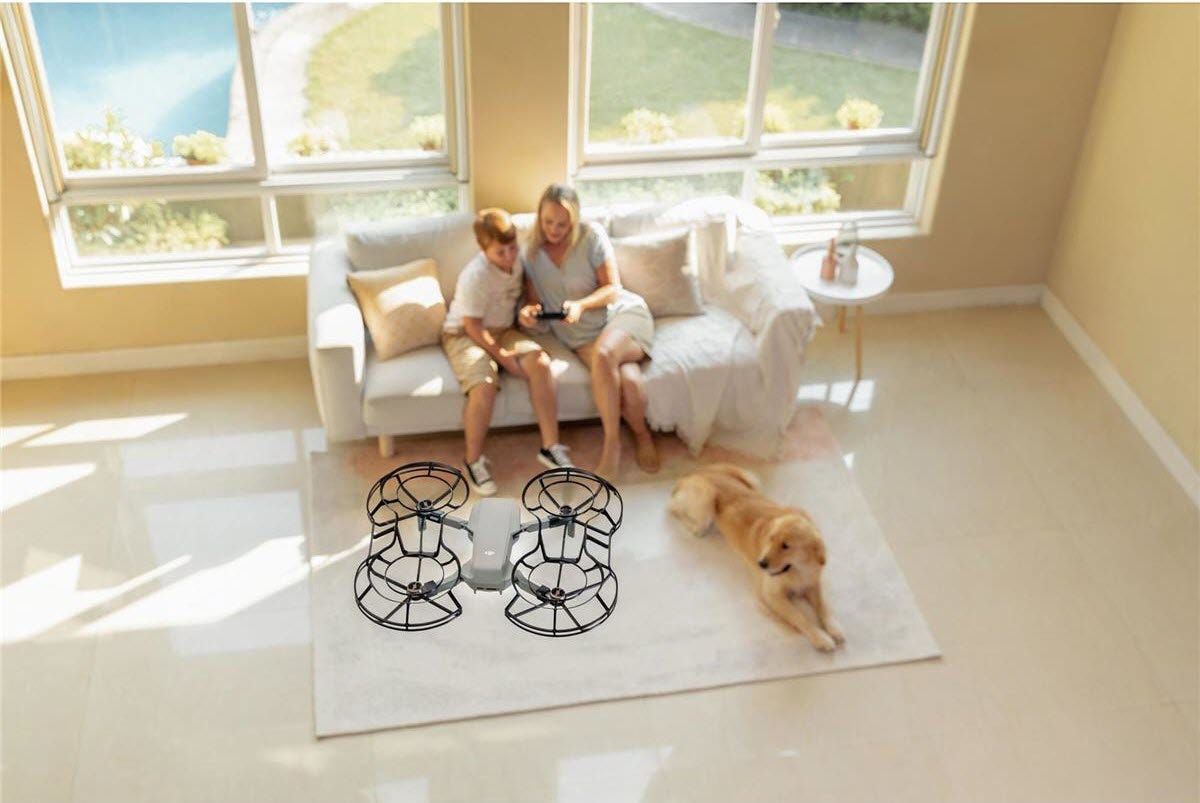 Easy-To-Use Templates
Let the app do the work.

The DJI Fly app offers a variety of Creator Templates that generate awesome videos with just a tap. Even beginners with no editing experience whatsoever can turn any moment into a social media hit.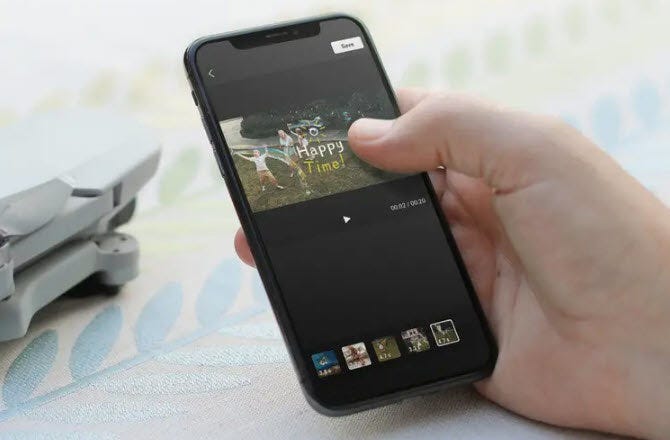 Create Smooth, Vivid Shots
Stabilized Gimbal Camera
Transform any moment into a work of art.

Mavic Mini supports 12MP aerial photos and 2.7K Quad HD videos. A 3-axis motorized gimbal provides superior camera stability and ensures clear, ultra-smooth footage.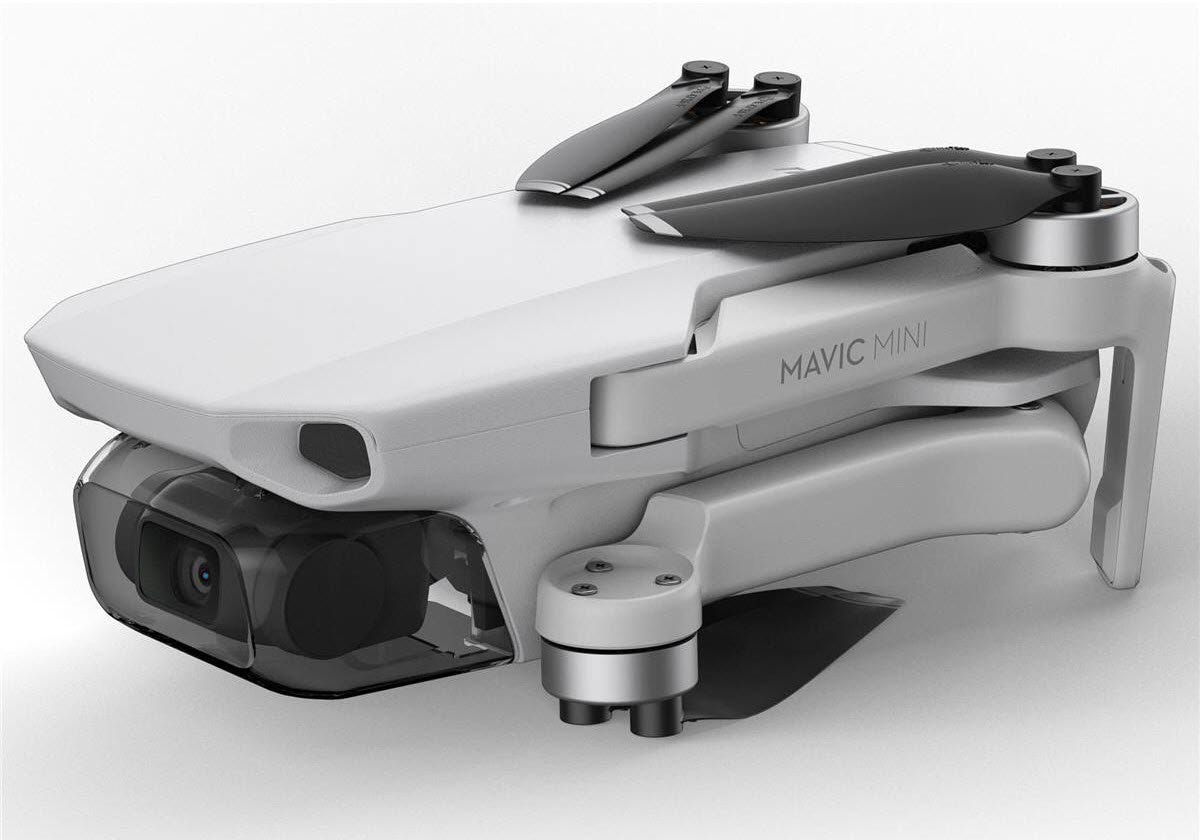 Remote Controller
See what your Mavic Mini sees.

A dedicated remote controller maintains an HD, low-latency video feed at a distance of up to 4 km. [3] Detachable control sticks can be easily stored inside the remote controller for added portability.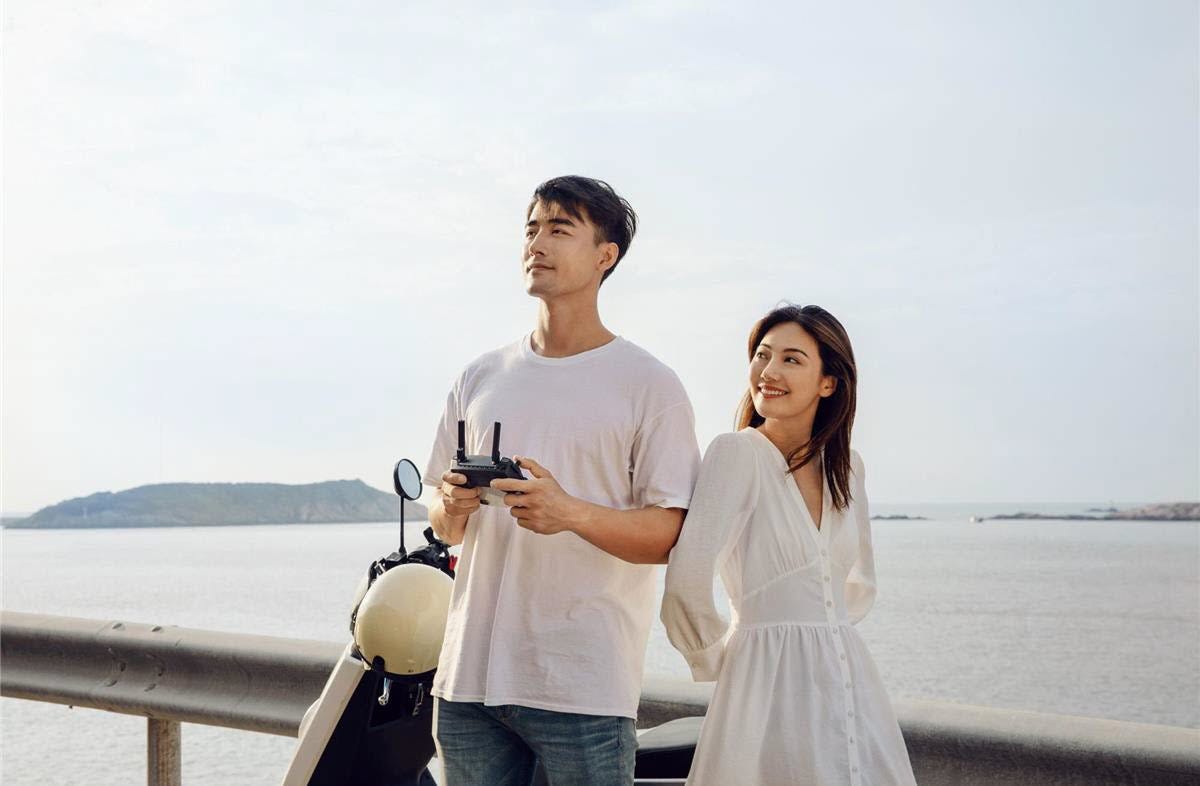 Extended Flight Time
Less battery charging, more flying.

Mavic Mini's weight allows it to stay in the air longer than similar consumer FlyCams on the market. Enjoy up to 30 minutes of flight time with a fully-charged battery.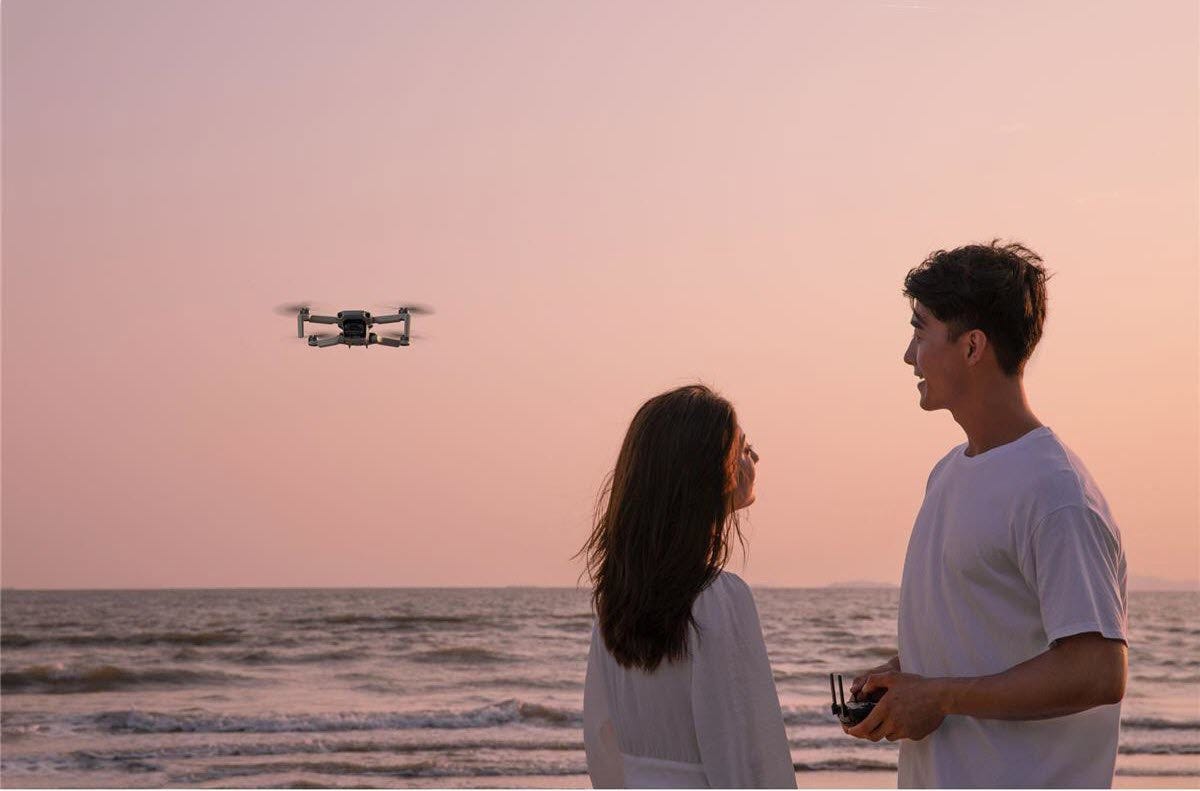 Cinematic is Simple
QuickShots
Complex shots are easier than ever.

Shots that look like they came from a Hollywood film set are just a few taps away with Mavic Mini's QuickShot modes, which include Dronie, Circle, Helix, and Rocket. Just select your QuickShot and Mavic Mini will execute an elaborate preset motion while recording. Take the automatically generated short video and share it instantly with friends on social media.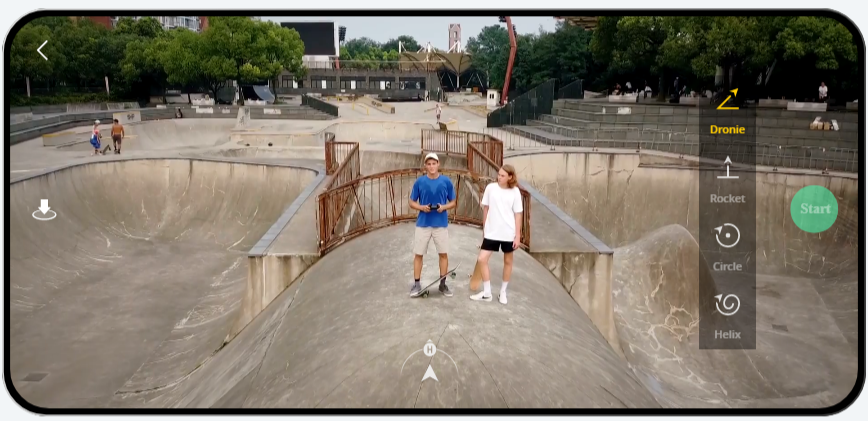 CineSmooth Mode
Smoother motion for compositions that wow.

Slow down Mavic Mini's flight speed and movements for an added layer of precision and stability. This mode is especially useful when flying in narrow or complex spaces.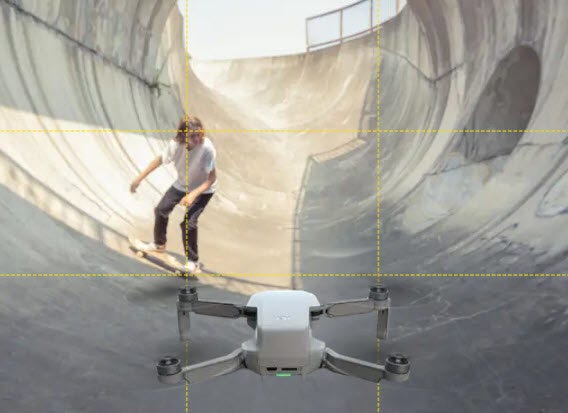 Discover Popular Spots
Find scenic shooting locations near you.

The DJI Fly app gives users integrated access to SkyPixel, a social media platform for users to share their aerial photos and videos. Browse work, share your own, and even discover popular aerial photography spots in your area.