The Lumenier AXII DUO 5.8GHz Patch Antenna offers you the highest performance you can get from a high gain mini patch antenna designed for FPV. The Lumenier AXII DUO Patch has an industry leading 12.2 dBiC gain for long range flying and excellent penetration through objects compared to standard omni-directional FPV antennas. It also features a best in class 95% efficiency (most mini patch antennas are below 75%), which means you get amazing performance and the best picture in your video goggles. Lumenier, designed in collaboration with renowned FPV antenna designer Hugo of TrueRC, brings you the Lumenier AXII DUO 5.8GHz Patch Antenna.
The AXII DUO builds on the same principles as the high performing AXII Patch Antenna, but the DUO doubles the receiver elements resulting in increased gain and performance. Each DUO contains 2x active elements installed with extreme precision ensuring optimal performance across the entire 5.8GHz band. With an incredible 280MHz wide bandwidth you'll get great signal no matter which channel you're on.
High Gain and Wide Beam Width
Generally with such a high gain antenna you would have to sacrifice the effective FOV (field of view) or beam width, but with the AXII DUO you get the best of both worlds: High gain and wide beam width! Compared to a similarly rated Helical antenna at 12.5dBiC you will only get 30 degrees of FOV, however the AXII duo with give you an incredible 12.2dBiC gain while still covering over 80 degrees of horizontal beam and 40 degrees vertically. This means the antenna is more forgiving and can still give you a clear picture even if you aren't pointed exactly at your aircraft or transmitter.
Compact Size with a Protective Injection Molded Case
Not only does the AXII DUO have awesome performance, but it does this in an ultra-compact form factor (73x35x9mm) and weighing only 18g. This makes the antenna an ideal choice as a long range goggle mounted receiving antenna. Since it is so small and compact you don't have to worry about bumping into things while wearing this antenna like other larger and heavier high gain antennas.
The injection molded polycarbonate case fully protects the antenna elements inside allowing for easy, worry-free storage. The case is sealed with a ultra-sonic weld and is shock-resistant to protect from accidental drops.
Precision Engineering with High Grade Materials
The Lumenier AXII DUO Patch Antenna features 2 sets of ultra-thin active elements suspended above the reflector, which allows for a higher velocity factor and lowers losses. This technology along with precision manufacturing results in a top of the line receiving antenna. It works great on both video goggles or ground stations for 5.8GHz, and capable of receiving signal up to many miles away.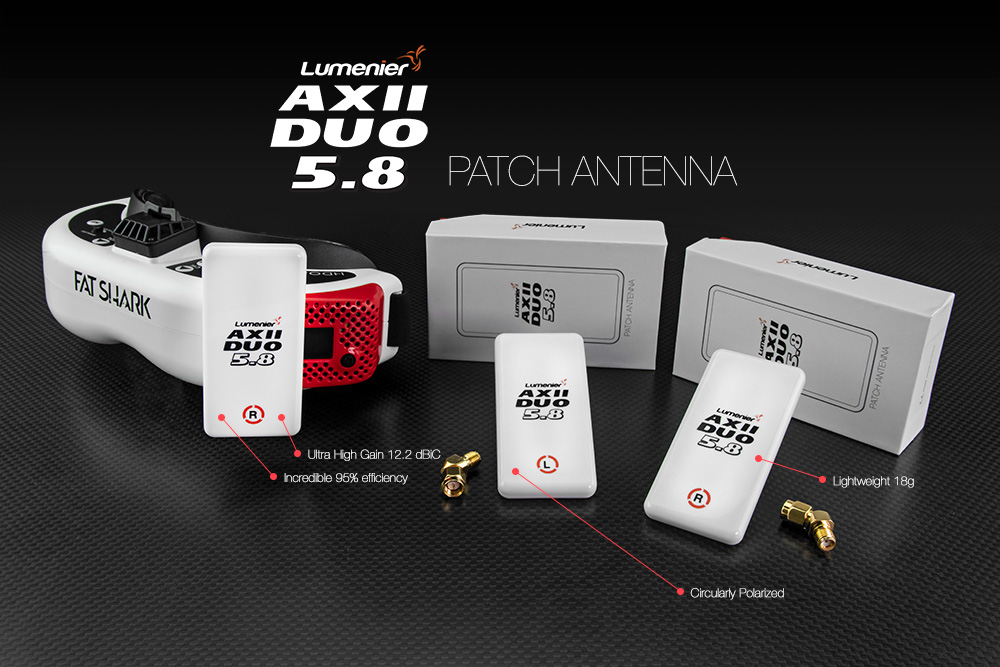 Features
Circularly Polarized
Ultra High 12.2 dBiC for extreme long range and signal penetration
Incredible 95% efficiency
Wide 80 degree beam width 
Compact low profile design on your goggles
Designed for goggles or base stations
Specifications
Frequency: 5.8GHz
Bandwidth: 280 Mhz
Gain: 12.2 dBiC
VSWR: 1:1.1 - 1:1.3
Beam Width: 80° H. 40° V. 
Right Hand Circularly Polarized
SMA Connector (Fits Fat shark Goggles and others using SMA)
Dimensions: 73mm x 35mm x 9mm (21mm with SMA)
Weight: 18grams
Includes
1x Lumenier AXII DUO Patch Antenna 5.8GHz (RHCP)
1x 45 degree SMA adapter (gold plated)
Videos
Warranty Information
We truly thank you for your purchase, and when things go wrong, we are here to help in any way that we are capable of doing so.

In regards to any warranty related matter, please reference the below information to help understand our warranty policies, as these warranty policies are absolute when it comes to any purchase made via HeliDirect.

Warranty Time Frame

Regarding product(s) purchased via HeliDirect, each manufacturer has their own specified warranty time frame, and HeliDirect holds the sole right to direct the customer to the manufacturer for stated warranty support in regards to manufacturer's that require direct level warranty support.

Our stated (14) day return policy directly relates to brand new, unused products being returned for a refund or store credit, and does not relate to warranty related situations for faulty product(s). Faulty, damaged or problematic items are handled upon a case by case basis, and will be detailed below based upon the warranty options available.

Our team at HeliDirect is highly motivated to assist in every possible way regarding warranty support, but please be 100% aware that warranty support for the product(s) you have purchased may be handled directly via the manufacturer, and not through HeliDirect.

If your product(s) involve direct manufacturer support, we are still available to assist. We ask that the customer make the initial manufacturer contact for warranty support, but in the case where a manufacturer response is not receive within (5) business days, HeliDirect will step in upon your behalf, utilizing our channels to assist you with this manufacturer based support.

In the above case, HeliDirect will do everything in our power to make sure the manufacturer assists you directly, but please note that all such warranty in regards to an issue like this will still be directed through the manufacturer.

Warranty Related Issues

Please note that HeliDirect is not a warranty repair center, nor do we offer warranty regarding many items we resell. Product(s) purchased via HeliDirect are subject to the original vendor's repair / replacement warranty policies & timelines, and will be directed to the manufacturer at our discretion.

HeliDirect will not assume responsibility and / or liability for any manufacturer defect, or damage due the use / misuse of the product(s) purchased. Further, HeliDirect cannot / will not be held liable for ancillary damage to product(s) based upon a manufacturer fault or defect. All such issues will be dealt with at the manufacturer based level.

If your item is found to have a fault or defect after installation or use, your product may be subject to warranty repair via the original manufacturer, no matter what the purchase date may be. HeliDirect does not cover repair, replacement or warranty via used / installed products. All such issues will need to be dealt with at the manufacturer level.

Damage Due to Ancillary Product Failure

In regards to damage that directly results to a failed product installed in conjunction with another product, we are happy to assist in terms of warranty support for the product that has failed, but please be aware that we cannot be held liable for ancillary damage to other items or components that may have been damaged due to the original product failure.

Warranty Returns

If your product is approved by our customer service staff as a valid return that we will handle directly, please note the below information regarding all such approved warranty items sent to HeliDirect.

- Any item(s) approved for return to HeliDirect will be subject to inspection and or testing to verify the noted information provided by the customer regarding the flaws, faults or damage.

- Due to the various aspects of testing, repair and other return processes, please be aware that any such approved return will require (2) to (5) business days for proper processing. Our staff will certainly do all that we can to reduce this time to the bare minimum, but please be aware that the return process can take up to (5) business days to complete.

- If the product(s) approved for return are deemed faulty by our returns specialists, we will proceed with a repair, exchange, credit or refund based upon the situation at hand. All such information will be communicated to the customer before any re-shipment is made.

- If an item that encounters a warranty issue after usage, HeliDirect may opt to repair the product versus an exchange, as exchanges can only be made for valid warranty relating to products that have no use of flaws. Our staff will be sure item is in 100% working order based upon any repairs, but exchanges, credits or refund cannot be offered for items under warranty that have been used and are no longer able to be sold as new.

- In the case of product(s) returned to us that test to be non faulty, the product(s) will be returned to the customer in the condition received. Our staff will reach out to the customer with necessary information regarding what may have been missed, and what steps to take in order to utilize the product(s) effectively.

- For non faulty diagnoses of returned product(s), refunds, store credits or exchanges cannot be offered, as the product(s) received cannot be sold as new and unused.