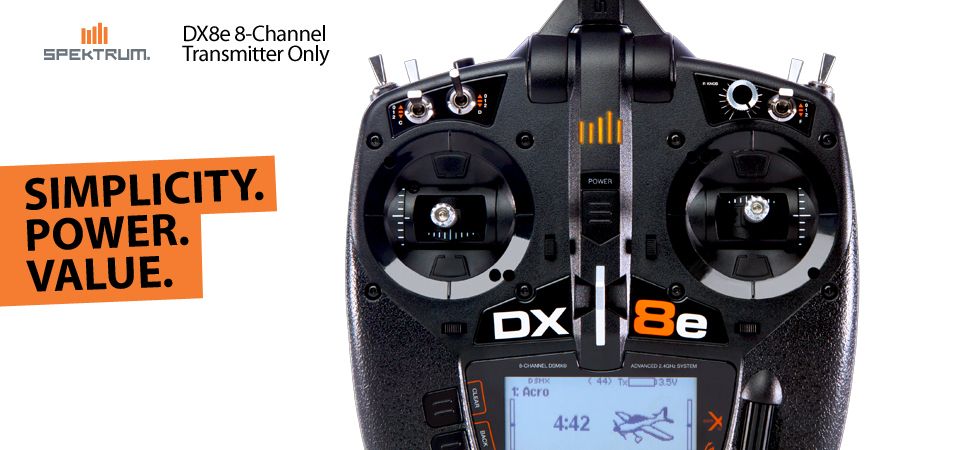 Key Features
8-channel flexibility and accessibility
Airplane, Helicopter, Sailplane and Multirotor programming
Smooth quad-bearing gimbals with multi-point front-access adjustments
Ultra-simple Patent-Pending gimbal mode-change switch
Built-in telemetry and warning system
Wireless Trainer link easily connects compatible radios together
250 internal model memory, plus external SD card memory support
High-resolution backlit LCD display
Practically indestructible adjustable antenna and case design
VTX control lets you change video channels directly from the DX8e
Digital Switch adaptability
Integrated FPV racing lap timer function
AS3X® technology gain adjustments without a PC
Multirotor flight mode setup
7 airplane wing types and 6 tail types
2 swashplate types
4 sailplane wing types and 3 tail types
7-point throttle curves for airplanes and helicopters
7-point pitch and tail curves for helicopters
Cross-platform model sharing with other Spektrum™ transmitters
4 AA batteries included
EN328 compatible
What's in the box?
(1) Spektrum DX8e Transmitter Only
(1) User Manual
Upgrading from a limited 6-channel radio to a far more versatile 8-channel radio with computer functionality on a budget doesn't mean you have to settle for less than the best. The Spektrum™ DX8e gives you the unbeatable response of DSMX® technology, the simplicity of Spektrum AirWare™ firmware as well as many other features you won't find on other "budget" radios.
Your growing skills deserve a transmitter than can keep pace. The DX8e comes equipped with the programming you need, no matter what you fly. And because it's based on the same Spektrum AirWare firmware used in most other Spektrum transmitters, you can share model setups with just about any Spektrum user you meet.
With the flexibility 8-channels delivers, it's exciting to consider all the options many modern aircraft can accept. Aircraft with flaps, retracts and SAFE® select can now all be flown to their full potential. With its extra channels at the ready, you can consider adding lights to a switch or a simulated bomb drop option. Try out what extra flight modes and mixes can offer, play with gain settings on the AS3X® system—all without sacrificing premium functions you enjoy like flaps, retracts or dual-ailerons and elevators.
Airplane Programming
7 Wing Types: Normal, Dual Aileron, Flaperon, 1 Aileron 1 Flap, 2 Aileron 1 Flap, Elevon A, Elevon B
6 Tail Types: Normal, V-Tail A, V-tail B, Dual Elevator, Dual Rudder, Dual Rudder/Elevator
Flap System with Elevator Compensation
3 Flight Modes
Dual Rates and Expo
7-Point Throttle Curve
3 Preset Mixes: Rudder-to-Aileron/Elevon, Aileron-to-Rudder, Elevator-to-Rudder
4 Programmable Mixes—Normal or Curve
Helicopter Programming
Gyro
7-Point Throttle Curve
7-Point Pitch Curve
7-Point Tail Curve
2 Swash Plate Types: Normal, 3-Servo 120°
3 Flight Modes + Throttle Hold
Dual Rates and Expo
Cyclic-to-Throttle and Swashplate Timing Mixes
4 Programmable Mixes—Normal or Curve
Sailplane Programming
4 Wing Types: Single Aileron, Dual Aileron, 2 Aileron 1 Flap, 2 Aileron 2 Flap
3 Tail Types: Normal, V-Tail A, V-Tail B
Camber System
Camber Preset
5 Flight Modes
Dual Rates and Expo
4 Preset Mixes: Aileron-to-Rudder, Aileron-to-Flap, Elevator-to-Flap, Flap-to-Elevator
4 Programmable Mixes—Normal or Curve
Multirotor Programming
Multirotor Channel Inputs—ALT (Altitude), ROL (Roll), PIT (Pitch), YAW
Multirotor Checklists and Warnings
Simplified Multirotor Flight Mode Setup and Switch Assignment
Built-In Telemetry
The built-in telemetry feature can give you real-time information on things like battery voltage, signal quality, motor temperature and more.* You can also program alerts that let you know when specific telemetry values reach or exceed limits you define.
*Requires telemetry sensors and a telemetry-enabled receiver.
Wireless Trainer Link
The wireless trainer link gives instructors the option to wirelessly ''buddy box'' with another DSMX/DSM2® transmitter. Once bound to another transmitter, ModelMatch™ technology will allow the DX8e to re-link without having to go through the bind process again.
WITH WIRELESS TRAINER LINK, YOU CAN:
Wirelessly 'buddy box' with another DSMX®/DSM2® transmitter when teaching someone to fly
Assign gimbal functions to a second 'camera' transmitter when flying a camera drone so you can focus on avoiding obstacles and maintaining visual contact while someone else lines up the shot
Link with specially-equipped Spektrum FPV headsets to wirelessly control head tracking and remotely change camera video frequencies
Link to the Spektrum Wireless Simulator Dongle and practice flying with your favorite simulators
Patent-Pending Gimbal Design with Spring Configuration Switch
The DX8e's patent-pending gimbal design lets you change gimbal spring configurations simply by moving a slider switch on the back of the transmitter. No tools are required. Just select the spring configuration that matches the mode you are using and model type you are flying. That's it.
FOUR SPRING CONFIGURATIONS TO CHOOSE FROM:
Normal Throttle for Modes 2 and 4 (Air, Heli and Sailplane Model Types)
Spring-Centered Throttle for Modes 2 and 4 (Multirotor Model Type)
Spring-Centered Throttle for Modes 1 and 3 (Multirotor Model Type)
Normal Throttle for Modes 1 and 3 (Air, Heli and Sailplane Model Types)
The slider switch is protected by a hinged cover and slider-lock that prevents you from changing spring configurations accidentally.
Front-Access Gimbal Adjustment
Access to tension, ratchet and travel adjustments for each gimbal is conveniently through the front—no disassembly required. There's nothing to it. Even mode conversion adjustments are accessible. To create the perfect feel, just lift off the rubber access cover and make a simple adjustment.
250+ Model Memory
The enormous capacity of the DX8e's on-board memory means you will rarely, if ever, need to juggle models between transmitter memory and your SD card. The model memory menu is easy to navigate too. Only memory slots with model settings saved to them will appear. You won't have to scroll through empty slots or move models around if one is deleted.
Specs
| | |
| --- | --- |
| Band: | 2.4GHz |
| Channels: | 8 |
| Flight Modes: | 4 |
| Frame Rate: | 11/22 Ms |
| Model Memory: | 250 |
| Modes: | User Selectable Mode 1-4 |
| Modulation: | DSMX/DSM2 |
| Proportional Inputs: | 5 |
| Range: | Full |
| Rate Positions: | 3 POS |
| Resolution: | 2048 |
| SD Card/Airware Capable: | Yes |
| Telemetry: | Integrated |
| Transmitter (Tx) Battery Type: | AA |
| Type: | Entry-level Computer |
Manuals
Warranty Information
We truly thank you for your purchase, and when things go wrong, we are here to help in any way that we are capable of doing so.

In regards to any warranty related matter, please reference the below information to help understand our warranty policies, as these warranty policies are absolute when it comes to any purchase made via HeliDirect.

Warranty Time Frame

Regarding product(s) purchased via HeliDirect, each manufacturer has their own specified warranty time frame, and HeliDirect holds the sole right to direct the customer to the manufacturer for stated warranty support in regards to manufacturer's that require direct level warranty support.

Our stated (14) day return policy directly relates to brand new, unused products being returned for a refund or store credit, and does not relate to warranty related situations for faulty product(s). Faulty, damaged or problematic items are handled upon a case by case basis, and will be detailed below based upon the warranty options available.

Our team at HeliDirect is highly motivated to assist in every possible way regarding warranty support, but please be 100% aware that warranty support for the product(s) you have purchased may be handled directly via the manufacturer, and not through HeliDirect.

If your product(s) involve direct manufacturer support, we are still available to assist. We ask that the customer make the initial manufacturer contact for warranty support, but in the case where a manufacturer response is not receive within (5) business days, HeliDirect will step in upon your behalf, utilizing our channels to assist you with this manufacturer based support.

In the above case, HeliDirect will do everything in our power to make sure the manufacturer assists you directly, but please note that all such warranty in regards to an issue like this will still be directed through the manufacturer.

Warranty Related Issues

Please note that HeliDirect is not a warranty repair center, nor do we offer warranty regarding many items we resell. Product(s) purchased via HeliDirect are subject to the original vendor's repair / replacement warranty policies & timelines, and will be directed to the manufacturer at our discretion.

HeliDirect will not assume responsibility and / or liability for any manufacturer defect, or damage due the use / misuse of the product(s) purchased. Further, HeliDirect cannot / will not be held liable for ancillary damage to product(s) based upon a manufacturer fault or defect. All such issues will be dealt with at the manufacturer based level.

If your item is found to have a fault or defect after installation or use, your product may be subject to warranty repair via the original manufacturer, no matter what the purchase date may be. HeliDirect does not cover repair, replacement or warranty via used / installed products. All such issues will need to be dealt with at the manufacturer level.

Damage Due to Ancillary Product Failure

In regards to damage that directly results to a failed product installed in conjunction with another product, we are happy to assist in terms of warranty support for the product that has failed, but please be aware that we cannot be held liable for ancillary damage to other items or components that may have been damaged due to the original product failure.

Warranty Returns

If your product is approved by our customer service staff as a valid return that we will handle directly, please note the below information regarding all such approved warranty items sent to HeliDirect.

- Any item(s) approved for return to HeliDirect will be subject to inspection and or testing to verify the noted information provided by the customer regarding the flaws, faults or damage.

- Due to the various aspects of testing, repair and other return processes, please be aware that any such approved return will require (2) to (5) business days for proper processing. Our staff will certainly do all that we can to reduce this time to the bare minimum, but please be aware that the return process can take up to (5) business days to complete.

- If the product(s) approved for return are deemed faulty by our returns specialists, we will proceed with a repair, exchange, credit or refund based upon the situation at hand. All such information will be communicated to the customer before any re-shipment is made.

- If an item that encounters a warranty issue after usage, HeliDirect may opt to repair the product versus an exchange, as exchanges can only be made for valid warranty relating to products that have no use of flaws. Our staff will be sure item is in 100% working order based upon any repairs, but exchanges, credits or refund cannot be offered for items under warranty that have been used and are no longer able to be sold as new.

- In the case of product(s) returned to us that test to be non faulty, the product(s) will be returned to the customer in the condition received. Our staff will reach out to the customer with necessary information regarding what may have been missed, and what steps to take in order to utilize the product(s) effectively.

- For non faulty diagnoses of returned product(s), refunds, store credits or exchanges cannot be offered, as the product(s) received cannot be sold as new and unused.


Community Discussion
Login to post your comment about this product