Specifications:
Lenght:                            981mm
Height:                            120mm
Width:                             310mm
Main blade size:                   425mm - 520mm
Tail blade size:                   72mm - 86mm
Motor pinion:                      12t included;13t optional
Helical CNC Main gear:             106t
Tail pinion:                       13T
Autorotation gear:                 60T
Main to tail gear ratio:           4.615
RTF weight:                        2400g-2700g
Main shaft diameter:               10mm
Feathering shaft diameter:         8mm
Tail boom diamater:                20mm
Max battery size:                  150mm*48mm*55mm(6s)

Includes:
(1) XLPower 520Kit
(1) XLPower 4020Brushless Motor
(1) Set of ZEAL 520mm Rotor Blades
(1) Set of XLPower80mm Carbon Tail Rotor Blades
(1) Foam Blade Holder

Needed to Complete: 
Transmitter (7-channel or more, helicopter system)
Receiver (7-channel or more)
(1) 6S Li-Po 3000 ~ 5200mAh
(1) Digital Pitch Gauge
(3) Mini Size Cyclic Servos
(1) Full Size Tail Servo
(1) 6s ESC (80A Minimum Recommended)
Misc. Building Equipment

No matter whether you are a newcomer or a professional, the brand new XLPOWER520 will give you the new flying feel.
1.HPS (High Precision Head System), New head with 2-piece blade grip preserves grips in the event of a crash.
2.To improve the strength and durability of the 10mm high strength steel main shaft,8mm high strength steel spindle shaft,M5 YFS high strength spindle shaft screw. New head with 2-piece.Blade and support 3-4mm aperture,rotor blades compatible size 430mm 470mm 480mm 500mm 515mm 520mm. 
3.Brand new CNC metal reinforcement plate effectively increase the torsional strength of main frame, under extreme 3D maneuver, you can strongly feel its solid reinforcement from its structure.
4.Swash-plate servos support medium-sizes servo,the XLPOWER520 lightweight design is 1800g,without battery this effectively increase the power and improves flight time,Tail servo support medium-sizes servos and standard servo,motor support 4020 or 4025.1100KV for 6s,550kv for 12s.Li-Po support 6S 3000Mah-5200mAh.Battery slot H 55mm*W 48mm*L150mm.ESC support 80A-120A.
5.The canopy manufactured with durable lightweight fiber material, the Landing skid is tilted 2.5 degree forward which improves crash worthiness.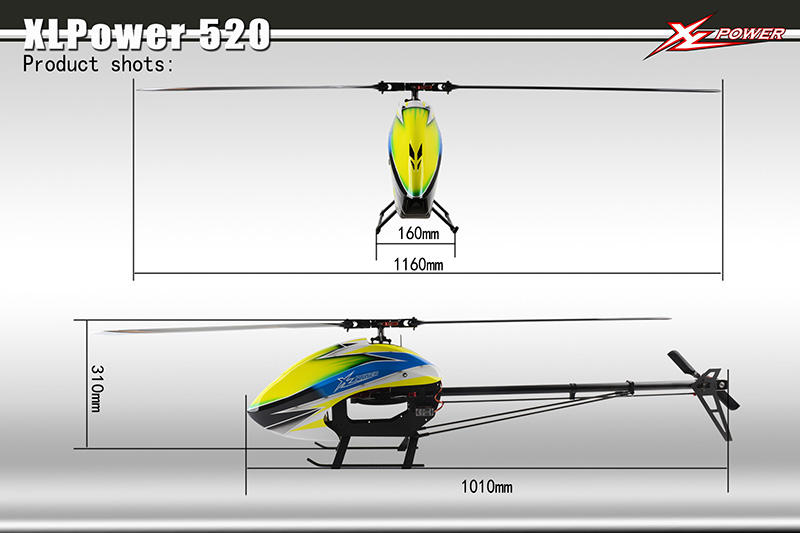 Warranty Information
We truly thank you for your purchase, and when things go wrong, we are here to help in any way that we are capable of doing so.

In regards to any warranty related matter, please reference the below information to help understand our warranty policies, as these warranty policies are absolute when it comes to any purchase made via HeliDirect.

Warranty Time Frame

Regarding product(s) purchased via HeliDirect, each manufacturer has their own specified warranty time frame, and HeliDirect holds the sole right to direct the customer to the manufacturer for stated warranty support in regards to manufacturer's that require direct level warranty support.

Our stated (14) day return policy directly relates to brand new, unused products being returned for a refund or store credit, and does not relate to warranty related situations for faulty product(s). Faulty, damaged or problematic items are handled upon a case by case basis, and will be detailed below based upon the warranty options available.

Our team at HeliDirect is highly motivated to assist in every possible way regarding warranty support, but please be 100% aware that warranty support for the product(s) you have purchased may be handled directly via the manufacturer, and not through HeliDirect.

If your product(s) involve direct manufacturer support, we are still available to assist. We ask that the customer make the initial manufacturer contact for warranty support, but in the case where a manufacturer response is not receive within (5) business days, HeliDirect will step in upon your behalf, utilizing our channels to assist you with this manufacturer based support.

In the above case, HeliDirect will do everything in our power to make sure the manufacturer assists you directly, but please note that all such warranty in regards to an issue like this will still be directed through the manufacturer.

Warranty Related Issues

Please note that HeliDirect is not a warranty repair center, nor do we offer warranty regarding many items we resell. Product(s) purchased via HeliDirect are subject to the original vendor's repair / replacement warranty policies & timelines, and will be directed to the manufacturer at our discretion.

HeliDirect will not assume responsibility and / or liability for any manufacturer defect, or damage due the use / misuse of the product(s) purchased. Further, HeliDirect cannot / will not be held liable for ancillary damage to product(s) based upon a manufacturer fault or defect. All such issues will be dealt with at the manufacturer based level.

If your item is found to have a fault or defect after installation or use, your product may be subject to warranty repair via the original manufacturer, no matter what the purchase date may be. HeliDirect does not cover repair, replacement or warranty via used / installed products. All such issues will need to be dealt with at the manufacturer level.

Damage Due to Ancillary Product Failure

In regards to damage that directly results to a failed product installed in conjunction with another product, we are happy to assist in terms of warranty support for the product that has failed, but please be aware that we cannot be held liable for ancillary damage to other items or components that may have been damaged due to the original product failure.

Warranty Returns

If your product is approved by our customer service staff as a valid return that we will handle directly, please note the below information regarding all such approved warranty items sent to HeliDirect.

- Any item(s) approved for return to HeliDirect will be subject to inspection and or testing to verify the noted information provided by the customer regarding the flaws, faults or damage.

- Due to the various aspects of testing, repair and other return processes, please be aware that any such approved return will require (2) to (5) business days for proper processing. Our staff will certainly do all that we can to reduce this time to the bare minimum, but please be aware that the return process can take up to (5) business days to complete.

- If the product(s) approved for return are deemed faulty by our returns specialists, we will proceed with a repair, exchange, credit or refund based upon the situation at hand. All such information will be communicated to the customer before any re-shipment is made.

- If an item that encounters a warranty issue after usage, HeliDirect may opt to repair the product versus an exchange, as exchanges can only be made for valid warranty relating to products that have no use of flaws. Our staff will be sure item is in 100% working order based upon any repairs, but exchanges, credits or refund cannot be offered for items under warranty that have been used and are no longer able to be sold as new.

- In the case of product(s) returned to us that test to be non faulty, the product(s) will be returned to the customer in the condition received. Our staff will reach out to the customer with necessary information regarding what may have been missed, and what steps to take in order to utilize the product(s) effectively.

- For non faulty diagnoses of returned product(s), refunds, store credits or exchanges cannot be offered, as the product(s) received cannot be sold as new and unused.