Description
SIMPLY "TAP" INTO IT
The Spektrum™ iX12 radio is an intelligent 12-channel transmitter matched with a powerful combination of features and next-level connectivity. Groundbreaking yet comfortably familiar, RC pilots of all aircraft types can use the iX12 to out fly everything in its class.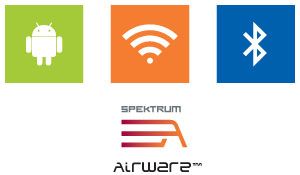 ---
TOUCHSCREEN WITH ANDROID-POWERED INTERFACE
Literally "tap" into the iX12's programming. Its 4-inch, full-color, easy-to-read monitor delivers crisp, clear detail that includes state-of-the-art touchscreen technology so that navigation is simple. And, because the interface is a fully functional Android system with a dedicated quad-core processor, it will work with an evolving list of apps from the Google Play store.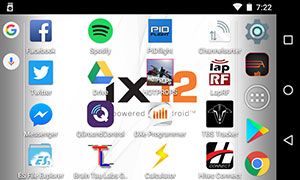 3RD PARTY APPS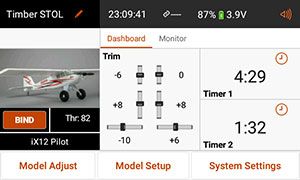 DASHBOARD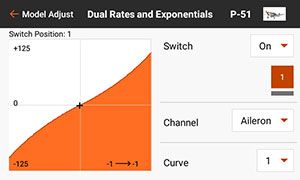 DUAL RATE AND EXPO
TRAVEL ADJUST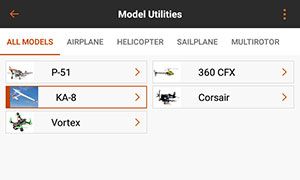 MODEL SELECT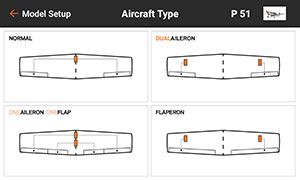 WING TYPE
WI-FI CONNECTIVITY
When connected to Wi-Fi, the iX12 gets even smarter. Spektrum AirWare™ Touch app update-alerts are automatic, plus you can download model setups and add third-party apps. Listen to music on Spotify or Pandora directly from your radio or even update your Facebook status just before you fly.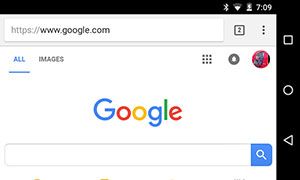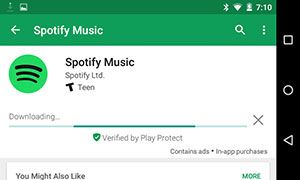 BLUETOOTH CONNECTIVITY
The iX12 can connect with just about any Bluetooth device. Use wireless earbuds to hear voice alerts privately, or pair a set of speakers and listen to music. A wide range of other devises uses are possible including file sharing, photo sharing and more.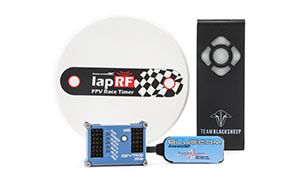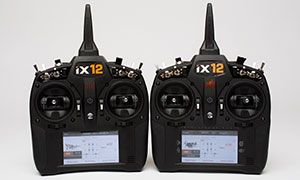 MICRO USB CONNECTIVITY
Hook up to your flight-control board and use their apps to adjust settings directly from the iX12—no laptop required. The integrated micro USB port conveniently allows you to charge its internal Li-Ion battery with a common Micro USB cable and power source. Other accessory devices can be recognized too, including your PC or laptop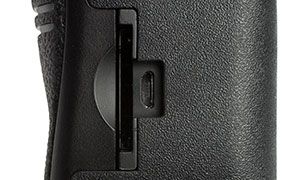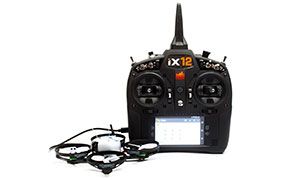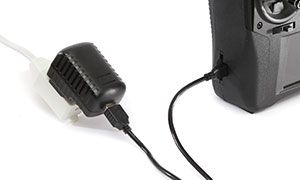 INTUITIVE PROGRAMMING
Long-time Spektrum users will feel right at home the first time they pick up the iX12. That's because it's Spektrum AirWare™ Touch app is derived from the familiar Spektrum AirWare firmware used today. The big, color touchscreen features an Android interface that simply makes menu navigation and model setup even easier than before.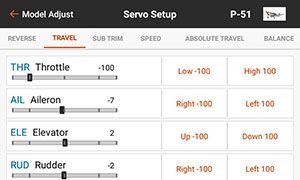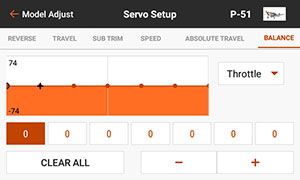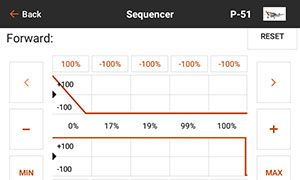 LONG RANGE RF MODULE SUPPORT
Go further with the iX12 when you explore what the integrated auxiliary serial port has to offer. It's a next-level link that lets you accessorize the iX12 transmitter with a compatible long range RF system (adapter, SPMA3090 required) such as Team Black Sheep Crossfire protocol technology (sold separately) that gives you low latency performance and secondary frequency convenience.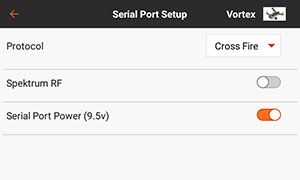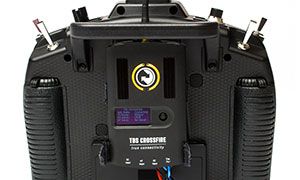 PROGRAMMABLE VOICE AND AUDIO ALERTS
Keep tabs on important information without ever taking your eyes off what you are flying. The iX12 programmable voice alert system can call out what flight mode you have chosen or report telemetry info on demand. If an alarm goes off, you won't have to look at the display to see what's happening. The iX12 can tell you.
Text-to-speech means that you can create any voice alert by just typing in the words, it can even take *.WAV files so you can have virtually any sound imaginable. In addition to a built-in speaker, the iX12 has a headphone jack that allows you to monitor voice alerts, and/or listen to your favorite song during flight, using earbuds so you don't bother other pilots. You can also use its Bluetooth support to connect with wireless earbuds or your phone.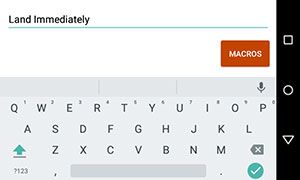 SUPERB ERGONOMICS
Based on popular team-pilot recommendations and customer feedback, the iX12 has been persistently engineered to have the most optimized feel possible. The weight distribution and ergonomics of the iX12 have been optimized to fit a wide range of pilot needs. The result is a sense of balance, comfort and functionality that perfectly complement the speed and precision of DSMX® technology.
KEY iX12 ERGONOMIC FEATURES:
Comfortable, non-slip rubber grips
Smooth, quad-bearing gimbals with front-access adjustments
Adjustable stick length and travel range
User-adjustable mode configurations (1, 2, 3 or 4)
User-adjustable switch assignments and pushbutton power on/off
State-of-the-art touchscreen technology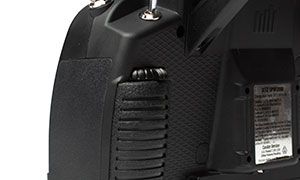 WIRELESS TRAINER LINK
The exclusive functionality of the Spektrum wireless trainer link gives iX12 users the ability to wirelessly link up with other Spektrum transmitters and specially-equipped Spektrum FPV headsets. It's hassle-free. Once bound to another transmitter or component, ModelMatch™ technology will allow the iX12 to re-link without having to go through the bind process again.
WITH WIRELESS TRAINER LINK, YOU CAN:
Wirelessly 'buddy box' with another DSMX®/DSM2® transmitter when teaching someone to fly
Assign gimbal functions to a second 'camera' transmitter when flying a camera drone so you can focus on avoiding obstacles and maintaining visual contact while someone else lines up the shot
Link with specially-equipped Spektrum FPV headsets to wirelessly control head tracking and remotely change camera video frequencies
Link to the Spektrum Wireless Simulator Dongle (SPMWS1000) and practice flying with your favorite simulators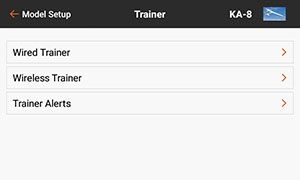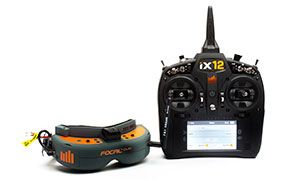 ADJUSTABLE GIMBALS
Access to tension, ratchet and travel adjustments for each gimbal is conveniently through the front - no disassembly required. There's nothing to it. Even mode conversion adjustments are accessible. To create the perfect feel, just lift off the rubber access cover and make a simple adjustment.
Gimbal Access Points:
Up/Down Travel Limiter
Left/Right Gimbal Stick Tension
Up/Down Resistance
Up/Down Ratchet
Up/Down Gimbal Stick Tension
Gimbal Centering Screw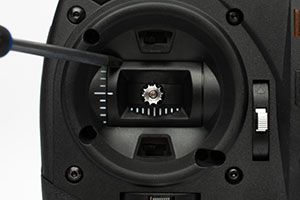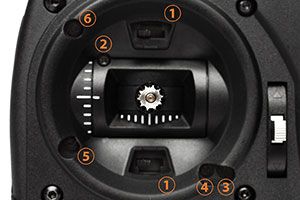 Smart Power
The evolutionary iX12 radio functions a lot like smartphone. When booted for the first time, you practically never have to turn it off—just put it to sleep. Tap the power button for easy-to-use options that allow the system to instantly boot and present options that extend battery use between charges. You have full control of when the RF system broadcasts, when the Android system is active when the screen is on. Additionally, the Spektrum LED indicator light always gives you a clear sign of sleep, broadcast and charging status.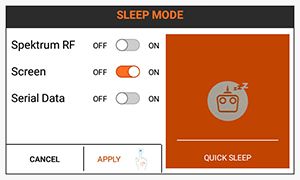 250-Model Memory
The Spektrum™ iX12 features a class leading model memory storage capacity. Pilots are able to store 250 models straight to the radio, and even more on to an SD card. The enormous capacity of the iX12's on-board Model Memory means you can be confident that your whole fleet can all be conveniently stored all on one radio. And with the security of Spektrum Model Match Technology, there are no worries of accidently flying a model with the wrong settings. Simply choose the model you want to fly, power up the aircraft, and let your Spektrum iX12 do the rest.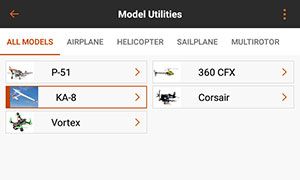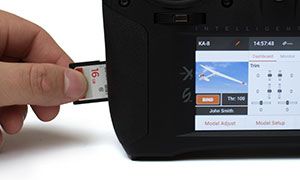 Built-In Telemetry
Not only is the iX12 the ultimate in control, it's the ultimate tool you can use to make sure your prized aircraft is in perfect condition. Built-in telemetry can give you real-time data on critical information like your model's battery voltage, signal quality, motor temperature and more.* Using the voice alert system, you can program the iX12 to tell you when specific telemetry values reach or exceed limits you define. You can also have it call out a sequence of telemetry values on demand with the flip of a switch.
*Model must be equipped with a telemetry-enabled receiver and any required sensors.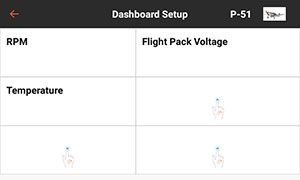 Backwards Compatible
The iX12 can share model setups with any Spektrum G2 transmitter with Spektrum AirWare firmware. Transfer model setup data from an 'old' transmitter to your new iX12 or share models with almost any other Spektrum G2 user.
The iX12 can share model setups with any of these Spektrum transmitters:
DX6e
DX6 G2
DX6 G3
DX7 G2
DX8 G2
DX9 (All)
DX18
DX18QQ
DX18 G2
DX18 Stealth Edition
DX20
Specs
| | |
| --- | --- |
| Band: | 2.4GHz |
| Channels: | 12 |
| Frame Rate: | 11/22 Ms |
| Model Memory: | 250 |
| Modes: | User Selectable Mode 1-4 |
| Modulation: | DSMX |
| Range: | Full |
| Rate Positions: | 3 POS |
| Resolution: | 2048 |
| SD Card/Airware Capable: | Yes |
| Telemetry: | Integrated |
| Transmitter (Tx) Battery Type: | 3.7V 1S 6000 mAh Lithium Ion Battery |
| Type: | Advanced computer |
Manuals
Warranty, Returns & Support
Warranty Information
We truly thank you for your purchase, and when things go wrong, we are here to help in any way that we are capable of doing so.

In regards to any warranty related matter, please reference the below information to help understand our warranty policies, as these warranty policies are absolute when it comes to any purchase made via HeliDirect.

Warranty Time Frame

Regarding product(s) purchased via HeliDirect, each manufacturer has their own specified warranty time frame, and HeliDirect holds the sole right to direct the customer to the manufacturer for stated warranty support in regards to manufacturer's that require direct level warranty support.

Our stated (14) day return policy directly relates to brand new, unused products being returned for a refund or store credit, and does not relate to warranty related situations for faulty product(s). Faulty, damaged or problematic items are handled upon a case by case basis, and will be detailed below based upon the warranty options available.

Our team at HeliDirect is highly motivated to assist in every possible way regarding warranty support, but please be 100% aware that warranty support for the product(s) you have purchased may be handled directly via the manufacturer, and not through HeliDirect.

If your product(s) involve direct manufacturer support, we are still available to assist. We ask that the customer make the initial manufacturer contact for warranty support, but in the case where a manufacturer response is not receive within (5) business days, HeliDirect will step in upon your behalf, utilizing our channels to assist you with this manufacturer based support.

In the above case, HeliDirect will do everything in our power to make sure the manufacturer assists you directly, but please note that all such warranty in regards to an issue like this will still be directed through the manufacturer.

Warranty Related Issues

Please note that HeliDirect is not a warranty repair center, nor do we offer warranty regarding many items we resell. Product(s) purchased via HeliDirect are subject to the original vendor's repair / replacement warranty policies & timelines, and will be directed to the manufacturer at our discretion.

HeliDirect will not assume responsibility and / or liability for any manufacturer defect, or damage due the use / misuse of the product(s) purchased. Further, HeliDirect cannot / will not be held liable for ancillary damage to product(s) based upon a manufacturer fault or defect. All such issues will be dealt with at the manufacturer based level.

If your item is found to have a fault or defect after installation or use, your product may be subject to warranty repair via the original manufacturer, no matter what the purchase date may be. HeliDirect does not cover repair, replacement or warranty via used / installed products. All such issues will need to be dealt with at the manufacturer level.

Damage Due to Ancillary Product Failure

In regards to damage that directly results to a failed product installed in conjunction with another product, we are happy to assist in terms of warranty support for the product that has failed, but please be aware that we cannot be held liable for ancillary damage to other items or components that may have been damaged due to the original product failure.

Warranty Returns

If your product is approved by our customer service staff as a valid return that we will handle directly, please note the below information regarding all such approved warranty items sent to HeliDirect.

- Any item(s) approved for return to HeliDirect will be subject to inspection and or testing to verify the noted information provided by the customer regarding the flaws, faults or damage.

- Due to the various aspects of testing, repair and other return processes, please be aware that any such approved return will require (2) to (5) business days for proper processing. Our staff will certainly do all that we can to reduce this time to the bare minimum, but please be aware that the return process can take up to (5) business days to complete.

- If the product(s) approved for return are deemed faulty by our returns specialists, we will proceed with a repair, exchange, credit or refund based upon the situation at hand. All such information will be communicated to the customer before any re-shipment is made.

- If an item that encounters a warranty issue after usage, HeliDirect may opt to repair the product versus an exchange, as exchanges can only be made for valid warranty relating to products that have no use of flaws. Our staff will be sure item is in 100% working order based upon any repairs, but exchanges, credits or refund cannot be offered for items under warranty that have been used and are no longer able to be sold as new.

- In the case of product(s) returned to us that test to be non faulty, the product(s) will be returned to the customer in the condition received. Our staff will reach out to the customer with necessary information regarding what may have been missed, and what steps to take in order to utilize the product(s) effectively.

- For non faulty diagnoses of returned product(s), refunds, store credits or exchanges cannot be offered, as the product(s) received cannot be sold as new and unused.