Description
Description
The Lumenier POPO® Quick Swap MX2206-9 2450KV Motor is the first motor to incorporate the revolutionary Lumenier Quick Swap system. This motor has been designed to provide maximum power and thrust in a small and lightweight package. The MX motors use a more powerful stator in combination with N52SH magnets and very small air gap, resulting in incredible power and performance.
Designed to provide top power during drone racing and freestyle with a KV of 2450kv. The new POPO® Quick Swap MX2206 motors come in at 27.5g continuing Lumenier's tradition of creating some of the lightest racing motors on the market.
What is POPO®
POPO® ("Pop On, Pop Off") is a new propeller quick swap system from Lumenier that enables mounting props to brushless drone motors in seconds with the push of a button.
POPO® eliminates the need for a prop nut and wrench to attach propellers to motors. A full set of 4 props can be removed and replaced in about 20 seconds without tools. This provides convenience in the field, as well as speed and simplicity under race day pressure.
The ability to quickly remove and reattach a full set of props is a key safety feature for drone enthusiast that are frequently repairing and tuning their drones. POPO® prevents cuts from sharp propeller blades since there is no longer a need to hold the motor / prop so firmly while tightening a nut.
The POPO® system prevents prop slippage which is a common error for new pilots who accidentally forget to tighten their lock nuts enough. The system fastens props into place with an audible click. No guesswork on tightening the lock nut.
Importantly, POPO® is also fully backwards compatible and supports any existing propellers on the market today. Simply push on a standard prop and secure with a lock nut as normal. This enables drone pilots to continue to utilize their current props while migrating to a POPO® compatible motor or propeller. Likewise, POPO® compatible propellers can be used on regular motors without issue.
POPO® is an industry initiative and compatible motors and propellers will soon be available from the world's top brands. Manufacturers such as T-Motor, Emax, Lumenier and more will soon offer new POPO® compatible motors. Additionally, leading propeller companies like HQ and Gemfan are already working on compatible propellers, which will be released in the near future.
"At a race, time is of the essence and being able to change props quickly is important.
The POPO system helps racing pilots stay on task and out of the pits. "
Drone Pilot - Paul Nurkkala
How does it work?
POPO® implements an elegant push button quick release mechanism in the established 5mm prop shaft. Props that are compatible can use the mechanism as well as be mounted on non-POPO compatible motors, allowing pilots to easily mix and match. The system does not get in the way of mounting non-POPO compatible props, which are mounted with a conventional lock-nut and wrench, just like it works on any other motor today.
To mount a POPO® compatible prop, you place the prop onto the shaft, press the button, lower the prop onto the motor, release the button and then slowly turn the propeller while pushing the prop onto the motor. Pilots hear an audible click when the button pops out, indicating its ready for flight.
POPO® Compatible Propellers
Lumenier has been selling POPO® compatible propellers for well over a year. The popular 5" Lumenier Butter Cutters and 5" and 6" Lumenier Gate Breaker props are already POPO® compatible. Lumenier is licensing the POPO® IP and specifications to many propeller manufacturers. Other manufacturers will be releasing their POPO® compatible propellers in the near future.
Industry Initiative
POPO® is an industry wide Initiative for innovative and safety minded manufacturers and enthusiasts. Motor and Propeller manufacturers interested in joining the POPO® Initiative can contact Lumenier at popo@lumenier.com.
Includes
1x Lumenier POPO Quick Swap MX2206-9 2450KV Motor
1x Lumenier M5 Black Aluminum Low Profile Lock Nut (CW) for non-POPO motors
4x M3x5 Button head screws
Specifications
| | |
| --- | --- |
| Kv | 2450 |
| Configuration | 12N14P |
| Windings | 9 turn DLRK |
| Termination | D (Delta) |
| Stator Diameter | 22mm |
| Shaft Diameter | 3mm |
| Motor Dimension | 27x18mm |
| Weight | 27.5g |
| Idle Current @12.6v (Io) | 0.76 A |
| Cells (LiPo) | 2-4S |
| Max Continuous Current (A) 60s | 22A |
| Max Burst Current <10s | 32A |
| Max Continuous Power (W) 60s | 320W |
| Max Efficiency Current | (2.2-6A) 80% |
| Internal Resistance (Rm) | 240mΩ |
| Motor Wire Length | 100mm |
| Motor Connection | Bare Wire |
Static Thrust Data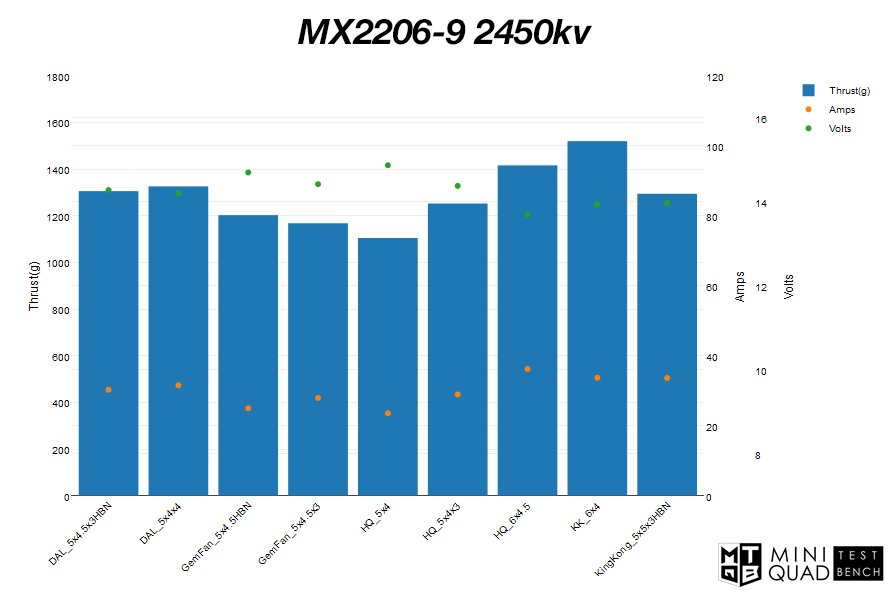 Videos
Introduction to POPO by Joshua Bardwell
Overview Video by Paul Nurkkala
Flight Video by Paul Nurkkala
Warranty, Returns & Support
Warranty Information
We truly thank you for your purchase, and when things go wrong, we are here to help in any way that we are capable of doing so.

In regards to any warranty related matter, please reference the below information to help understand our warranty policies, as these warranty policies are absolute when it comes to any purchase made via HeliDirect.

Warranty Time Frame

Regarding product(s) purchased via HeliDirect, each manufacturer has their own specified warranty time frame, and HeliDirect holds the sole right to direct the customer to the manufacturer for stated warranty support in regards to manufacturer's that require direct level warranty support.

Our stated (14) day return policy directly relates to brand new, unused products being returned for a refund or store credit, and does not relate to warranty related situations for faulty product(s). Faulty, damaged or problematic items are handled upon a case by case basis, and will be detailed below based upon the warranty options available.

Our team at HeliDirect is highly motivated to assist in every possible way regarding warranty support, but please be 100% aware that warranty support for the product(s) you have purchased may be handled directly via the manufacturer, and not through HeliDirect.

If your product(s) involve direct manufacturer support, we are still available to assist. We ask that the customer make the initial manufacturer contact for warranty support, but in the case where a manufacturer response is not receive within (5) business days, HeliDirect will step in upon your behalf, utilizing our channels to assist you with this manufacturer based support.

In the above case, HeliDirect will do everything in our power to make sure the manufacturer assists you directly, but please note that all such warranty in regards to an issue like this will still be directed through the manufacturer.

Warranty Related Issues

Please note that HeliDirect is not a warranty repair center, nor do we offer warranty regarding many items we resell. Product(s) purchased via HeliDirect are subject to the original vendor's repair / replacement warranty policies & timelines, and will be directed to the manufacturer at our discretion.

HeliDirect will not assume responsibility and / or liability for any manufacturer defect, or damage due the use / misuse of the product(s) purchased. Further, HeliDirect cannot / will not be held liable for ancillary damage to product(s) based upon a manufacturer fault or defect. All such issues will be dealt with at the manufacturer based level.

If your item is found to have a fault or defect after installation or use, your product may be subject to warranty repair via the original manufacturer, no matter what the purchase date may be. HeliDirect does not cover repair, replacement or warranty via used / installed products. All such issues will need to be dealt with at the manufacturer level.

Damage Due to Ancillary Product Failure

In regards to damage that directly results to a failed product installed in conjunction with another product, we are happy to assist in terms of warranty support for the product that has failed, but please be aware that we cannot be held liable for ancillary damage to other items or components that may have been damaged due to the original product failure.

Warranty Returns

If your product is approved by our customer service staff as a valid return that we will handle directly, please note the below information regarding all such approved warranty items sent to HeliDirect.

- Any item(s) approved for return to HeliDirect will be subject to inspection and or testing to verify the noted information provided by the customer regarding the flaws, faults or damage.

- Due to the various aspects of testing, repair and other return processes, please be aware that any such approved return will require (2) to (5) business days for proper processing. Our staff will certainly do all that we can to reduce this time to the bare minimum, but please be aware that the return process can take up to (5) business days to complete.

- If the product(s) approved for return are deemed faulty by our returns specialists, we will proceed with a repair, exchange, credit or refund based upon the situation at hand. All such information will be communicated to the customer before any re-shipment is made.

- If an item that encounters a warranty issue after usage, HeliDirect may opt to repair the product versus an exchange, as exchanges can only be made for valid warranty relating to products that have no use of flaws. Our staff will be sure item is in 100% working order based upon any repairs, but exchanges, credits or refund cannot be offered for items under warranty that have been used and are no longer able to be sold as new.

- In the case of product(s) returned to us that test to be non faulty, the product(s) will be returned to the customer in the condition received. Our staff will reach out to the customer with necessary information regarding what may have been missed, and what steps to take in order to utilize the product(s) effectively.

- For non faulty diagnoses of returned product(s), refunds, store credits or exchanges cannot be offered, as the product(s) received cannot be sold as new and unused.